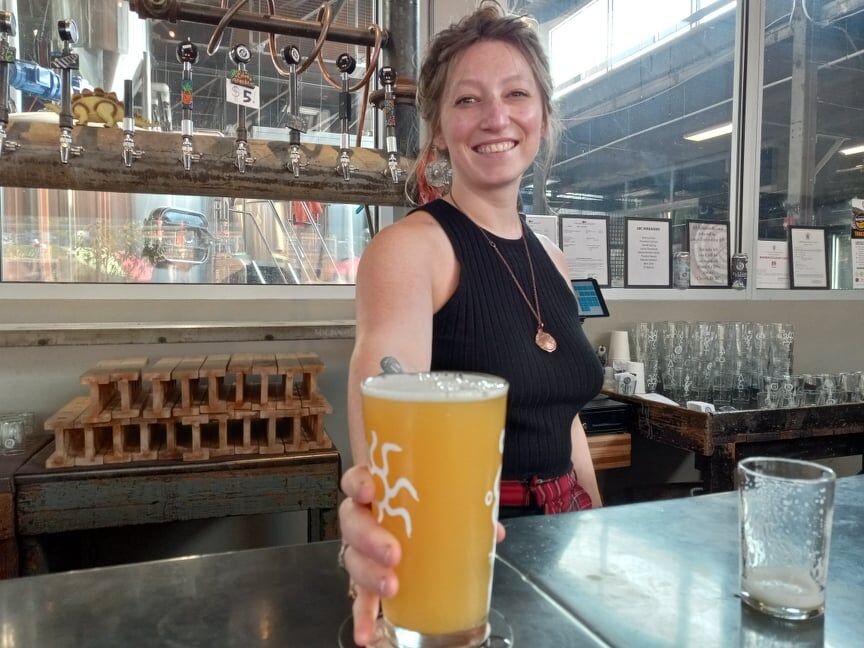 The summer is winding down in the Shenandoah Valley, but the refreshing cold ones don't have to.
Waynesboro is just one of the many stops for residents and beer enthusiasts in the Shenandoah Valley to find a new favorite beer on the Shenandoah Beerwerks Trail — a local roadmap highlighting various craft breweries throughout Waynesboro, Staunton, Harrisonburg and other nearby communities.
Beginning one's road trip through the Valley on the Trail is simple and starts after stopping into any of the 19 breweries that make up the Trail. All one has to do is ask for a free Beerwerks passport.
The next destination is up to travelers from there, but if one stops at just eight of the promoted breweries and receives a stamp from each establishment on their passport, that passport can then be mailed in for a free T-shirt as a reward for their travels.
Out of the many breweries that make up the Trail, three are located in Waynesboro: Stable Craft Brewing, Seven Arrows Brewing Company and Basic City Beer Co.
Bart Lanman, "The Mayor" of Basic City, sees the business venture as a big success.
Since joining it, he's seen more than just Waynesboro's local breweries grow due to trail-goers … he's seen Waynesboro grow as a city.
"When we started in Waynesboro, there were people in Crozet and Staunton that didn't even know where Waynesboro was," said Lanman, laughing. "There was somewhat of a hole in the map where Waynesboro was and it was one of our agendas to help show people where Waynesboro is."
Melissa Allen, the co-owner and president of Seven Arrows, agrees with Lanman and said growth has certainly come over the years that she's worked with the Shenandoah Beerwerks Trail.
"It is pretty cool," Allen said. "I think initially we were just this tiny little area and then it just keeps expanding. Being able to see this thing grow actually gives you more experience to go out and support other people that are doing the same thing [and] have the same passion as you."
To Allen, the partnership with the trail has also been fantastic for business and is something many guests at her brewery enjoy traversing year after year.
Cory McDaniel, Allen's general manager at Seven Arrows, said many guests who stop by the brewery "quite frequently" have their passports with them when visiting over the summer.
"I would say close to a third to almost half of our customers have them," McDaniel said. "It's a lot of locals that do it all the time, too. They do it because its t-shirts change out every year, so they participate in it every year."
For many, travel plans had to be seriously altered, if not outright cancelled last year due to COVID-19. However, Allen said the Shenandoah Beerwerks Trail provided a great opportunity for folks to still enjoy hitting the road while shopping local last year.
The Beerwerks Trail has still offered the same opportunity once again in 2021.
"During COVID, everything was really hard, but this kind of stuff really helped people feel like they could still support local and still have a lot of fun," Allen said. "During all the stuff that's happening, just to be able to go out and have a good time and see people having fun, I think that's really important."
Although locals might be able to enjoy the Trail for a day and then head home after the sun's set over the Blue Ridge mountains, tourists from outside the Valley may not have that opportunity.
To Lanman, this created tourism has played a key role in the growth he's seen in Waynesboro.
"The Shenandoah Beerwerks Trail passport really was helpful," Lanman said. "Now, we've got people coming from Norfolk, Northern Virginia, Richmond, Roanoke and Blacksburg. It really has filled out Waynesboro on the map. It is something exciting for tourists to use — beer tourists, specifically."
Lanman continued by saying that business growth doesn't just stop at Basic City and the city's other breweries through the passport program. To him, those very tourists won't just spend money on beer, but elsewhere when staying in town.
This potentially leads to money spent on hotel lodging, dining at local restaurants and other ventures at different establishments when enjoying their trip to Waynesboro and its surrounding communities.
While McDaniel enjoys serving and talking with guests from out of town, the impact the passport creates that still excites him the most is the growing sense of community between folks from the Valley's local towns and cities.
"One thing about the passport that I really like a lot is that it brings in people from Harrisonburg and entices them to come down to Waynesboro and Staunton, and even go down to Lexington and vice versa," McDaniel said. "It's just stuff they've never tried before."
Whether guests are from the next town or the next state over, one thing Lanman said the Beerwerks Trail consistently brings in is an assorted band of colorful characters and bar patrons.
"Here at Basic and also with the passport, we get such a broad spectrum of beer drinkers," Lanman said. "From the craft casual drinker to the beer geeks and everybody in-between that is entering into the beer scene, it's just a great spectrum. The passport program brings in all walks of life."
Just like the relationships that residents may develop with Waynesboro's breweries, Allen has enjoyed the relationship her business has had with the folks behind the trail.
"Even working with the people who spearhead the Beerwerks Trail, they're constantly trying to email us, send out support, trying to make sure we feel supported," Allen said. "You feel the support back as well as you feel that you can support the different breweries as it keeps growing, which does attract more people and does allow for more growth."
Summer is winding down in the Valley, but that doesn't mean the Shenandoah Beerwerks Trail will.
Waynesboro offers a great first stop for those traversing through the trail, and the local breweries are ready to stamp passports for all who walk through their doors.
"In the end, if you have a few, you're going to be happy," said Lanman, smiling.