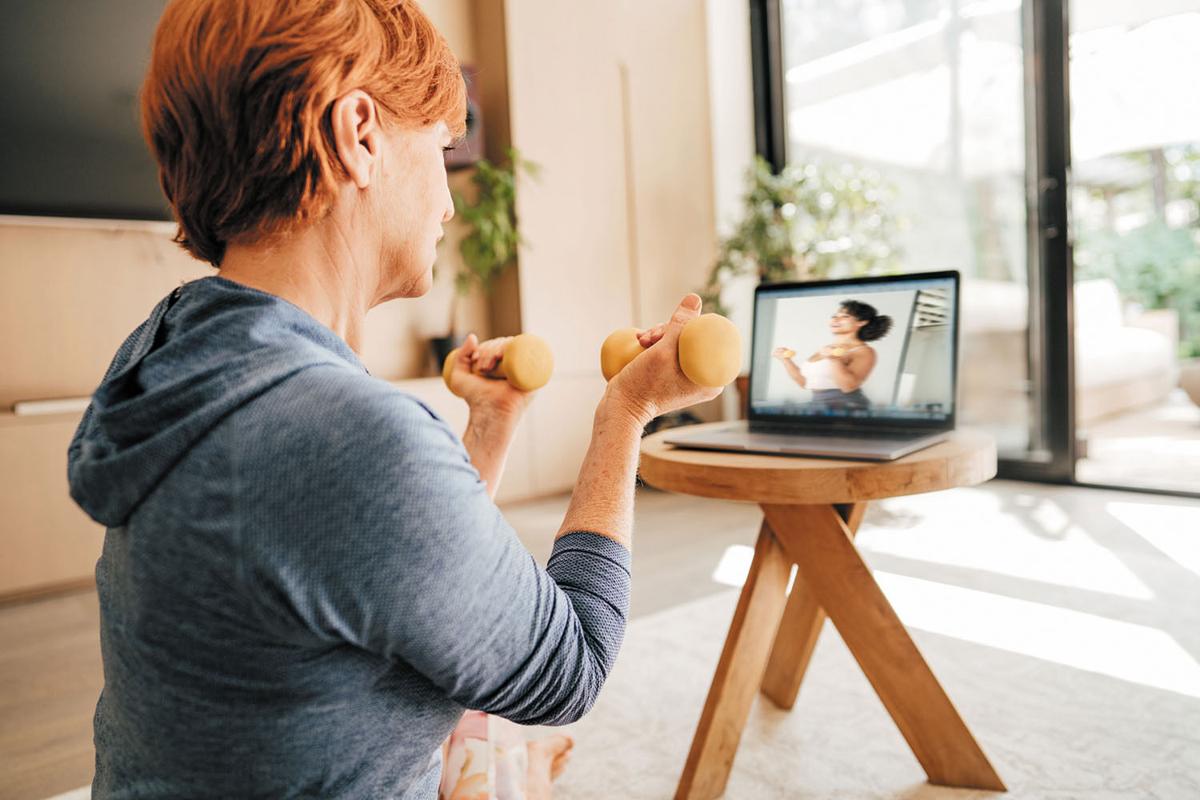 You've resolved to exercise more, and you're looking for an online exercise video that will help you achieve your fitness goals. That's a great start, but there's more to choosing an exercise video than simply finding workouts that appeal to you.
"Online exercise videos aren't regulated. And trying to keep up with a workout that isn't designed for older adults could lead to injury," says Dr. Edward Phillips, assistant professor of physical medicine and rehabilitation at Harvard Medical School and Whole Health medical director at VA Boston Healthcare System.
Where to start
YouTube is a rich resource for effective exercise videos. You can find workouts designed for older adults from hospitals, government health agencies, academic centers (including Harvard Medical School), personal trainers, and senior centers. However, YouTube also contains scores of workout videos that could be risky for older adults. So it takes work to find a workout tailored to your needs.
To start, search using the term "older adult fitness channels" or "senior fitness videos." Or look for a specific style of workout by searching with terms such as "standing exercises for older adults" or "seated exercises for older adults."
If you have a particular health condition, you can find workouts designed for that, too. For example, if you have heart failure, search for "workouts for people with heart failure."
When search results appear, click on the name of the instructor or organization and check for credentials. They should appear in the "about" section or lead you to the instructor's website. "If it's a personal trainer, you want someone certified by an agency such as the American Council on Exercise. You don't want someone who just decides to make a video for older adults," Dr. Phillips says.
If you can't find credentials, or you aren't familiar with an organization that's posted the workout, move on to another video.
Important elements
A good workout video has a number of important elements. Here are the basics:
a warm-up to get your heart rate up slowly and to activate the muscles before vigorous activity.
the heart of the workout (including cardiovascular, strength, or balance training, or a combination of them).
a cool-down to get the heart rate down slowly.
a stretching regimen at the end of the workout.
Another element to look for is the right tone. "It should inspire you and make sense for your fitness level. If you've been sedentary, you'll want someone giving gentle instruction and not asking you to do something unreasonable. If you're a competitive athlete at 71, you may want someone shouting out commands," Dr. Phillips says.
The possibility of modifying exercises is also essential. If the workout has several levels of difficulty, it should be clear how to make something easier. For example, instead of squatting from a standing position, start from a seated position and raise yourself up just a few inches before sitting back down.
Finally, make sure the video clearly shows you how to maintain the proper form, which is crucial to safety — especially for your joints — when you're doing any type of exercise.
"You can get away with poor form at 41, but not at age 61 or 71," Dr. Phillips says. How can you be sure you're maintaining the proper form? "Have a buddy tell you if your exercises match the instructor," Dr. Phillips says. "Working out in front of a big mirror could also help."
Avoiding falls
Take note if a video includes both standing exercises and floor exercises. Look for videos with gradual changes from standing to seated and then lying positions. "Stay away from videos with excessive changes from standing to lying down. Remember, when you get up from the floor, your blood pressure can drop, increasing the risk for a fall," Dr. Phillips says. "You should do all of your floor exercises in a row, not jump up and down."
Important muscle groups
If you haven't exercised in a while, Dr. Phillips suggests workouts that focus on functional fitness, supporting the activities of daily living such as getting up from a chair. "At a minimum, you want a workout that focuses on large muscle groups that allow you to stand," he says. "These include the core muscles in your abdomen and back, as well as your leg muscles."
Dr. Phillips also recommends videos that work your shoulder muscles, so you can raise your arms for other daily activities, such as putting glasses in a kitchen cabinet.
What fills the bill?
Now that you know what to look for in a good exercise video, consider the types of workouts commonly available. Examples include low-impact cardio, tai chi, yoga, seated yoga, marching in place, resistance band exercises, and body weight workouts.
Overwhelmed by the choices? Consider taking an online exercise class from Harvard Health Publishing (www.harvardhealthonlinelearning.com/catalog). Designed specifically for older adults by Harvard Medical School doctors and certified fitness experts, these classes offer safe workouts and step-by-step, demonstrated instruction that you can follow at your own pace, in the privacy of your home. You'll learn how to maintain the best form, prevent injuries, work within the limitations of certain medical conditions, and maximize the benefits of each exercise.