Can you do 28 tricks in a minute? Two border collies named Wish and Halo can, and they have set the world record.
Guinness World Records announced that the border collies performed the most tricks by two dogs in one minute. Wish also broke the record for the fastest 5-meter crawl by a dog, achieving the feat in 2.175 seconds, according to the record keeping organization.
The dogs and their trainer, Emily Larlham of El Cajon, Calif., completed the tricks to submit to Guinness for approval on Dec. 22.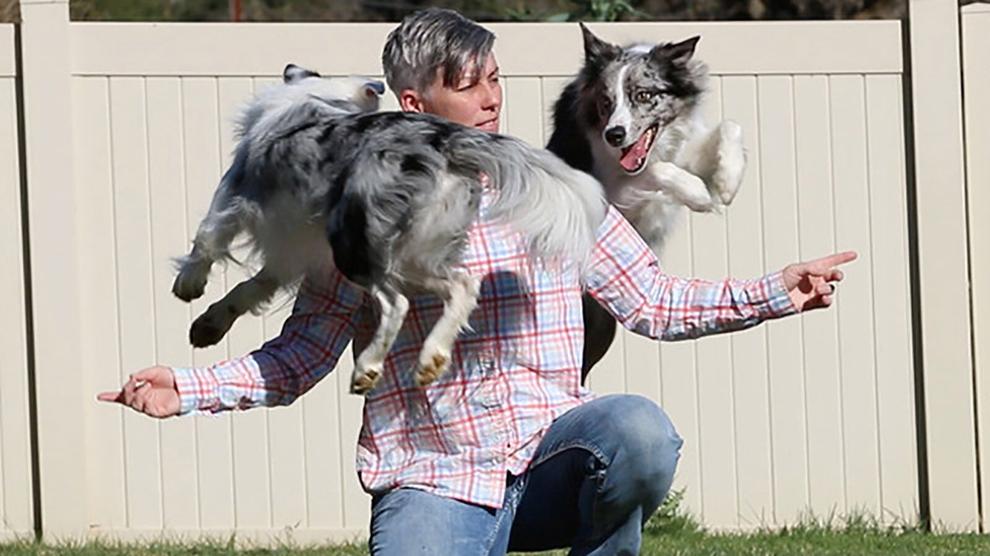 Larlham uses positive reinforcement training to teach her dogs and even has a YouTube channel dedicated to helping other pet owners, Guinness World Records said. She has more than 350 videos available on the account.
Wish, Halo and their three furry siblings — Kiko, Splash and Tug — help their human mom with the tutorials (and gaining some coveted records).
Larlham is also a speaker and is known in dog training circles around the world with her company, Dogmantics.
Best COVID-19 practices for dogs
Here are important facts about COVID-19 for dog owners to know.
Transmission
While dogs can be infected, it is mainly a human-to-human transmitted disease.
A small number of pets worldwide, including cats and dogs, have reportedly been infected with the virus, mostly after close contact with people with COVID-19.
Based on the limited information available to date, the risk of animals spreading COVID-19 to people is considered to be low.
If you become infected
If you become sick with COVID-19, you should ideally delegate your pet's care to a family member or friend and isolate from them as much as possible.
If you live by yourself and are unable to find someone to care for your pet, wear a mask when dealing with them.
Refrain from hugging, petting, kissing or sharing food items with them, and wash your hands thoroughly after dealing with them.
If you are able to find someone to care for your dog, give them a copy of your dog's medical records, your veterinarian's name and phone number, medications and instructions on administering them, and food with instructions for feeding.
If your pet becomes sick, don't take your pet to the veterinary clinic yourself. Call your veterinarian, and let them know.
Some vets may offer telemedicine consultations or make other plans for seeing sick pets.
Your vet can determine the next steps for treatment and care.
Prevention
Because there is a risk that people with COVID-19 could spread the virus to animals, the Centers for Disease Control and Prevention recommends that pet owners limit their pet's interaction with people outside the household. To do that, you can:
Walk dogs on a leash at least 6 feet away from others.
Keep pets indoors when possible, and don't let them roam freely outside.
Avoid public places where many people gather.
Don'ts
Do not put a mask on pets. Masks could harm them.
Do not wipe or bathe your pet with chemical disinfectants, alcohol, hydrogen peroxide, hand sanitizer, counter-cleaning wipes or other industrial or surface cleaners.
Talk to your vet if you have questions about appropriate products for bathing your pet.
Vet visits during the pandemic
During a pandemic, veterinary and emergency clinics are considered essential services, and many still are open.
In order to observe safety protocols, they have had to change some of the ways they operate. Here is what you likely can expect from a visit to the vet (or spay/neuter clinic).
When you make an appointment, the clinic may ask you to fill out paperwork online in advance. When you arrive at the clinic, you likely will call them from outside so a staff member can come get your pet.
If you drove, make your pet accessible from either the passenger-side back seat or from the hatchback, to maintain proper social distance.
Next, the vet will call you during or after the exam to review your pet's health. You could pay for services via phone with a credit card, and a receipt will be emailed.
The-CNN-Wire
™ & © 2021 Cable News Network, Inc., a WarnerMedia Company. All rights reserved.