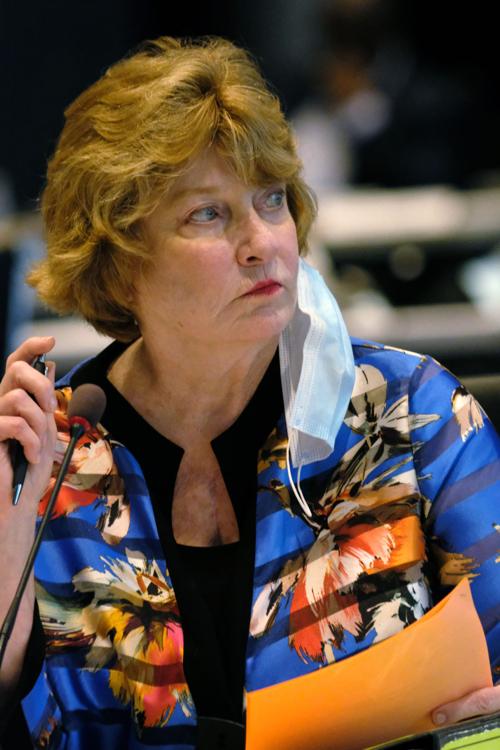 RICHMOND — A new federal stimulus package of $1.5 trillion is necessary to keep Americans, businesses and state and local governments afloat until vaccines are widely distributed and used to bring COVID-19 under control, a research analyst for Moody's Analytics told Virginia Senate budget officials on Thursday.
Dan White, public sector research director at the company, said a big stimulus package is essential because of the potential "fiscal shock" to state and local governments from deepening revenue losses and higher safety net costs as they wait for approval, distribution and public acceptance of emergency vaccines to end the pandemic.
Moody's Analytics — a separate arm of the national bond-rating agency, Moody's Investor Services — thinks a $1.5 trillion package would be enough to enable individuals, businesses and governments weather the crisis, without relying on a politically divided Congress for further relief packages until enough people are vaccinated against COVID-19 to end the crisis, White said.
"Given the political climate in Washington, I don't know we get another shot at this," he told the Senate Finance & Appropriations Committee at its annual budget retreat at the Science Museum of Virginia in Richmond.
'Heck of a challenge'
The economic fallout may be milder in Virginia than other states, partly because of its efforts to control the virus and partly because of its financial reserves, but nationwide, Moody's estimates the "combined fiscal shock" for state and local governments could range from $450 billion to $650 billion over three fiscal years.
"You have a heck of a challenge in front of you," White told the Senate committee. Last month the panel adopted a new budget that Gov. Ralph Northam signed Wednesday. It reflects a $2.7 billion revenue shortfall over two years because of the economic fallout from the public health emergency the governor declared in March.
Initially, the revenue outlook looks better for the new budget that Northam will propose on Dec. 16, based on a preliminary forecast by the Joint Advisory Board of Economists at a meeting the day after Election Day. The forecast is subject to adjustment by the Governor's Advisory Council on Revenue Estimates, a group of business leaders and legislators that will meet Monday to decide whether the outlook is right or too optimistic in the face of economic uncertainty.
Virus uncertainties
Senate Finance staff estimated an additional $1.5 billion could be available for the two-year state general fund budget, based on higher than expected collection of taxes on income, sales and use, and recording of deeds and other court filings in the first four months of the fiscal year than began on July 1. The $46.1 billion general fund relies on state taxes to pay for core government services such as public education, health care and public safety.
"Upward adjustments to the biennial [general fund] budget totaling $1.5 billion are appropriate, but much depends on the course of the virus, the timing of a vaccine, and the public's response to changing circumstances," legislative fiscal analyst Charles Kennington told the committee.
Income taxes withheld from paychecks accounts for almost two-thirds of state general fund revenue but depend on employment and wage growth. Kennington expects overall employment to "decline modestly" in the current fiscal year, but high-wage jobs, such as business and professional services, are expected to grow 3% this year and 4% in the next.
Business and professional services, including information technology jobs that drive the state's economic development strategy, have weathered the pandemic recession relatively well, compared with the hard-hit leisure and hospitality industry, which pays much lower wages to workers, the staff said.
Virginia also has been helped by sales and use taxes, especially from online transactions. They must pay taxes under legislation adopted last year in response to a U.S. Supreme Court decision in 2018 that freed states to tax online sales. "That has been a real boon to sales and use tax collections," Kennington said.
Finally, low interest rates have spurred big increases in so-called recordation taxes—levied on deeds and other court filings—as more Virginians have refinanced home mortgages or purchased new homes during the pandemic.
Tax liabilities
But the improved revenue outlook also faces some big challenges. These include potential tax liabilities because of changes that the CARES Act relief package adopted in March made to the provisions of the Tax Cuts and Jobs Act that President Donald Trump signed in late 2017 and Virginia generally adopted last year.
Those changes, primarily aimed at loosening potential tax restrictions on businesses during the pandemic, could cost Virginia more than $700 million in income tax revenue from business and individual taxpayers this year and next. That depends on whether the General Assembly and governor fully conform state tax laws to the new federal rules during the legislative session that will begin Jan. 13.
"Decisions about tax conformity are going to be difficult because of the large costs," Senate Finance Director April Kees told the committee.
Those decisions also will depend on how the Internal Revenue Service treats potentially forgivable loans to businesses under the Payroll Protection Program that was part of the CARES Act, said Sen. Chap Petersen, D-Fairfax City. "I think the elephant in the room is the PPP, and whether or not those loans are going to be forgivable or taxed."
The finance committee also will face pressure for new spending. The staff estimates $788 million in mandatory or high-priority spending items, including money to help the Virginia Department of Health carry out emergency vaccinations and continue to trace COVID-19 cases. These items also include additional compensation for state employees, teachers and other public employees that was approved and then cut from the budget because of the projected shortfall.
Finally, the budget committee will have to consider a long-term structural imbalance between revenues and spending in the second year of the budget and in the new two-year budget cycle, when Medicaid program costs also are likely to increase substantially.
"Structural balance is something we will continue to keep our eyes on while we move forward in our deliberations," said Senate Finance Chair Janet Howell, D-Fairfax.
Be the first to know
Get local news delivered to your inbox!