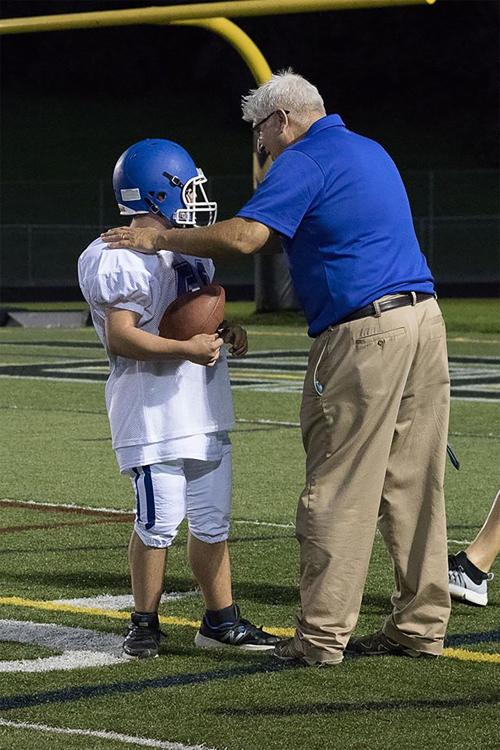 FORT DEFIANCE — In many ways, little will change for Mark Mace and Fort Defiance High School this fall.
After seven years as the school's athletic director/assistant principal, Mace is moving up to become the school's vice-principal. If there is a difference, it will be in the amount of time he puts into athletics versus academics.
Mace, who started his career in special education, has been in education for 30 years, as a teacher, a coach and an administrator. And, for the last seven years, that focus has been as the "juggler-in-chief" of all the ends and outs of athletics at Fort. Not an easy job according to newly retired Fort principal Larry Landes.
"Mark has been responsible for planning and coordinating all activities related to Virginia High School League (VHSL) programs, scheduling of all sorts, arranging for officials, organizing transportation, setting up events, organizing award ceremonies, hiring coaches, providing press opportunities, maintaining and upgrading facilities and handling the finances related to events," rattled off Landes as he listed the AD duties. In addition, he added that beyond oversight of the school's athletic programs, Mace handles arrangements for all of the school's field trips, the scheduling for all of the school's facilities, and handles some coach and teacher observations and evaluations.
But, wait, there's more. Mace, who came to the Augusta County school from Harrisonburg High School where was the head baseball coach for two years after spending the previous six seasons leading Eastern Mennonite University's baseball program, also works closely with athletic directors from other schools as well as VHSL representatives. He handles the maintenance of all the outside grounds at Fort Defiance, works closely with Fort's Sportsman's Club, coordinates Fort's Hall of Fame, and organizes the yearly Fort Defiance Extreme Makeover.
After learning what Mace was in charge of as the school's athletic director, one can't help but wonder if this new position, although technically considered an upward move, might provide a little respite from the frenzied go-go-go lifestyle of an AD.
Despite the frenzied pace of an AD, though, it has been fulfilling, Mace said.
"The students have been the best part. To have had a part in giving students the opportunity to participate and shine and to watch them grow can't be beat," he said. "It is great to see them come in as freshmen at Camp Totem (freshmen orientation) and watch them on their journey and then to see them graduate is wonderful."
"Mark has been all about celebrating the student-athletes at Fort," Fort volleyball head coach Sue Leonard said. "He was always complimenting my volleyball players and encouraging them in upcoming matches. He always had positive comments, and was always optimistic about our upcoming events."
One of the challenges at Fort Defiance has always been to convince the student-athletes not to specialize in one sport, but to experiment with a lot of different activities, Mace said of his years overseeing Indian athletics. As a result, he has always encouraged Fort's student-athletes to diversify and try new things.
"They might be good at something and not even know it. High school is an experience with the opportunity to do everything, try everything and get involved," he said.
One of things that he is most proud of during his years as AD is the creation of the annual First Responders football game against Wilson Memorial. The first cross-county rivalry was actually played on September 11. The purpose of the game was to find a way to honor the community's first responders. A First Responder of the Year is chosen and honored at the game. To date the game has been played seven times with Fort Defiance holding a 4-3 advantage.
Perhaps the saddest part of Mace's job this year is the way the school year and his tenure as AD ended with a fizzle because of the pandemic.
"My heart breaks for our students and we don't know when this is going to be over," he said of the school shutdown that has been in place since mid-March. "The students lost their spring sports, their senior night and their prom. And, we don't know when it is going to be over, but we are staying informed and updated."
Landes had high praise for his former colleague's work ethic.
"Mark has worked diligently as an assistant principal and athletic director for seven years," he said. "He loves the kids and works hard to set students and coaches up for success. Mark goes way beyond the call of duty to celebrate the accomplishments of student-athletes and coaches every day. He is all about The Indian Way."
In many ways, Mace's new job, with its student-centric focus,will continue down the same path. As vice-principal, he will just deal a little more with the "students" and a little less with the "athletes." Either way, it will always be about the school's students.
"He is a great 'cheerleader' for all of the sports and students," Leonard said.
"Looking forward, I will just be putting more time on academics rather than athletics," Mace said of his new position. "I don't feel like I am going anywhere. I am still going to be on the sidelines, but maybe I will get to travel and see the road games more."
Be the first to know
Get local news delivered to your inbox!