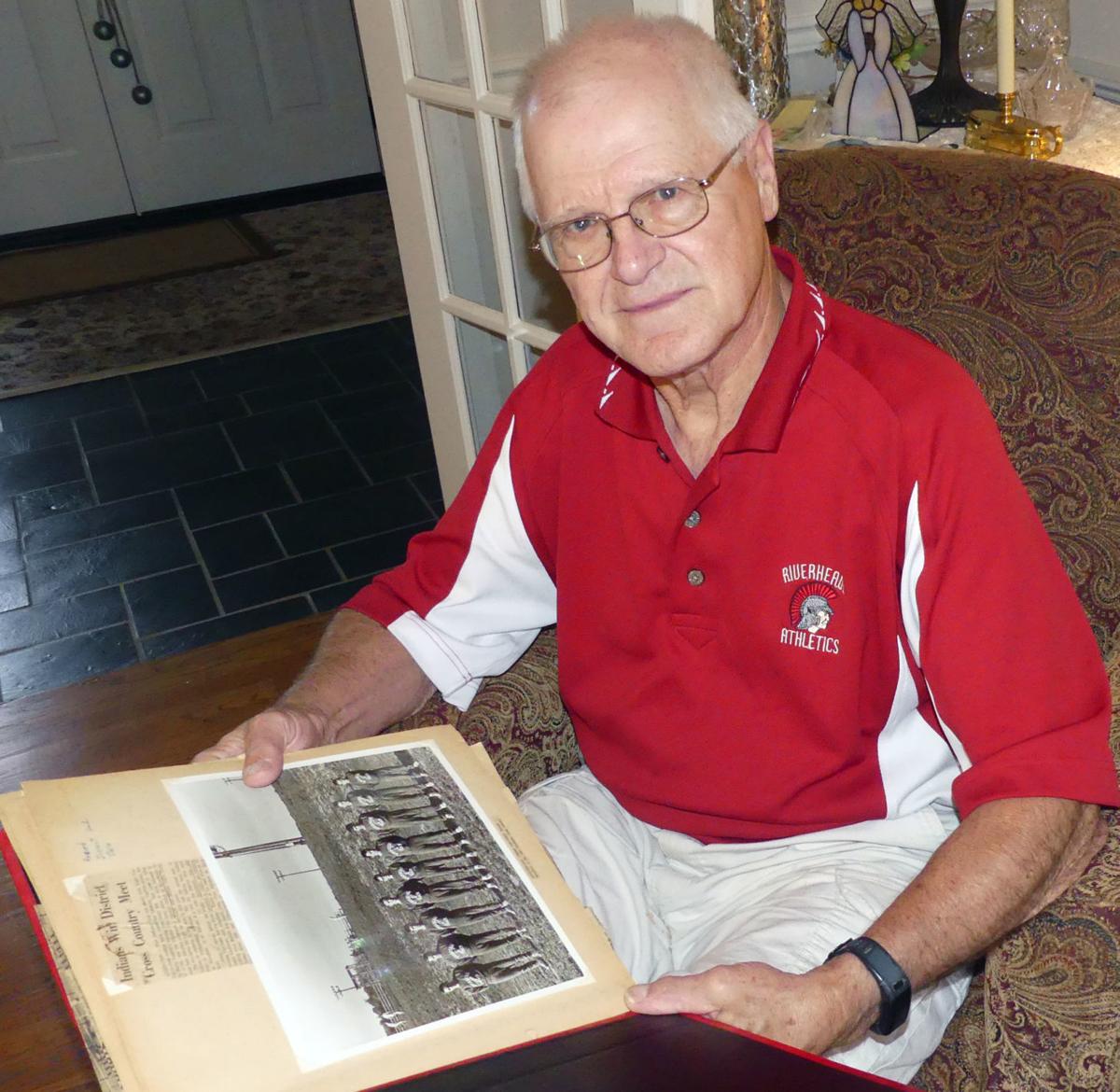 GREENVILLE — It was another world in another time.
The year was 1962 and a brand-spanking new consolidated brick high school had suddenly grown up on what had been a farm in southern Augusta County. On Aug. 31, 1962, the doors to Riverheads High School opened for the first time and 460 students, grades 8-12, arrived to tour the new facility. A few days later, on Sept. 4, classes started for the first time.
In that first year, every day was a first for something at Riverheads. That held true not only for the students, but also for the faculty and staff. There were 24 teachers at Riverheads when the doors opened. Some had moved from other teaching situations.
Among those teachers, at least one, a math teacher named Larry Hull, was not only experiencing a new school, he was experiencing his first moments as a teacher. Still wet behind the ears, young Hull, who hailed from Dayton in Rockingham County, had recently graduated from Bridgewater College with certifications to teach mathematics and chemistry.
In 1962, southern Augusta County was foreign territory to the Rockingham native. He arrived to a school that wasn't even finished — the football team would not even play a home game until the following fall — in a place where he had never visited. As a 22-year-old, he was barely older than some of the 19-year-old seniors and postgraduates at the school that year.
Fast forward nearly 60 years and that unsure rookie teacher is one of the most beloved teachers and coaches to have ever walked the halls of Riverheads. On Saturday, Larry Hull will celebrate his 80th birthday and former students as well as friends and family are showering him with cards.
Beyond the numbers
As a former student of Mr. Hull, I can attest to the fact that such a celebration is well deserved. You see, I am a living example of Hull's extraordinary ability to get math into the heads of those not inclined to do well in the world of calculations and numbers. As a track runner and then later a sports writer, I have also witnessed Hull's coaching ability for decades. Therefore, it was with great excitement that I recently contacted Larry and Jeannette Hull asking if they would not mind sitting down with me for an interview. They consented and I stayed for four delightful hours as we reminisced about life in Red Pride Country.
Because Hull was a math teacher, perhaps a look at the numbers is in order. Take the classroom first. As a math teacher, he taught all levels — from eighth grade match to calculus — for 48 years, retiring in 2010. Many remember him as the sole reason why they passed algebra, geometry, trig, and so on.
However, there was a whole another facet to Hull's Riverheads persona. Shortly after he began, he was asked to coach cross country. Although he had no experience, he stepped up to the plate for the athletes. In 1967, another new young teacher named Ron Wilkerson arrived on the scene. He had participated in track and field at the University of Virginia. Together the two young teachers formed a coaching duo and a life-long friendship as they led the boys indoor and outdoor track teams.
There is a reason why the Gladiator track facilities bear the names of these two men. For decades the duo teamed up to make the Gladiator track programs a force to be reckoned with. In 1975, their indoor track team captured one of the first state titles in the area. In 2009, their outdoor track team won a state title as well. Over the years Gladiator track teams under the two men brought home more than 25 district titles as well as several regional titles. At one time, the team had an unbeaten dual meet streak of 83 victories.
All that was far in the future for the new teacher at the new school in 1962. When asked what he remembers about that first year, Hull fondly recalls "an interesting faculty that worked well together."
"There were a couple of very unique people in that first faculty. There was Col. George Cooper, a former military man who would often be in full military uniform, and there was 'Wee Willie' Wilkin who had played professional football," he remembered.
Many of the faculty came from the small Spottswood High School just up the road that closed its doors when the new school opened. Among those transfers was the new principal Cecil Layman who had been principal at Spottswood.
"Cecil really helped me," Hull said of his long-time principal and friend. "He really backed his teachers. Everyone can mess up, me included, and when I did he worked me through a solution."
Another important faculty member was teacher and coach Ken Downey, a Dayton native who connected him to Layman and laid the groundwork for Hull getting the job at Riverheads.
"Ken was very influential in my decision to come to Riverheads," Hull said. "He took me around and showed me the area and let me see where the kids lived."
Life as a teacher in the early 1960s meant living in a precarious financial situation. He and another teacher roomed together to save money because the $3,600 salary for 10 months a year of teaching did not go far. Back in those days teachers did not get paid at all in the summer and many found other work to tide them over.
Once Ron Wilkerson came on the scene, the two opened up a house painting business and that provided a summer income for their growing families for 30 years. Hull also became a math tutor in Waynesboro for an organization called OCAT — One Child At a Time.
He and Wilkerson were also the junior class sponsors and, at Riverheads, the junior class was responsible for planning and orchestrating the prom. For 25 straight years, the two never missed a prom.
It takes two
Riverheads shaped the direction of his life in many ways, including his eventual bride. When the school opened in 1962, there was a junior named Jeannette from Arbor Hill. She was supposed to have a different math teacher but a scheduling change sent her to Larry Hull's classroom. Moreover, because Jeannette was not good at math, she moved herself up to the front of the classroom in order to absorb the instruction.
Jeannette graduated in 1964, went on to Madison (JMU) where she majored in special education, specializing in speech and language pathology, and worked for many years at area schools.
"We did not start dating until I was at Madison," Jeannette Hull said. "We dated for three years and have now been married 53 years."
Their only child Brent was born in 1971.
Although nearly 60 years of memories are mostly happy, there were a few sad moments. President John F. Kennedy's assassination during the fall of his second year (November of 1963) will never be forgotten. He also remembered with sadness the student killed in a car accident after prom. Perhaps the two saddest moments were when a young and popular track coach, Chris Rockwell, was killed in a car accident and when track runner Leland Davenport was kidnapped and murdered.
When I asked Larry Hull how life as a teacher had changed in the last 60 years, he pointed to discipline being tougher back then. However, that was balanced with an easy-going, somewhat innocent relationship with the students as well, he recalls.
"I used to loan one of my vehicles to students if they needed it. I loaned one to a student to get married and at other times if they needed it for prom or dates," he remembered with a laugh.
Hull was known as the school gossip and was the teacher who would roll the dice to decide who might have to kiss whom because of a miscue in class. If students became unruly, he would draw a little circle on the blackboard meant for the nose of the misbehaving student. Once he got the reputation as the "gossip" of the school, kids would slip him notes with information about certain school romances that were inevitably brought up in class. The resulting questions were usually quite amusing. I can remember rolling with laughter in math class and maybe even learning a little bit of math in between the fun.
"I couldn't just do math, it would have put them to sleep. I had to make it fun," he explained. "I had the most fun with geometry because you could visually show the kids and we could relate it to the real world. Algebra is so abstract and it was hard to teach them where those crazy equations came from.
"I was allowed to do different things without getting into trouble. For instance, in later years I would put speakers in the hall and play music after SOLs, or at the end of the year, or at Halloween."
When he started teaching, the school had slide rules available if students wanted them. By the late 1970s, calculators had arrived on the scene. At first, the school said no to calculators.
"I wanted the students to know how they got the answers," he said of the calculator quandary. Eventually calculators were allowed in the classroom.
"I have no problem with calculators now, but it has made people dumber," he explained.
After a few years teaching, Hull went to the University of Virginia and earned a master's degree in counseling, but he never left the classroom.
"I decided to stay in the classroom and not go into administration because I enjoyed what I was doing," he said. "I was fortunate that the county let me stay at Riverheads for my whole career. It has been a lot of fun to build relationships with the kids."
Although discipline changed a lot over the years, he never had much of a problem because by his later years of teaching he was on his third generation of students.
"All I had to do was pick up the phone and talk to the parents or the grandparents," he explained.
Adding it up
As memorable as his time in the classroom was, his time in the athletic arena was equally so, especially after he teamed up with Ron Wilkerson for indoor and outdoor track starting in the spring of 1968. The two made a good match, complementing each other in their methods with the kids.
"I was the low key one and he was the volatile one," he said. "Ron would get upset and yell at the kids and I would console them. For both cross country and track, we were able to convince the kids that running was not bad. Both sports were a lot of fun, except on cold days at the start of the season."
He admits to probably liking the variety of track over cross country.
"It had so many different events that most kids could find one event that would work for them so that they could be good," he added.
Hull has been out of the classroom for a decade, but he still has regular interaction with the school. In fact, the most amazing number of all in a story filled with numbers is this: In the fall of 1963, the Gladiators hosted their first football game. Hull was asked to keep the clock and the scoreboard. He has not missed a game since then, 57 straight seasons and counting.
"They still call and ask me if I want to do it and I keep saying yes," he said.
Other than the football games, Hull keeps busy on the school reunion circuit. He started keeping scrapbooks, memorabilia, and prom books early on in his career and has accumulated "a trunkful" of Gladiator history. Now he pulls those out to reminisce and take to reunions so that former students can remember their high school years.
More than a few students have reached out to thank him, which is always gratifying, and some brag about how they can do calculations in their heads at their jobs while their colleagues have to turn to their calculators for the number crunching.
At 80, Larry Hull's days in the classroom and on the track are now fond memories. He can take great comfort in shaping the lives of, literally, thousands of young men and women for three generations. However, these days the youngsters he most enjoys working with are his three grandchildren who know him and Jeannette as Poppy and NayNay. He also squeezes in plenty of time for golf and organizing his vinyl record collection.
As for that choice way back in 1962, he wouldn't change a thing, he said.
"Riverheads is still a great place. The kids who go to the school are wonderful kids. Over the years, I did not notice a change in students," he said. "Even when I left I wouldn't trade that student body for any other school anywhere."
Be the first to know
Get local news delivered to your inbox!