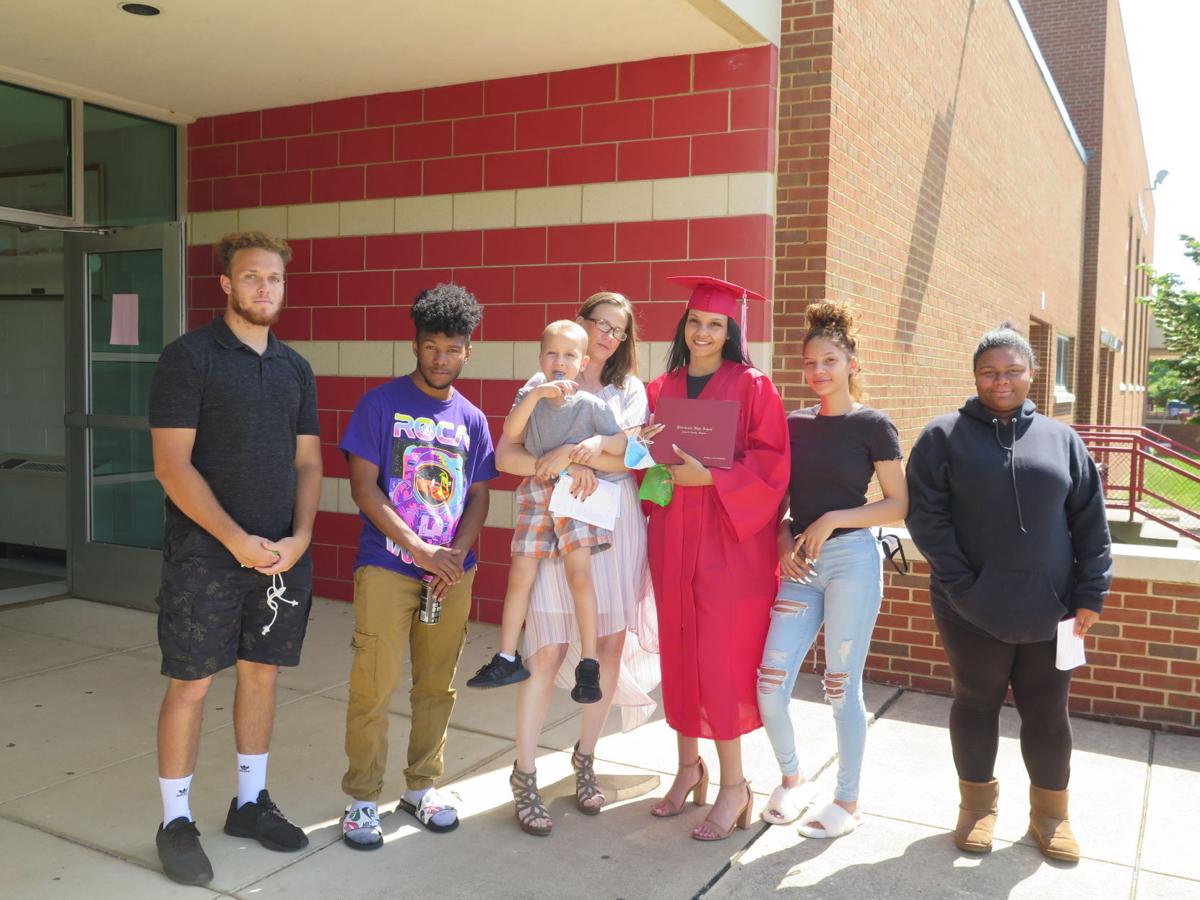 GREENVILLE — "Pomp and Circumstance" could be heard echoing around the gym as graduates made their way to the stage Thursday morning at Riverheads High School with Augusta County School Board vice chairman John M. Ward announcing each graduate's name before they were greeted by principal Matt Stevens and given their diplomas.
Like other schools in the county, Riverheads is conducting a virtual commencement, which began Thursday and will continue Friday morning.
"It feels good to finally be done with high school," said Lane Cash, 18, received his diploma Thursday morning.
Classmate Sierra Chambers agrees.
"It feels good," said Sierra, 17, who plans to attend Staunton School of Cosmetology in the fall.
Sierra's mother, Jeanette Chambers, said that her daughter struggled in high school.
"It was bittersweet," Jeanette Chambers said. "Sierra's worked very hard to get to graduate."
George Franklin Coffey III, played football for the Gladiators his freshman and junior years, is already working as a welder for Draft Company. His plans after high school for now are to continue the trade.
"[High school] was quick and short," said George. "I like that."
Cash said Riverheads High focuses on grades.
"It's a good school to go to — it really helps you develop as a person," Cash said.
Cash, who played football his freshman, sophomore and senior years and wrestled all four years, plans to wrestle in the fall at college and is still deciding between Ferrum College or Roanoke College.
A highlight of this year's commencement was Alyson Armentrout-Lancaster's entry in U.S. Sen. Tim Kaine's "Everybody's the Graduation Speaker" contest, which was recognized by the senator earlier this week.
"Trying to find the words to sum up the past 12 years of my education is hard," said Armentrout-Lancaster in her speech. "If I'm being honest, so was getting my education."
The Gladiator said growing up she was told getting good grades was important and the key to success later in life, and if you were not getting good grades "you were not trying hard enough."
"And, consequently, you feel as if you aren't enough. I'm here to say that's wrong. Yes, good grades are nice, but grades won't get you through life, and they won't make you automatically succeed," Armentrout-Lancaster said. "Having good grades entitles you to nothing."
Armentrout-Lancaster said she has struggled with mental health illness her entire life.
"I've always felt as if I wasn't enough, so, for the past 12 years, getting good grades has been a little hard," she said. "It's easy to fall into the darkness and see no way out. It's easy to lose sight of the light."
Armentrout-Lancaster said in those moments of her life she did not care about grades, because just surviving was enough.
Her parents tried to help her, but she had to make the decision to keep fighting against the depression and anxiety every day.
Armentrout-Lancaster said she did not expect to survive past middle school.
"But, something changed in me," she said. "I began to care. Not about my grades, not about school, not even about my friends. I started to care about the impact my illness was having on my family."
Armentrout-Lancaster said she began to see how much her mother wanted to be able to help her, and that her teachers were doing what they could to help her. Her teachers knew the way she was acting "wasn't really me."
She made a conscious choice to get better.
"And now I'm 18 years old, and I'm succeeded, and it has absolutely nothing to do with the grades and everything to do with the people who helped me along the way."
In sixth grade, Armentrout-Lancaster discovered her passion for writing with the help of her Language Arts teacher. Last month, the senior self-published her first book.
"You see, writing got me through the darkest moments of my life," Armentrout-Lancaster said.
At Riverheads High, Armentrout-Lancaster said she began to feel insecure about her writing talent until her 11th grade English teacher, Kopper Ernst, offered encouragement.
"She gave me a reason to keep going, not that she knows it, and, for that, I thank her."
In 10th grade, Armentrout-Lancaster's Biology teacher changed her life by pushing her to speak in front of her class whenever possible. Because of his encouragement, Armentrout-Lancaster was able to give a speech in front of the entire high school that year.
She sought his advice from then on.
"It is because of him that I'm able to do what my heart desires. I'm not afraid to talk in front of people, I'm not afraid to raise my hand in class, I'm not afraid to be wrong," Armentrout-Lancaster said. "I can never thank him enough for everything he did for me and everything he taught me."
In conclusion, Armentrout-Lancaster said grades are not everything because they will not get you through life.
"The only thing that will get you through life is you, so if you have a problem with yourself, you're not going to get very far."
Armentrout-Lancaster said she was able not only to get past middle school but make it through high school because of her sixth-grade teacher, Ernst and her Biology teacher.
They helped her to see a future and to believe in herself.
"Grades don't make a person, but their teachers sure do."
Be the first to know
Get local news delivered to your inbox!