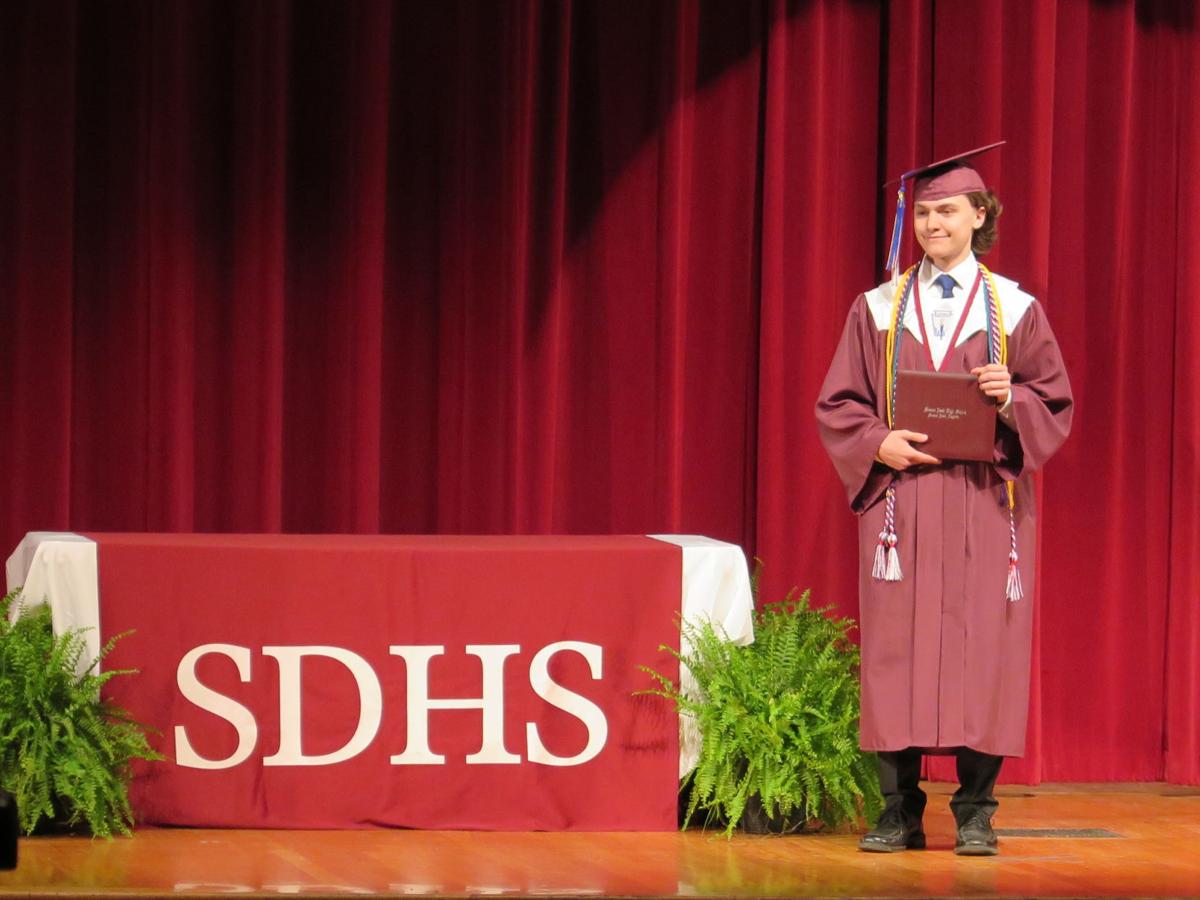 STUARTS DRAFT — The graduation of Stuarts Draft High School's Class of 2020 on Wednesday morning was like no graduation ceremony before for Cougars.
In a virtual ceremony, which will continue Thursday, graduates arrived with their families and practiced social distancing from other families as they entered the school, then proceeded to the auditorium.
Stuarts Draft High Principal Nick Nycum greeted each graduate and his or her family members on the stage.
"The graduation ceremony was hopefully a memorable, personalized experience for all of our graduates and their Cougar families," said Nycum in an email statement. "The Class of 2020 will not only be remembered because of the current pandemic situation, but, more importantly, because of the dignity and class they have presented over the past four years at SDHS. Job well done, Class of 2020."
In the afternoon, guest speaker Vincent Banks recorded his speech for the Class of 2020.
Banks, who lives in Waynesboro, was a technical education teacher at Stuarts Draft Middle School for 14 years but is now with the Fellowship of Christian Athletes.
"I taught most of these kids," Banks said of the Class of 2020 when they were in middle school before he began his speech.
Banks, who graduated high school in Tennessee in 1995, said he does not remember the speech at his graduation and maybe in 25 years the Class of 2020 will not remember what he said, but they will have the speech recorded on video.
Banks wanted the class to know three points from his speech.
"First of all, think of your life or up to now, I guess, think of your life as a 120-piece puzzle," Banks said. "When it comes to putting puzzles together, once people begin with the four corners they then begin to construct a border. The rest of the puzzle is not even worked on until the border is completed."
From birth until high school graduation, Banks said the members of the Class of 2020 have "been working on your puzzle with the help of so many people."
The borders of the graduates' puzzles are complete, and now they can begin to work on the rest of their puzzles.
Banks said it is important for the graduates to choose the individuals in their lives wisely.
"No one needs to spend years of their lives picking up the pieces, so to speak, of the negative influences and negative people," Banks said.
He told the graduates to surround themselves with individuals who believe in them.
"But, understand that no puzzle puts itself together,"  Banks said. "You actually have to work on it."
In Banks' second point, he wanted the graduates to understand they are "born with special talents and abilities."
"Tap into those things. There has never been and there will never be another you on this planet," Banks said.
In his third point, Banks recalled a motto he used while teaching at Stuarts Draft Middle.
"Today is a great day," Banks said. "I will have lots of fun and learn new things. I'll work hard, do my best, be kind, be respectful, be responsible, and follow directions, because that's the kind of person that I am."
Banks said he has had his students repeat this motto because he wants them to believe each part of it about themselves. Words do have an impact.
"You have to speak those things into what you want to be or speak those things into your life before you have the outcome that you long for or that you desire," Banks said.
Banks said the puzzles of the graduates' lives are ready to be made, and will be determined by the choices made.
"Work hard, do your best, be kind, be respectful, be responsible, and make a difference. Because that's the kind of Cougar you are."
Alexander Joseph Callo is the Class of 2020's valedictorian.
"We've come a long way to get us to this moment," said Callo. "Four years of each of us walking similar yet very different paths."
Callo said the hardships the class faced in their four-year journey at Stuarts Draft High "shaped who we became."
Callo encouraged his classmates to "use your determination to support what you believe in" after high school. "Stand up for others, and use it to advocate for a better world."
"As you go on, I hope each of you makes it a personal goal to make the world a better place, and I wish you the best of luck in all of your endeavors," Callo said.
Casey Alan Branch, 18, will attend Blue Ridge Community College in the fall and pursue a degree in Advanced Manufacturing.
"It was a great four years at Stuarts Draft High School," said Branch after receiving his diploma on stage.
Twins Allie Grace Beverlin and Cassie Renay Beverlin also have plans to attend BRCC this fall, then transfer to a four-year university.
Cassie hopes to pursue a career in Occupational Therapy.
The twins attended Wenonah and William Perry elementary schools in Waynesboro before attending Stuarts Draft Middle and High.
"Stuarts Draft has made it a really good four years," Cassie said.
She wanted to give "a shout out" to her home economics teacher Miss Floyd, whom Cassie said always listened to her.
"I'm grateful for all the teachers here [at Stuarts Draft High]," Cassie said.
Allie will pursue a career in the dental field.
"My years at Stuarts Draft High School have been wonderful," Allie said. "I'm going to miss it."
Be the first to know
Get local news delivered to your inbox!