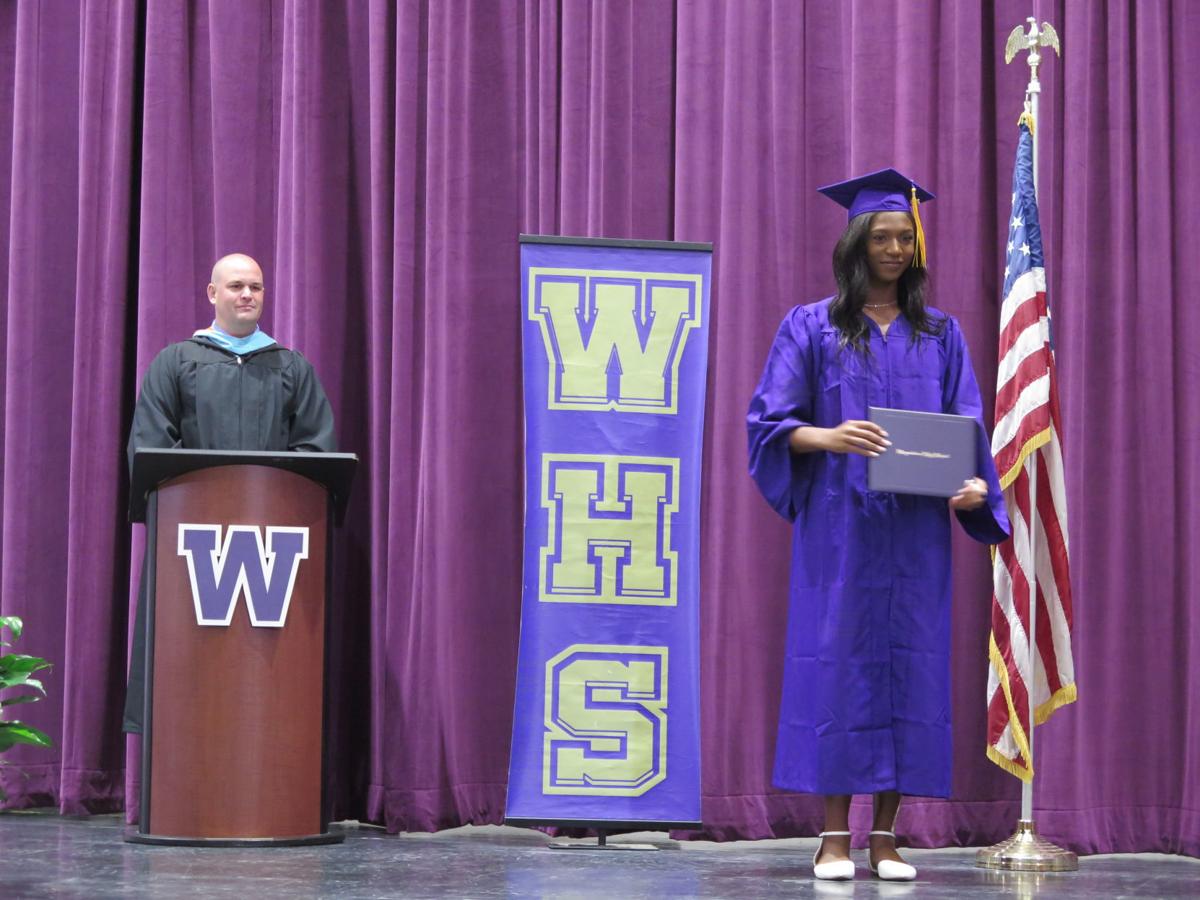 Through homework, class assignments, papers, projects, renovations, and, finally, a global pandemic and distance learning, Waynesboro High School's Class of 2020 persevered.
On Monday and Tuesday, 176 members of the class walked in the school's gymnasium and Louis Spilman Auditorium to receive their diplomas.
"They've been everything to me," said Luke Young, 18, of his four years at Waynesboro High. "I've made so many friends. I've built so many relationships with teachers and staff."
Young said the relationships he built at Waynesboro High "made me who I am today."
Young served as the Class of 2020's vice president, played basketball and tennis all four years of high school, and was inducted into the National Honor Society his sophomore year.
"I wouldn't trade it for the world," Young said.
What Young said he will most miss about being a Little Giant is the teachers. Even when he would move to another grade and have a new teacher, he looked forward to seeing former teachers around school.
Young said he will miss not being around his teachers every day.
"That'll probably be the thing I miss the most," Young said.
In the fall, Young is off to Virginia Tech. He is unsure of his major of study.
Young said he credits playing sports at Waynesboro High with helping give him the "full high school experience."
"Just being on a team, and making those bonds that will carry on after high school," Young said.
Iyana Wilson, 18, has been the student representative on the Waynesboro School Board since her junior year at Waynesboro High.
"My four years at Waynesboro have been really good," Wilson said. "They've been really eye opening."
Wilson said her time at the high school gave her many opportunities, such as serving with the city school board and serving as senior class president.
"I think I'm just going to miss the events," Wilson said of leaving Waynesboro High. She said she will miss the proms and school spirit of being a Little Giant.
"We have really good school spirit, and I think I'm going to miss that," Wilson said.
Wilson's plans for the fall are to attend Virginia Commonwealth University and pursue a degree in psychology. She said she would like to be a therapist.
"I've always been interested in the mind," Wilson said of her career choice.
During her junior year at Waynesboro High, she took a dual enrollment course in psychology.
Although missing out on a formal graduation ceremony, Wilson said Saturday's parade was "a cool idea" and a way to get everyone in the community involved. And she was looking forward to the in-person graduation ceremonies on Monday and Tuesday at the school.
"I just feel very fortunate that we get to have a graduation ceremony," Wilson said.
She said she would like to thank Waynesboro for the opportunity, and added that the school system is "always really involved" with its students.
Cynthia Bing-Wo, 18, seconded Wilson's comments by adding that the teachers at Waynesboro High push their students to do their best.
"It's just meant so much that I could be in this community with people who really want their students to succeed," said Bing-Wo.
Bing-Wo was a member of Honor Council all four years at Waynesboro High, as well as Beta Club. For three years, she competed on the Forensics team, and was treasurer of the National Honor Society for two years. In her senior year, she also swam for the high school team and participated in Quiz Bowl.
"It's really meant a lot to me," Bing-Wo said of her time at Waynesboro High. "I've met so many great people. In my opinion, I've gotten a really great education."
Bing-Wo was also a student with Shenandoah Valley Governor's School.
She said she will most miss the people at Waynesboro High. A lot of her fellow students are going away to college in the fall.
"It's going to be hard to adapt to a new environment, and not have the people I've grown up with be there," Bing-Wo said.
She said she will also miss her teachers in Waynesboro.
"I'm definitely going to miss all these people, and the impact they've had on me," Bing-Wo said.
Bing-Wo will find herself a student at UVa in the fall majoring in biomedical engineering. She hopes to go on to medical school.
While unsure just yet of her career path, Bing-Wo said she has been thinking about becoming a surgeon.
At first, she considered neurosurgery, but she said she might prefer a more general approach to the human body and pursue a career as a general surgeon.
"I just think that it's really cool that all the parts [of the human body] working together I could be a part of fixing that," Bing-Wo said.
Be the first to know
Get local news delivered to your inbox!