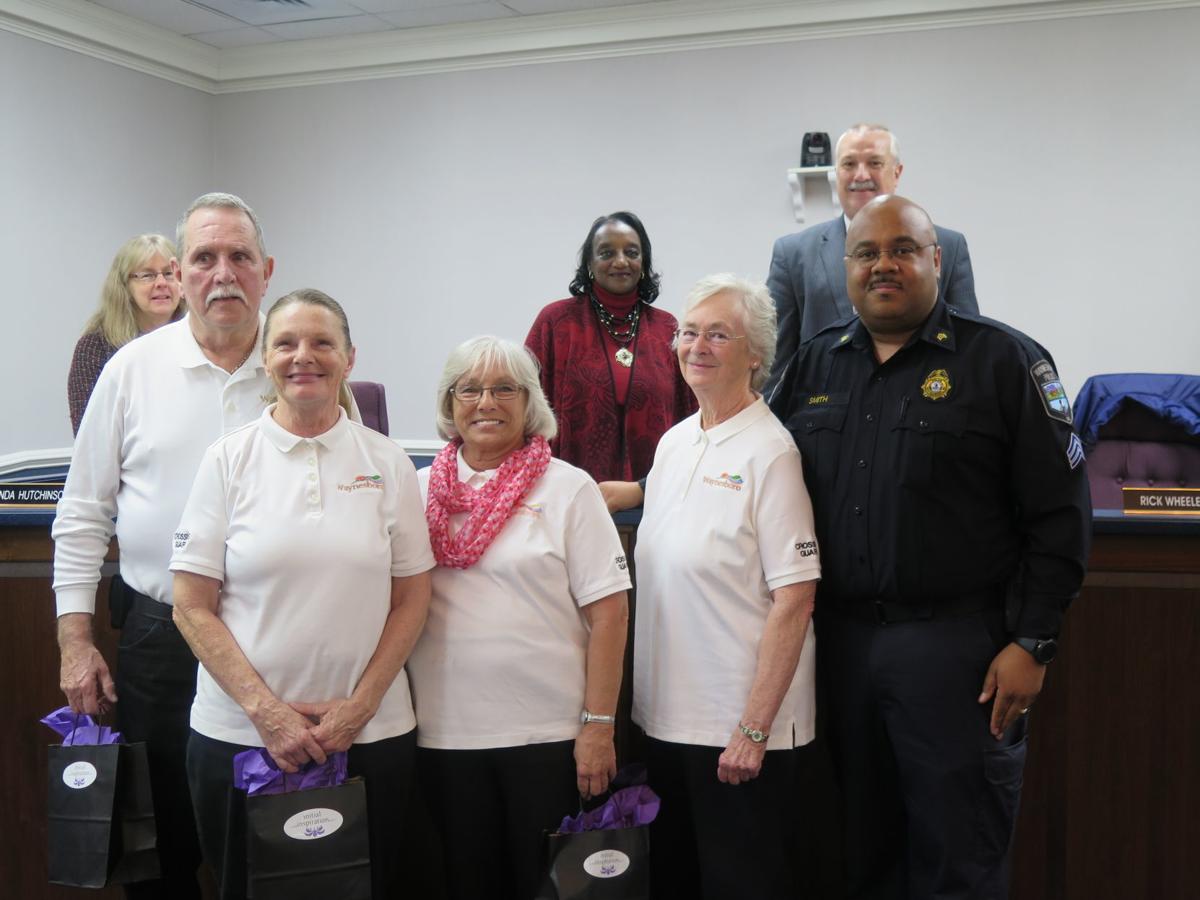 They stand between traffic and students in all kinds of weather.
They are school crossing guards.
February is Crossing Guard Appreciation Month, and, in recognition of National Crossing Guard Appreciation Day on Wednesday, Waynesboro School Board recognized six school crossing guards at its regular meeting Tuesday night.
"They protect the future of Waynesboro," said Susan Lendermon, Office on Youth Safe Routes to School Program Coordinator, "and they really do."
Lendermon said she has seen the six crossing guards "and it's quite amazing what they are able to accomplish."
Crossing guards work 10 hours each week helping to alleviate traffic congestion near Waynesboro Schools.
"So what they're doing to protect our students is quite amazing," she said.
John Rich has been a crossing guard for Berkeley Glenn Elementary School for more than a year.
"He's got the [drivers] who are not really happy about having to stop at all the cross walks," Lendermon said. "He does an amazing job. He said that he loves his job, because he loves the kids so much and they are his family."
Dana Totten has been a crossing guard at Westwood Hills Elementary School for five years.
"She's got people late in the morning who are racing down Rosser [Avenue]," Lendermon said.
Rose Ippolito has served Kate Collins Middle School as a crossing guard for six years.
"She's got the people coming on [Route] 254 that are running late to work," Lendermon.
Wenonah Elementary School's Barbara Jean Iseli has been a crossing guard for 30 years.
Not present at Tuesday's meeting, but also recognized were Gwen Baker, who began as a crossing guard last week, and Kimberly Williams, a floater, who has been a crossing guard for six years.
Sgt. Fred Smith of the Waynesboro Police Department serves as liaison and employs Waynesboro School's crossing guards.