A recent mailer distributed by Sen. Mark Warner, D-Va., claims his Republican challenger, Daniel Gade, supports eliminating protections for people with pre-existing conditions — a claim that Gade is calling a "deliberately false" and "offensive attack."
The mailer shows a photo of Gade with the headline "Daniel Gade won't protect our health." Underneath it reads, "Gade will cut access to affordable health care. He supports eliminating protections for people with pre-existing conditions." Warner's mailer cites a Facebook post by Gade on March 24 as its source for the claim.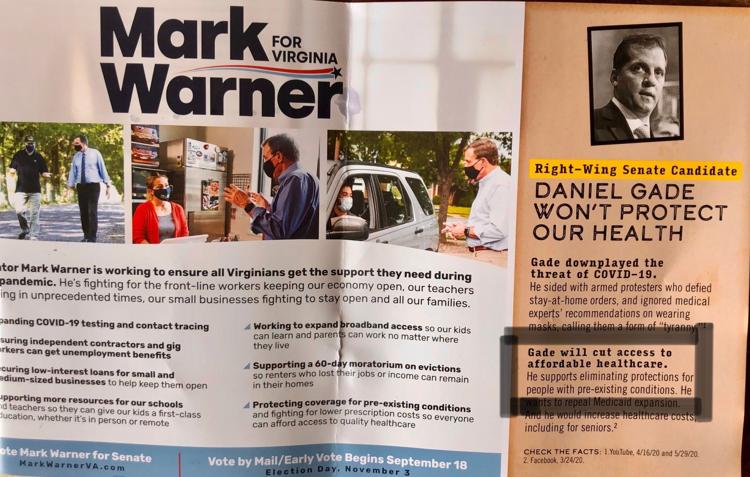 The commenter asked Gade during the live, "Would you have voted to repeal Obamacare in the Senate?" to which Gade replied, "'If you like your doctor you can keep him' was the lie of the year that year. Obamacare is a bad bill and shifts power from insurers to the government."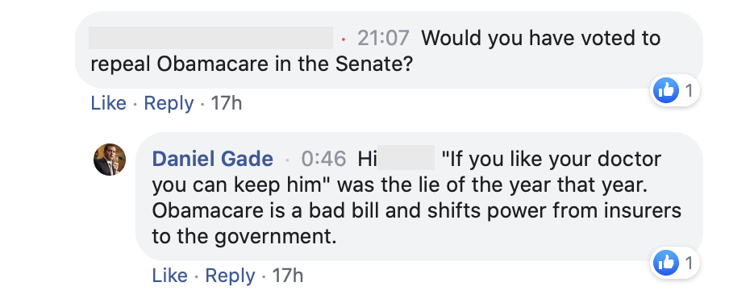 "Mr. Gade has called it a 'bad law,' but without the protections of the Affordable Care Act, health insurance companies can refuse to cover you or charge you more just because you have a pre-existing condition," said Kate Waters, a spokesperson for Sen. Warner's campaign.
The Affordable Care Act, sometimes known as Obamacare, was enacted in March 2010 with a goal to make affordable health insurance available to more people, expand Medicaid and support medical care designed to lower the costs of health care.
Gade said Tuesday the mailer was an "offensive attack" because he's spent the past 15 years working with people with disabilities. The retired U.S. Army lieutenant colonel acquired a pre-existing condition himself after losing a leg in Iraq in 2005.
"In 2007, I was working in the White House with people with disabilities, and not just military acquired disabilities, but a broad range of people who acquired disabilities or were born with disabilities," Gade said. "My entire adult life has been about protecting people with disabilities and the idea that I am trying to deny health insurance to people with pre-existing conditions like I have worked with is offensive and ridiculous."
"(Gade) apparently agrees with his party leadership who have attempted to repeal the Affordable Care Act for a decade and who are right now suing in court to overturn the ACA without any plan to protect the more than 3.4 million Virginians who have pre-existing conditions. If Mr. Gade has recently decided he does not support the unconscionable actions of this administration, he should condemn this lawsuit," Waters said.
"One of the things I have been talking about continuously is this idea of promoting the free market system and helping people be in a position to provide for themselves in terms of their health care. Whatever system we land on needs to protect people with pre-existing conditions," Gade said in the June video, later adding he also supports a system with price transparency, lowering pharmaceutical costs and allowing health insurance to be sold and bought across state lines.
A Gade spokesperson said the March 23 comment does not indicate that Gade is for or against repealing the Affordable Care Act. Gade is in favor of various ACA provisions including protecting people with pre-existing conditions, keeping children on their parents health care plans until the age of 26, and requiring insurers to offer 10 essential health benefits like maternity leave and preventive services, a spokesperson said.
Gade said Tuesday he is for any kind of health care reform that continues to protect people with pre-existing conditions.
"That's an area where Obamacare is strong, actually, and where it solves some hard problems," he said. "But what [the mailer] really reflects in my view is that Mark Warner is a career politician ... doing what he thinks is going to be a successful attack against me because he has no fresh ideas of his own."
But Gade said Warner, who has been in office since 2008, has made it harder to access health care.
"His only solution is to go with what his party tells him to do rather than break out of that mold and propose innovative and new solutions of his own. He also has a pre-existing condition — and that is that he lacks a spine," Gade said.
Be the first to know
Get local news delivered to your inbox!