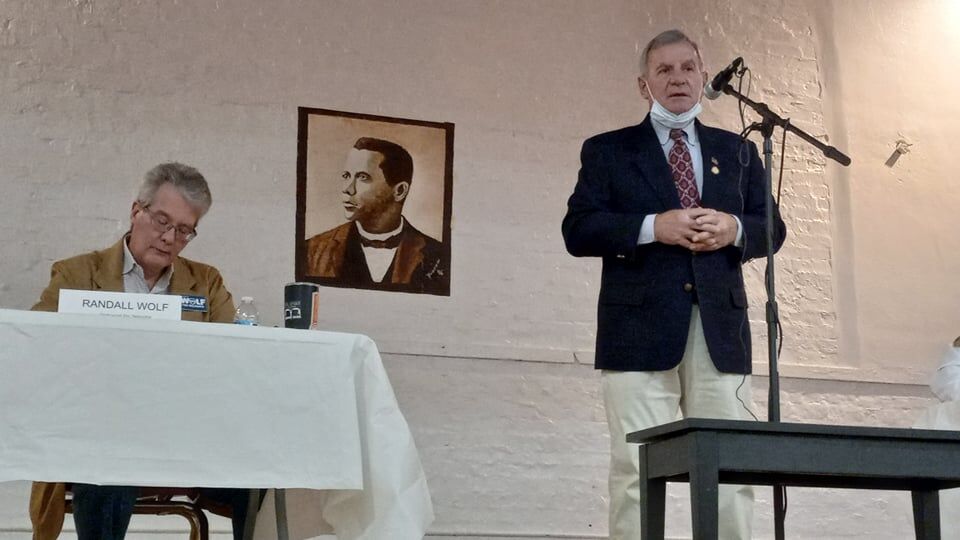 STAUNTON — With election day just weeks away, the Staunton Branch of the NAACP held a public forum Monday night at the Booker T. Washington Community Center in Staunton.
Inside, two discussions were simultaneously held between candidates running for different positions in the Shenandoah Valley.
First, and more local to Staunton, was the race between Matthew Robertson and Chris Hartless, who are running for sheriff in the city.
The second discussion was held between Republican Delegate John Avoli and Democratic nominee Randall Wolf — the two candidates who are currently running for Delegate of Virginia's 20th District.
The moderator for the evening was Reverend Jazmine "Jazz" Brooks.
Brooks is the second vice-president of the Staunton branch of the NAACP, the pastor of Macedonia AME Church, and the former program director at Mary Baldwin University's Office of Inclusive Excellence.
The event began at 7 p.m. and featured six questions that both Avoli and Wolf answered for the crowd in attendance.
Question: What is your position on the Interstate-81 traffic problem?
Avoli started off his response with a quick joke to Wolf, letting the audience know that they're actually good friends.
Then regarding the issue, he said that as a member of the Virginia Transportation Committee, he believes that I-81 has been a problem for many years.
"It's been 'band-aided' to the point where band-aids are no longer feasible or acceptable at this point," Avoli said. "About three years ago, there was an 'x-sized' tax passed by the General Assembly to accumulate [money] to fix 81."
Avoli said that, according to the VDOT office, the project to fix and enhance Interstate 81 should begin at the Staunton intersection at I-81 and I-64 right near the Frontier Culture Museum. The intersection will extend north with three lanes through Mount Crawford, Weyers Cave and Harrisonburg.
"It should have been done a long time ago," Avoli said.
Regarding the future of transportation, whether it be 20 years down the road or centuries from now, Avoli continued by saying that alternative studies are being done for alternate forms of transportation that could take pressure off of the interstate. A member of the technology component of the transportation committee, as well, Avoli said train rails could be a possibility in the future.
He also said that renovations are key for I-81 because police officers have very little to nowhere to pull aside speeding drivers to the side of the road down the interstate. Trucks, he said, are another issue, explaining that 43% of traffic on the interstate is exclusive to trucks and that these numbers are worse than I-95.
"It's been a problem and luckily, the General Assembly's finally stepped up to the plate to deal with it," Avoli said.
"81 … we all know what problems are out there," Wolf said. "Most of it does come down to speed and congestion, so we do need to have the state police [do] more enforcement."
Wolf continued by saying that he wants to truly look forward with the interstate, and said that he, like Avoli, has been a part of several meetings with VDOT about the project. He said he's also gotten to know several members of VDOT as a bike advocate, pining for more biking and walking infrastructures at the previously-held Augusta Health's Walk-Bike Summit.
"81, I'm going to look forward," Wolf said. "Not just two years down the road, but five-six years when we really have, what, 50% of the vehicles may be electric. We need to take advantage of that. That's going to change the fuel tax. That's how we primarily pay for roads like Interstate 81 and all our roads is the fuel tax. Well, that's going to end."
Wolf further advocated for charging stations for electric cars at rest stops that would operate through public and private partnerships so that the state could receive some income from the charging of the vehicles, while also serving future motorists.
He also said that driverless vehicles down I-81 could begin to be seen in just five years, and combined with more electric cars, Wolf fears that VDOT could potentially "overbuild" I-81. Wolf said that at a past session just three years ago, VDOT was unable to provide adequate guidance on both driverless vehicles and electric vehicles.
"If suddenly, tractor-trailers don't have to be manned, they will start driving [I-81] 365 days a year, 24/7," Wolf said. "We need to really get this in the plans."
Wolf closed the question by agreeing with Avoli that, in long-term plans of transportation down I-81, "we need to look at trains."
Question: With consideration to the glaring racial and economic inequities that are evident in the criminal justice, housing, employment and school system arenas, what are your plans to implement diversity, equity and inclusion initiatives relevant to the aforementioned inequities?
"I think we all know the problem and the data is out there," Wolf said. "It comes down to really measuring that data and accountability. A training session here and there once a year for a couple of people is not going to get it done."
Wolf continued by saying that he believes District 20 needs to implement commissions of citizens that have oversight in housing, police, law enforcement, mental health care and the Middle River Regional Jail.
"We need citizen committees to hold them accountable," Wolf said. "This has been going [on] for centuries. This is not something new and if it was easy to fix, it would've been fixed by now, and sadly it's not. We need to talk, we need to work together. But that comes down to really good ways to measure this data, and the results, and reward people that are doing it and work people out that can't."
Wolf also said that he supports having diversity officers in both law enforcement and schools in early education throughout the Valley.
Avoli followed up by going to the microphone and saying that he felt the question was "custom-made" for him, as he came into the United States as an Italian immigrant at 10 years old back in the 1960s.
At the time, he was unable to speak a word of English.
He told the audience to imagine going to school in the early '60s in Pittsburgh, Pennsylvania, not being able to speak a word of English.
Avoli continued by saying that everyone knows about equality, as it was one of the founding principles of our country, but he was quick to say that even today, "circumstances of equity" get in the way of everyone truly having equality in America.
"Not everyone has equity in this position," Avoli said. "Unless you have been subjected to discrimination, it's hard for anyone to understand what the issues are."
At 13, Avoli remembered when his father, a shoemaker, was unable to purchase a house for his family that he really wanted. The real estate agent just simply said, "you can't live here."
Avoli continued by saying that these circumstances he had to endure as a child and as a teenager have truly helped him understand equality and equity in his current position. Even at his past position as principal of Stuarts Draft High School, these lessons in equality and equity rang true as he and the rest of his "resilient" school staff welcomed all students of every background into his school during his tenure there.
"The equity component of it is here again," Avoli said. "If you have a computer lab at one end of town that is fully funded, you should have one on the other side of town also."
Question: Statistics support that Black communities have been most adversely affected by COVID. In what ways will you commit to eradicating this disparity?
Avoli started by saying that the disparity among African Americans and the coronavirus needs to be resolved immediately.
"When you look at what's happening with COVID and how it should have been handled are two different stories here," Avoli said. "I do believe that the public relations nightmare that was created by this is terrible. We lacked unity in the message to our people that went out from the CDC, from the administration, from everybody involved and from our media on both sides. 'Should you take the vaccination or not?' You hear one side do this, one side do that, take the vaccination, don't take the vaccination. It was a creation that was terrible."
As a child, Avoli remembered everyone receiving the polio vaccine and said that there was no opposition to taking it because there was one "united front in it."
Avoli then called on local leaders, from pastors to key community figures, to encourage their neighbors to receive the vaccine.
"I've been vaccinated, my wife's been vaccinated, my whole family's been vaccinated," Avoli said. "I would encourage everyone to do that. The statistics are there that it does work and we urge everyone if you're not vaccinated at this point to go ahead and do it."
"COVID, the vaccines and the African American community [go] back to systematic racism and the mistrust of the medical community in the black community," Wolf said. "That's why currently in our health district, only about 50% of African Americans have gotten the vaccine. That's the lowest group that's measured. We need to rebuild that trust from the ground up with the medical community just like we did with law enforcement in the black community. It's not an easy answer, but we do need to get everybody vaccinated, we need to reach out into communities, schools, community centers, churches, and go to them, not expect them to come to us."
Wolf also supports mandatory vaccinations for students in school and for those in certain lines of work, such as Middle River Jail employees.
He then criticized Delegate Avoli for not doing enough to promote vaccines during his tenure.
"John said on a phone call town meeting with Congressman Kline that you need to 'follow your heart' for what you want to do for vaccines," Wolf said. "I'm sorry, I don't think that's enough. It's been a divisive issue and it shouldn't be. We need to be good to our neighbors, good to our families, good to our friends."
Question: Will you support the appointment of a Secretary of Education who will fully enact Senate Bill 1288 and who will support the recommendations from the US Department of Education's Office of Civil Rights dated June 2020.
Wolf immediately said that, yes, he would support this.
According to lis.virginia.gov, Senate Bill 1288 "requires the Department of Education and the Board of Education to develop new policies and procedures and effect numerous modifications to existing policies and procedures to improve the administration and oversight of special education in the Commonwealth."
"We need to find ways to really be proactive to measure our students' needs, not to force all of this on their parents to ask for special needs situations and special care in schools," Wolf said. "I talked to a parent Saturday who has two special needs children. She's basically become a full-time advocate for children to get their special needs care in Staunton. That shouldn't fall to the parent to become that advocate for her own kids and for other children. That needs to be part of the school program."
Wolf then shifted his attention to the topic of school security.
"I respect that we need security in our schools," Wolf said. "But if I could have full-time nurses and additional counselors in those schools, I think I'd make that choice and ask local law enforcement to make sure that, on patrol, they're swinging by the schools. I think having counselors and nurses would provide a lot more care to kids day-in and day-out than a law enforcement officer in school."
"No question," Wolf said that SB1288 needs to be implemented in all of the district's schools.
Avoli was also quick to support the notion, saying that special needs students are dear to him due to his experience working in public schools.
"Special Ed is a lot of my background," Avoli said. "Having been a high school principal, I can tell you I sat in on many IEPs, which is an individualized education plan."
Avoli said that in his case at Stuarts Draft High School, he held an interest in special education and has spent hours talking with parents, guardians, counselors and all parties involved to create and implement numerous IEPs for many of the Valley's kids.
"It should be implemented," Avoli said. "It must be."
The current delegate added that he is also on the Virginia Education Committee, is well aware of SB1288 and has extensive background experience in dealing with special needs students.
Question: With regard to Middle River Regional Jail, what alternatives to incarceration do you believe are underutilized as a means for solving social problems and how would you advocate for the increased implementation or introduce new legislation?
While this question was prioritized for Staunton's candidates for sheriff, Matt Robertson and Chris Hartless, both Avoli and Wolf still felt obligated to provide answers to this question.
"Mental health care is critical in this equation," Wolf said. "Jail cells aren't care cells."
Wolf said he believes that legalized marijuana can become a new revenue stream for the district and wants to see at least half of its resulting taxes go into mental health care and behavioral health care. Additionally, Wolf also wants to create a third division of law enforcement officers to be caregivers that would respond to instances of mental health crises, behavioral health crises, and drug abuse situations, among others, to "build trust with the community."
He also wants to see state-run local facilities created so that folks dealing with mental health crises aren't waiting in the ER at a local hospital, such as Augusta Health, only to be brought all the way out to Petersburg to get a bed at Central State Hospital.
"We can make sure they're in their own communities where their own families and friends can support them locally," Wolf said. "We need to just reinvent our mental health care system from the ground up and I see legalized marijuana as a way to pay for that."
Avoli was the mayor of Staunton back when the then-brand-new jail was running in what he thought was decent shape. He recalled there being 450 beds and that they were all single beds.
"Things were going well," Avoli said. "The mistake, in my opinion, was made when Harrisonburg and Rockingham County came in [and] basically doubled the inmate population with the same number of cells. As I said many times, we have a crisis here with meth, we have a crisis with opioids and we cannot by any means jail [ourselves] out of this."
Avoli, along with Commonwealth's Attorney Tim Martin in Augusta County, is working with a diversion grant to help move several people from incarceration into public service and other volunteer programs in a future designated area.
He also believes that the opioid problem needs to be addressed and acted upon as soon as possible.
"The opioid situation is critical and if we don't act on it soon, I'm afraid we're going to lose a whole generation.
Question: Drug Court in Virginia provides opportunities for graduates not to serve jail time or have a felony charge on their records. In this area, the number of Black graduates of this program has been extremely low, if any at all. What would you name as the cause and how will you commit to ensuring that Black citizens convicted of drug-related crimes have the same opportunities to avoid prison and records as their white counterparts?
"The legalization of marijuana is at the point now where a lot of the drug offenses should be alleviated with that," Avoli said. "The diversion programs are working great. As I said, Augusta County didn't receive the $600,000 grant and as the board right now is debating, perhaps an invitation will come next year to the city of Waynesboro as well as the city of Staunton to come into the diversion program."
Avoli followed his statement up by saying that he honestly didn't have an answer for Rev. Brooks' question, but that "obviously, something is amiss" for the situation to be what it currently is and that it needs to be dealt with.
He closed by saying that he fully supports the advancement of Black graduates.
Wolf opened up by saying that he believes that this is just another example of systematic racism in both the country and the Shenandoah Valley.
"What we need is, again, accountability," Wolf said. "We need a state commission that's going to really look over this, dig in and ask the tough questions of every department as to why their stats don't meet [as] sort of equivalency of their community. It probably begins with not having enough people of color in uniform. It begins with not having mental health care available."
Like Avoli, Wolf said that he too sat down and talked with Tim Martin and Augusta County Sheriff Donald Smith to learn more about their diversion program, which has been nationally recognized.
"It needs to be studied and pushed out into other places in Virginia," Wolf said. "But diversion is an opportunity for one or two strikes against you. The problem is we don't have enough mental health, behavioral health, drug addiction programs to really help people take advantage of that single opportunity to stay out of jail. [We] need to increase those budgets to care for people and give them, not only an opportunity to avoid jail, but an opportunity to really change their life. That takes caregivers, that takes counselors, that takes people involved in their lives to help them navigate how to get well."
Following a ten-minute open question session from those in attendance, the forum adjourned.
"I think it went well," Brooks said. "I think, for the most part, the candidates were [respectful] of their time, the audience was respectful of the space. I would have liked to hear some more concrete plans and more direct answers to how they were going to address some of the issues we asked about, but overall, I do think it went well."
Rev. Brooks further encouraged all residents of District 20 to get out and vote on Nov. 2.
"A lot of the questions that were asked have a direct impact on individual people," Brooks said. "Specifically, local elections, those who you vote for have a direct impact on the policies that impact our daily lives. So, the type of education that our students get, whether or not our students see police when they come into their schools, whether or not [folks] who have addictions or mental health issues are able to access the resources that they need — all are contingent upon who we vote for. It's a matter of literal life or death."