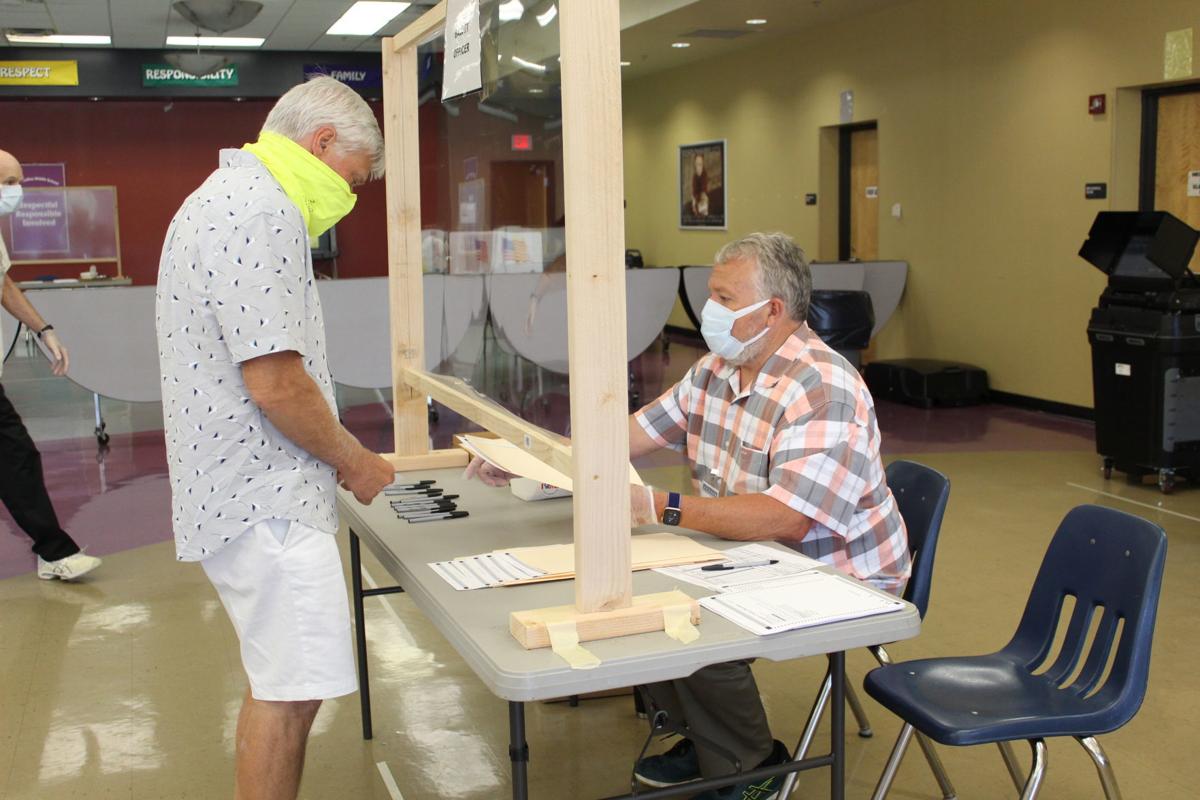 More Waynesboro and Augusta County voters headed to the polls for Tuesday's Republican primary for U.S. Senate than in 2018.
Augusta County saw a 9.09% voter turnout on Tuesday. In the 2018 Republican Primary, Augusta County had a total of 3,160 votes cast, with 80 of those being absentee votes.
With the COVID-19 pandemic affecting this year's elections, all registered voters were eligible to vote absentee. Of Augusta County's 4,530 total votes cast Tuesday, 302 were absentee.
A scheduling conflict impacted one polling location in the county, according to Augusta County's voting registrar's office. Riverheads High served as the polling place for both White Hill and Greenville precincts, a temporary change just for Tuesday's primary. The White Hill precinct voting location will return to its usual location, White Hill Church of the Brethren, for the November election.
As of 11:30 a.m. Tuesday, 72 voters had cast their ballots in the White Hill precinct and another 72 had voted in the Greenville precinct.
"It's my right to vote," said Greenville precinct voter John Findley. "I want to execute that right and make sure that we hopefully get good politicians to take care of us."
Rob Langellotti of White Hill voted Tuesday because of "who we want as our representative."
Langellotti is looking for someone who represents his views.
"Conservative values is what we're looking for," he said.
By 12:30 p.m. Tuesday the Verona precinct at the Augusta County Government Center had seen 79 voters.
Waynesboro saw a total of 1,071 votes cast out of 13,766 registered voters for a 7.8% overall voter turnout in Tuesday's primary. Although 426 absentee ballots were requested, only 274 of Tuesday's votes in the city were absentee.
Five provisional ballots were cast in Waynesboro, according to Waynesboro voting registrar Lisa Jeffers.
In comparison to 2018, Waynesboro voters cast 706 total ballots, of which only 17 were absentee.
All Waynesboro voting locations were temporarily moved to Kate Collins Middle for both May and June because of COVID-19.
One hundred voters had been to the polls in the city by 9 a.m. Tuesday. By noon Waynesboro saw 313 voters, and at 3 p.m. 489 total votes had been cast.
By 6 p.m. Waynesboro votes totaled 718, surpassing the 706 votes cast in the 2018 Republican primary.
Of the three Republican candidates in Tuesday's primary — U.S. Army Lt. Col. Daniel Gade, Army reservist Thomas Speciale and Nottoway County teacher Alissa Baldwin — Gade received the most votes in both Waynesboro and Augusta County.
Gade received more than 70% of overall votes in both Waynesboro and Augusta County, according to unofficial election results available Tuesday night.
Baldwin received 16.82% of votes in Waynesboro and 13.91% in Augusta County, while Speciale received just slightly more than 10% in the city and county.
Gade will face U.S. Senator Mark Warner in the November General Election. Warner is a two-term Democrat first elected in 2008. Both of Virginia's U.S. Senate seats have been held by Democrats since 2008.
Be the first to know
Get local news delivered to your inbox!