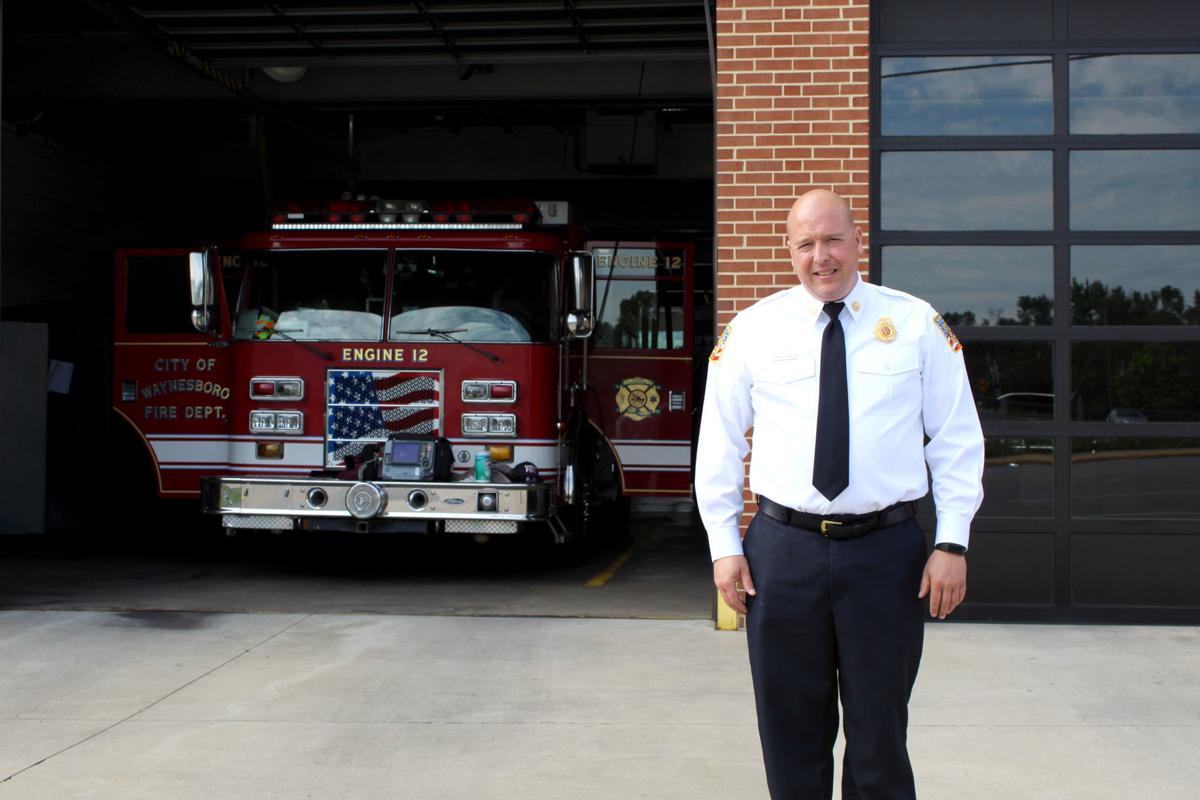 Having grown up around the fire service, Andrew Holloway always had one goal — to become not only a firefighter, but a fire chief one day.
Holloway, 39, achieved that goal this month when he was named Waynesboro's new fire chief, succeeding James Bradley who retired May 29 after a 38-year career with the Waynesboro Fire Department.
"When most people turn 16, their first thing is getting a driver's license, but my first thing was getting my application in to the fire department and becoming a volunteer because it's something I fell in love with. It's something that's continued to this day that I have a passion for," Holloway, who was born and raised in Grottoes, said.
Beginning in Grottoes as a volunteer firefighter, Holloway went to work for Staunton Fire Department in 2000, while also pulling part-time duty for Rockingham Fire-Rescue. From there, he became a fire instructor for Rockingham and the Department of Fire Programs. Holloway came to Waynesboro Fire Department in late 2008 as a firefighter before moving up the ranks to lieutenant, captain and eventually deputy fire chief.
"I loved working in Staunton Fire Department and enjoyed my time there. When I came to Waynesboro, I had just finished up my college education and was looking to grow," he said. "I chose Waynesboro because at the time they had just gotten more personnel and I was looking for a department that was growing. It was closer to home and, more importantly, I looked at it as a chance to allow me the opportunity to grow and move up the ranks."
Waynesboro Fire Department was evolving when Holloway joined in 2008, he said, and at the time discussions were being held about the possibility of a second fire station. While the second station never came to fruition, Holloway said reducing response times is the ultimate goal.
"There's areas of our city where we don't meet the industry standard response times for the first arriving fire apparatus. In order to increase and improve our service delivery, one of my goals is looking at (a second fire station) as a possibility and thinking outside the box on how we can meet the city as a whole in the best way possible and meet industry standards when it comes to response times," Holloway said.
"The model was, when our building was built in the 50s, you built the fire station in the center. As time went on and things evolved and more growth came to the city, us being able to get better response times has been a challenge and continues to be a challenge."
The fire department responded to more than 2,000 calls for service last year. In 2016, the fire department's turnover rate was 28% and now sits at 9%. Holloway said improving firefighter retention is about creating a positive work environment.
"There's a priority on continuous improvement, bettering ourselves and always improving our service delivery — trying to create an environment here where any individual that comes to work for the city of Waynesboro enjoys coming to work," he said.
Creating that environment starts at the top for Holloway, who said his expectation is to keep himself and the organization above the status quo when it comes to training and improving.
Holloway said he's always attended every training he possibly could as a firefighter. He also holds an associate's degree in fire science, a bachelor's of science in management and organizational development, and a paramedic certification.
"It's a responsibility when I think about a fire chief's position. The responsibility is to the citizens and ensuring that we are providing the best possible services which range from fire protection to technical rescue, hazardous material mitigation to emergency medical services. The fire service has really evolved," Holloway said.