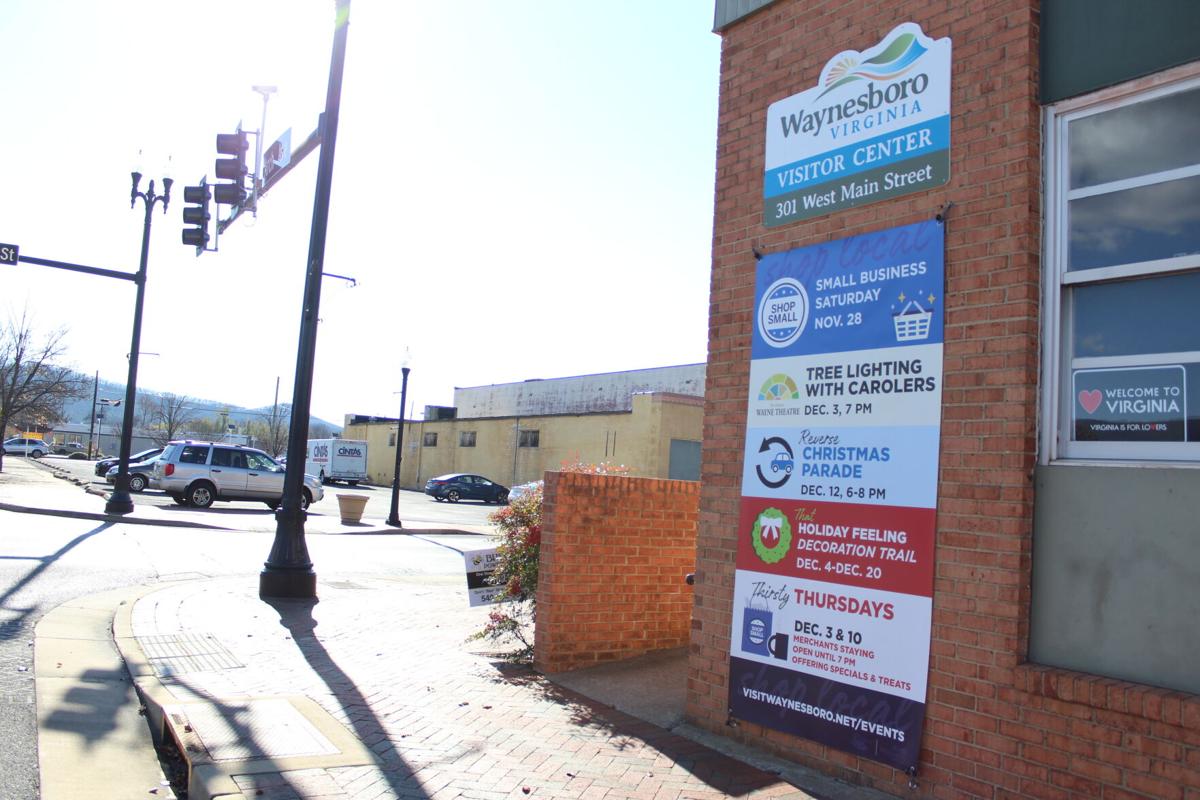 Locally owned boutiques, gift shops, restaurants and more are preparing for Small Business Saturday this year, a nationwide event created by American Express in 2010 to encourage shopping small during the holiday season.
Small businesses have been hit hard this year in particular because of restrictions and hardships brought on by the COVID-19 pandemic. According to data from American Express, 62% of U.S. small businesses say they need to see consumer spending return to pre-COVID levels by the end of 2020 in order to stay in business.
"When you shop at a local store, 69 cents of every dollar stays in the local community. That's huge. That's going right back into other stores and has local benefits," said Courtney Thompson, president and CEO of the Greater Augusta Regional Chamber of Commerce. "We're supporting real people doing their best to stay in business during a tough year. For them to have a good holiday season that they've truly worked hard for could be the turn around for a lot of them."
Many local businesses are starting their Black Friday, Small Business Saturday and Cyber Monday deals early or extending them through Christmas in order to reach more consumers.
At Augusta Cooperative Farm Bureau — which operates four locations in Staunton, Weyers Cave, Scottsville and Fairfield — promotional deals like 20% of boots and special prices on Carhartt apparel have already started. Paired with holiday e-coupons and a December "12 Days of Co-Op Christmas" event, Director of Marketing and Advertising Allison Bagley said they're hoping to wrap up a "good, solid year" that brought an increase in lawn and garden sales.
"We love our community. We are the community. We are truly locally owned by farmers in our community with over 150 staff. We're one of the largest employers in Augusta County at this time and giving back to our employees is extremely important, as well as our community," Bagley said.
For shoppers who may be wary of crowds this Saturday or throughout the holiday shopping season, businesses like Augusta Cooperative have added multiple options for shopping this year. The Co-Op in particular is offering home delivery, online ordering, store pick-up within two hours, and a contactless pick-up through their "dockside to-go" program.
"We're a small business, and we want to support our community in any way. We'll bend over backwards for everybody," Bagley said.
Both Thompson and Waynesboro's Tourism and Marketing Manager Jennifer Callison said they've seen businesses stepping up to find creative ways to engage customers this year, as well as increasing their online presence.
"It's been really interesting. Our businesses have done an amazing job this year of allowing their customers to come in and shop safely, upping cleaning procedures, adding take-out or curbside shopping. Many of them have had to increase their online presence for online shopping and some are offering in-store pick up, so you don't even have to pay shipping. That's a really great way to support local businesses without feeling like you need to be in person to shop," Thompson said.
For those who won't be doing much shopping this year, Thompson suggests sharing online posts from local businesses or using word of mouth to encourage others to shop local. Sharing information is "an easy and free way to help them get that little boost," she said.
In the Staunton-Augusta-Waynesboro region, a higher number of people are employed by small businesses, making the impact of shopping small even more important, Callison added.
"The holiday season is always a crucial time period, and this year will be no exception. It will be even more crucial than it has been in that past to support the small business and their employees and help our community be the great place that it is," Callison said.
On Saturday, the Greater Augusta Regional Chamber of Commerce will be shouting out different small businesses on their social media. In Waynesboro, merchants will have sign-up slips of paper where shoppers can sign-up at each participating location to win prizes donated by merchants. The drawing will take place the Tuesday after Thanksgiving.
Beyond Small Business Saturday, select downtown Waynesboro merchants have come together to host "Thirsty Thursdays" on Dec. 3 and Dec. 10. To accommodate more shoppers and those who may work during the daytime, businesses will remain open until 7 p.m. while neighboring restaurants will offer drink specials during the same time frame.
The two Thirsty Thursday events also coincide with Shenandoah Valley Arts Center's annual Winter Market which features handmade artisan works from local and regional artists. The market is open through Jan. 8 on Tuesdays, Wednesdays and Fridays from 10 a.m. to 5 p.m., Saturdays from 10 a.m. to 4 p.m. and extended shopping hours on Thursday evenings from 10 a.m. to 7 p.m.
Initial Inspiration in downtown Waynesboro is one of the many businesses participating in Thirsty Thursdays. Owner Jennifer Ledford said she hopes it helps get downtown Waynesboro back to larger scale events.
"We used to do a 'Christmas in the River City' where we would block off the street, have carolers, Santa would be here. One year we even had a farmer bring some sheep and other animals. There would even be carriage rides. We've not done that for a while, but we'd like to get back to creating a memorable event for downtown," Ledford said.
Initial Inspiration specifically will offer some kind of beverage like cider on Thirsty Thursdays. In addition, the store will be open from 10 a.m. to 3 p.m. on Small Business Saturday for holiday orders, as well as offering 20% off holiday merchandise and a free gift with every purchase.
The store, which started as an at-home business nearly 20 years ago and moved downtown in 2007, specializes in embroidery and personalization and can even personalize items purchased at big box stores.
"The only way I can survive as a business is from the community. If my community supports me, I'm able to stay open," Ledford said. "The big box stores have more than one storefront providing their funding, whereas I do not. The dollars that are spent locally stay locally, and it benefits our whole community when you shop local."
SAW-area residents and visitors also can expect a mobile-exclusive savings passport to launch in early spring of 2021 that will feature all small businesses in the area. The passport will function similar to a free coupon book with the goal to drive traffic and further support local small businesses.
"This is definitely a great time to support the small businesses in our community," Callison said. "Without the consumer support the businesses won't be able to survive. They need our support this year more than usual."