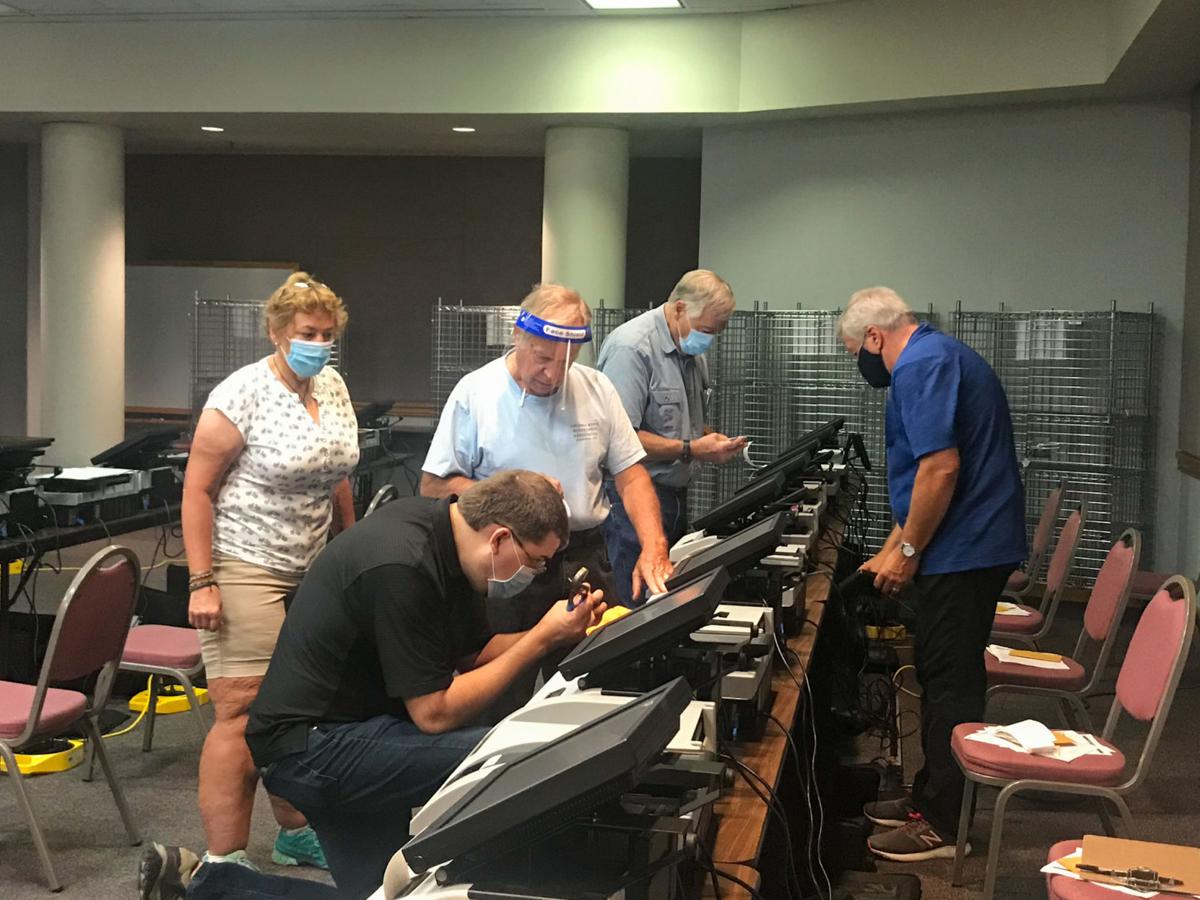 VERONA — Augusta County's electoral board discussed early in-person voting, absentee voting and polling locations for the Nov. 3 general election Thursday.
"We've been doing everything we can to get everything ready for the in-person [voting] for tomorrow, and then we've been doing everything we can to get our ballots set up so we can get the bulk of them mailed out tomorrow, and at least a few more on Saturday if we have any overflow," said Augusta County voting registrar Connie Evans.
In-person early voting begins 8 a.m. Friday. Augusta County residents can vote in the South Board room at the Government Center. Hours are Monday through Friday from 8 a.m. to 1 p.m., and 2 p.m. to 5 p.m. Voters can also vote two Saturdays in October — the 24 and 31 — from 9 a.m. to 5 p.m.
On Wednesday, 326 ballots were mailed and absentee voters should expect to receive their ballots within the next couple days, Evans said.
As of Thursday, 51,354 residents are registered to vote in Augusta County. Between 4,100 and 4,200 absentee ballots have been requested for the General Election, and board chairman Clifford Garstang expects to see even more requests.
"The deadline for requesting absentee ballots is not until Oct. 23, so that's another five weeks," Garstang said. "I wouldn't be surprised if that number gets up to 10,000, but we don't know."
Virginia has no excuse absentee voting as of July 1, meaning any voter can choose to vote absentee without giving a reason. Voters are no longer required to have a witness present when completing an absentee ballot, according to the Virginia Department of Elections.
A ballot drop box will be available at the Voter Registration Office inside the Government Center in Verona Monday through Friday from 8 a.m. to 1 p.m. and 2 p.m. to 5 p.m. An additional drop box is located in the drive-thru on the north side of the Government Center.
Ballot drop boxes will also be available at each polling location on election day from 6 a.m. to 7 p.m. The box will serve a drop off for both provision and absentee ballots. The box will be located inside at the greeter's table and will be locked. Voters may drop off their ballots at any precinct on election day.
"This isn't a temporary measure, maybe we should start thinking about accommodations for voters who want to drop off a ballot a precinct henceforth," said vice chairman Marcy A. Reedy. "Making an investment might make sense."
There will be no changes to any of the in-person polling locations on Nov. 3. Riverheads High temporarily served as the polling place for both White Hill and Greenville voters for the June 23 Republican Primary for U.S. Senate because White Hill Church of the Brethren was unavailable on that day.
Evans said the voting registrar's office had received complaints from voters who were not aware they would vote at White Hill Church of the Brethren in Stuarts Draft in November.
"The one that I received called because he has someone else in his home that just registered, [and they] received a notice stating that they were voting at the White Hill Church of the Brethren," Evans said. "He recalled receiving something back in April from us, and it said Riverheads High School, so he was quite confused. He was not happy that the letter did not state that it was a temporary move."
The letter sent to registered voters in the 504 White Hill precinct did not state the change in polling place was temporary. It was a typical voter notice sent to voters and was all derived through the Department of Elections, Evans said.
"Unless everyone else disagrees, I think it would be prudent to mail out notices to White Hill voters," Garstang said.
Evans said she would have to get in touch with the Department of Elections to see what they would need to do to drop the new notices in her hopper.
Voters with a Virginia driver's license can apply online for an absentee ballot on the Department of Elections website. Those without a Virginian's driver's license may apply for an absentee ballot using a printed application. The completed form can be mailed to the Voter Registration Office located at 18 Government Center Lane, PO Box 590, Verona, VA 24482, emailed to registrar@co.augusta.va.us or faxed to (540) 245-5037.
The deadline to request an absentee ballot by mail is Oct. 23 by 5 p.m. The deadline to request an absentee ballot by appearing in person is Oct. 31 by 5 p.m., and the final deadline to register to vote in Virginia is Tuesday, Oct. 13.
Get local news delivered to your inbox!
Subscribe to our Daily Headlines newsletter.