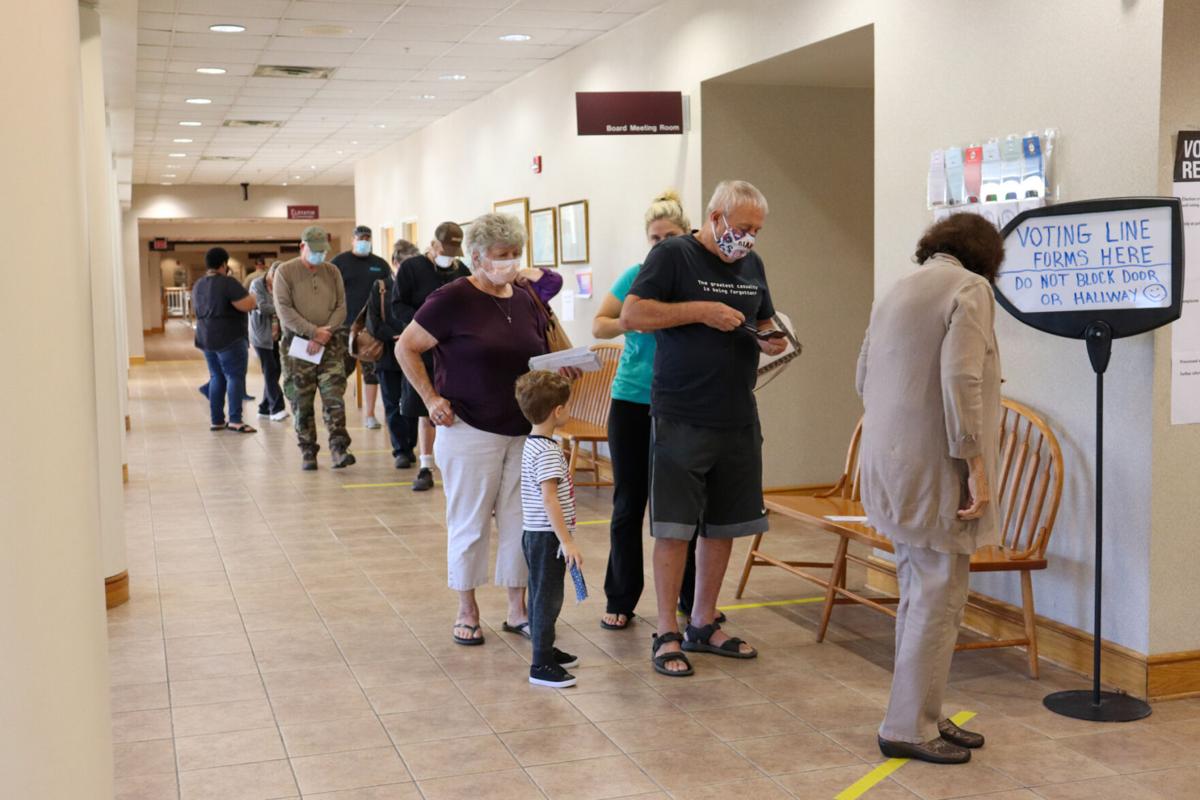 Residents of Waynesboro and Augusta County will join voters across the U.S. in casting their votes in Tuesday's General Election.
In Augusta County, more than 17,500 early votes have been cast as of Thursday. In 2016, only 2,739 early votes were cast in the county.
In Waynesboro, 5,721 early votes have been cast as of Thursday. In 2016, only 733 early votes were cast in the city.
For voters who haven't taken advantage of early voting and plan to hit to polls on Tuesday, or for voters who haven't turned in their mail-in ballots yet, here's everything you need to know:
Where and when to vote
COVID-19 caused a temporary change in all polling locations to one centralized location at Kate Collins Middle School for all Waynesboro voters in May and June. On Tuesday, however, the city will be utilizing all four of its regular polling locations.
Ward A will vote at Basic United Methodist Church, Ward B at the Waynesboro Public Library, Ward C at Wayne Hills and Ward D at Westminster Presbyterian Church.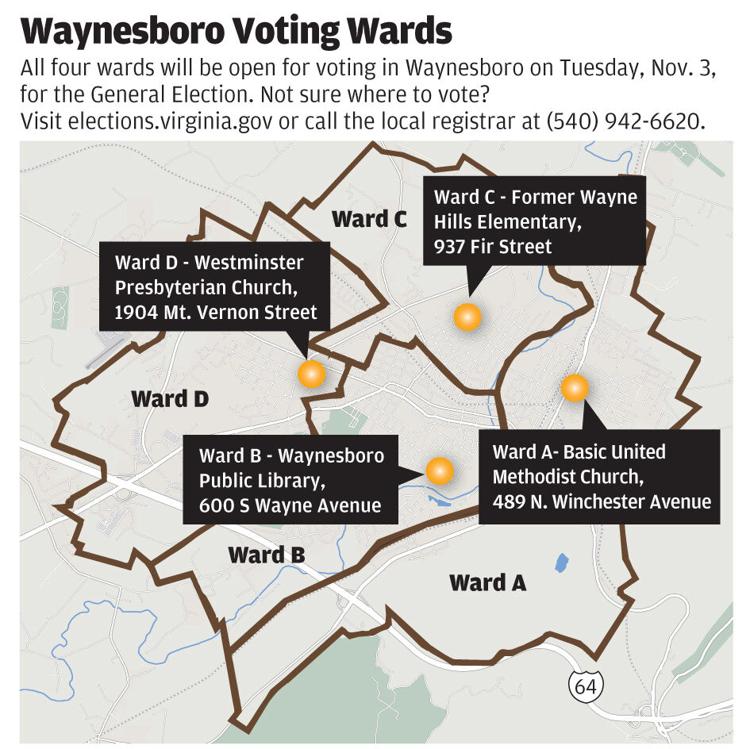 In Augusta County, White Hill precinct voters also had a temporary change in precinct location to Riverheads High School in June. On Tuesday, all Augusta County precincts will vote at their regular locations.
Voters unsure of their polling precinct can visit elections.virginia.gov or call their local registrar's office.
Voters are encouraged to wear masks on Election Day and adhere to social distancing guidelines.
All polling locations will be open Tuesday from 6 a.m. to 7 p.m. Any voter in line by 7 p.m. is eligible to vote.
Early weather forecasts for Election Day is sunny with temperatures predicted in the mid 50s with no chance of precipitation.
Those who requested absentee ballots have until Tuesday to postmark their mail-in ballot. Ballots also can be returned to official dropboxes — located at 250 South Wayne Avenue for Waynesboro voters and at the Augusta County Government Center in Verona for county voters.
Voters no longer wishing to vote absentee should bring their mail-issued ballot with them to their polling location on Election Day.
Who's on the ballot
Ballots will look the same for both Waynesboro and Augusta County residents.
Voters will chose the president and vice president, members of the U.S. Senate and House of Representatives.
The front of the ballot features three choices for president and vice president — Democrat Joe Biden, former vice president, and Kamala Harris; Republican Donald Trump, current president, and Mike Pence; and Libertarian Jo Jorgensen, a lecturer at Clemson University, and Jeremy "Spike" Cohen.
In the 2016 presidential race against Trump and Democrat Hillary Clinton, nearly 72% of Augusta County voters chose Trump. In Waynesboro, more than 52% of voters chose Trump.
For U.S. Senate, incumbent Democrat Mark Warner is being challenged by Republican Daniel Gade.
Warner is a two-term Democrat first elected in 2008. Both of Virginia's U.S. Senate seats have been held by Democrats since 2008. John Warner, no relation to Mark Warner, was the last Republican to represent Virginia in the U.S. Senate.
Gade is a first-time candidate. He is an Iraq War veteran who lost a leg in combat and is now a professor at American University.
In the 2014 U.S. Senate race against Warner and Republican Ed Gillespie, Warner narrowly won with 49.1% of votes to Gillespie's 48.3%.
Lastly, voters will select their choice for House of Representatives in the 6th district.
The 6th district covers most the Shenandoah Valley including the counties of Amherst, Augusta, Bath, Botetourt, Highland, Page, Rockbridge, Rockingham, Shenandoah and Warren, as well as the cities of Buena Vista, Harrisonburg, Lexington, Lynchburg, Roanoke, Staunton, Waynesboro, and portions of Bedford and Roanoke counties.
Incumbent Republican Ben Cline is seeking his second two-year term. Cline previously served in the Virginia House of Delegates for 16 years.
Cline is being challenged by Democrat Nicholas Betts, a 30-year-old law clerk. Betts previously ran for the Democratic nomination two years ago to fill the Rockbridge-area House of Delegates seat, but was unsuccessful.
Constitutional Amendments
On the back side of the ballot for all Virginia voters are two proposed constitutional amendments.
The first deals with redistricting and asks, "Should the Constitution of Virginia be amended to establish a redistricting commission, consisting of eight members of the General Assembly and eight citizens of the Commonwealth, that is responsible for drawing the congressional and state legislative districts that will be subsequently voted on, but not changed by, the General Assembly and enacted without the Governor's involvement and to give the responsibility of drawing districts to the Supreme Court of Virginia if the redistricting commission fails to draw districts or the General Assembly fails to enact districts by certain deadlines?"
The second deals with a tax exemption for disabled veterans and asks, "Should an automobile or pickup truck that is owned and used primarily by or for a veteran of the United States armed forces or the Virginia National Guard who has a one hundred percent service-connected, permanent, and total disability be free from state and local taxation?"
The options for both questions are yes or no.