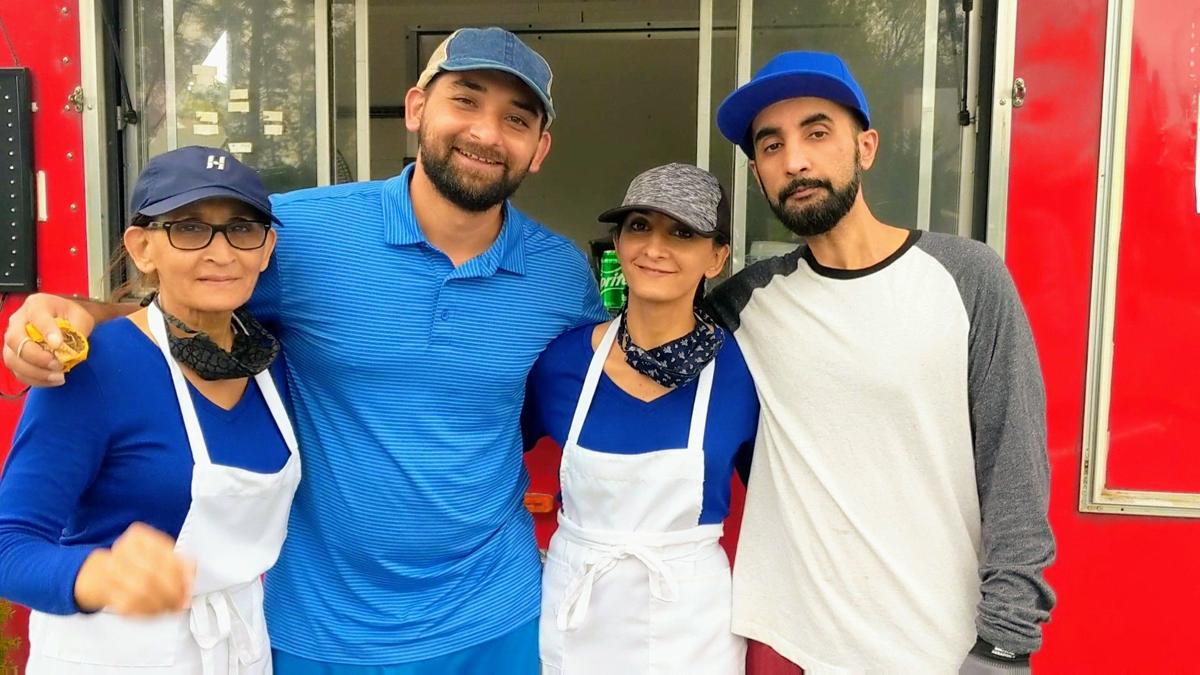 If you haven't heard of the newest food truck to hit Waynesboro, you certainly may have smelled it driving down U.S. 250 through the city. The Mahmoud family is serving up flavorful, healthy and fresh Mediterranean and Afghan cuisine through their newest business venture, Blue Stone Kabob.
The Mahmoud family opened the food truck for business in mid-August, a feat that the family says they've been dreaming of for years.
"The idea came from my mom and my family. We cook all the time at home, and we've grown up with her cooking. Over time, we shared it with neighbors and other family friends, and they've all enjoyed it. That naturally progressed to us thinking we'd like to share it with the greater community, and I think a lot of forces converged and the timing was right for us to open it up," said Mirwais Mahmoud, one of owner Adela Mahmoud's sons.
Adela, her husband Daud, and their adult children — Mirwais, Hamed, Zaki, Massood and Deeba — help run the family owned and operated food truck. Adela Mahmoud also owns Adela Style Salon off Jefferson Highway, the same location Blue Stone Kabob can be found parked on Fridays and Saturdays from 11 a.m. to 6 p.m.
For now, the family says they are appreciative of the space they have and intend to stay parked outside Adela Style Salon. In the future, they may travel to other parts of Waynesboro, Staunton, Charlottesville or the greater Shenandoah Valley.
Doing hair and cooking is a passion for Adela Mahmoud, who says she simply enjoys being with people. The 60-year-old mother of five said she gets inspiration from people and wants to inspire others in how she serves and cooks.
"I do hair with love and cook with love," Adela Mahmoud said. "I want to show people who I am and where I come from and what I eat. I grew up with natural food ... since we've been living here so many years I wanted to cook with love and serve people. My main goal is to give people healthy, natural food."
Deeba and Mirwais Mahmoud describe their mother's cooking as flavorful, seasoned well and fresh.
Mirwais Mahmoud said the signature item at Blue Stone Kabob is the chicken kabob platter which features seasoned chicken kabob, seasoned rice and two additional sides, as well as toasted Afghan bread. The menu also features desserts like baklava and sheer pira, a traditional Afghan dessert similar to a milk candy.
While the menu pays homage to the family's Afghan heritage, the name Blue Stone Kabob does as well. A deep blue stone known as lapis lazuli can be mined from the mountains of Afghanistan and is often used for jewelry, paintings, sculptures and statues.
"We come from the land of the blue stone, and now we live in the land of the Blue Ridge. We thought it would be a nice representation of where we come from," Mirwais Mahmoud said.
In the future, the Mahmoud family hopes to expand enough to accommodate serving larger groups, do catering events, offer online ordering and find commercial kitchen space. But for now, Deeba Mahmoud said they're focused on cooking delicious food and sharing it with the community.
"Whether it's a hair cut or being with her clients or cooking (my mom, Adela) does everything with passion and she truly just wants to give people good food, and that inspires us," Deeba Mahmoud said. "It's hard work, it's a lot of work, but we're dedicated and we're doing it for our mom and as a family."
Get local news delivered to your inbox!
Subscribe to our Daily Headlines newsletter.