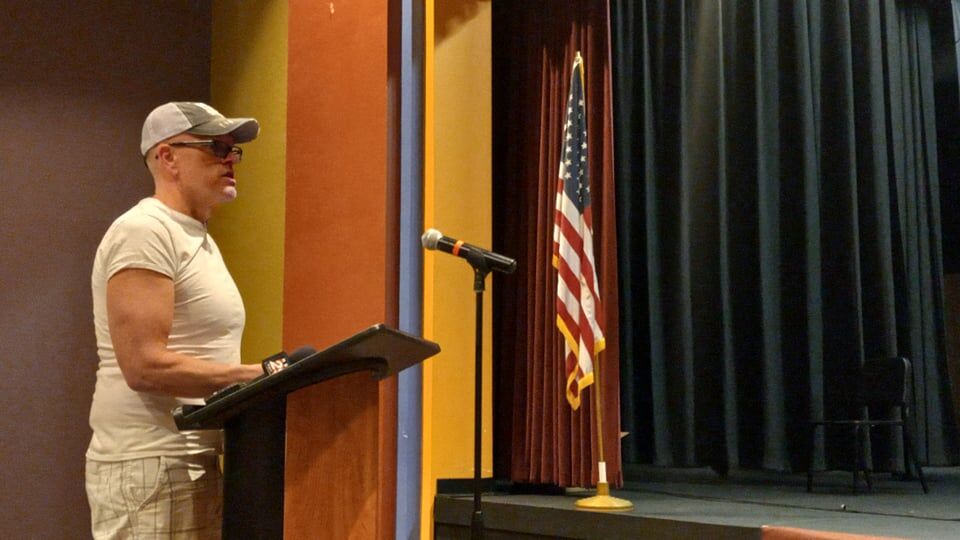 The fate of Waynesboro's furry friends will not be decided Sept. 27.
In the city council's first meeting of September on Monday, among many topics of discussion, Waynesboro Mayor Bobby Henderson addressed concerned Waynesboro citizens about the potential animal ordinance that had been presented at the council's previous meeting on Aug. 23.
As previously reported by The News Virginian, an update to the city's code would have limited households to four dogs or five cats, and seven animals total. The proposal applied to dogs or cats at least four months old, and if it had been approved, there would have been no grandfathering of existing situations.
Additionally, city residents would have had 90 days to comply should the change have taken effect.
During the "Matters from the Mayor" portion of the meeting, Henderson was quick to address the key concern from the council's previous meeting, stating the ordinance would no longer be voted on at the end of the month. Currently, it is being re-evaluated and re-worked between both the city staff and council to be fair for both Waynesboro residents and their animals – some of which Henderson knows are core members of local families.
"Our last council meeting, we seemed to really get the blood pressure up on a lot of citizens of Waynesboro," said Henderson, addressing all in attendance. "We apologize for that. I want everyone in the city to know that we as a city council do not support limiting the number of dogs and cats for our residents."
Henderson continued, saying limits on family pets was never the purpose of the ordinance and that such an action was not something the council supported and will "not be pushing forward" moving ahead.
However, there were some parts of the new ordinance that Henderson and the council still support, such as the health and well-being of Waynesboro's animals.
"The city council supports general revisions to promote animal welfare and responsible care in understanding that there is [an] established law provided by the Code of Virginia in that area," Henderson said. "We've directed staff to review those provisions and incorporate the appropriate references to the specific adoption of those relevant and necessary provisions to our city code."
Councilman Bruce Allen of Ward B whole-heartedly agreed with Henderson.
Allen said the city has laws on the books that, if approached the right way, can address various problems, such as the number of one's animals, health and welfare of the animals, the conditions of the animals, and so on.
However, getting it right and taking the time to make sure it is takes first priority.
"When we talk about people's animals, I think most people love their animals as much as they do some of their family," Allen said. "I would not vote for a law or an ordinance that would tell us you're going to have to come in and decide which ones to keep and get rid of. I think that's just improper and not healthy for the pet owners or for the animals."
Like Henderson, Allen also supported "grandfathering" in one's current pets and animals into future updates to the city code.
"If we would do anything, we should definitely put a grandfather clause in covering those people that have animals now," Allen said. "If we're being good neighbors and responsible pet owners, we should be able to take care of them ourselves."
Like some of the residents in attendance at Katie Collins Middle School on Monday night, Vice Mayor Lana Williams of Ward A said she too felt relieved that the ordinance is going to be re-worked.
"I had concerns, myself," Williams said. "I saw it for the first time the Thursday before the Monday meeting. It was a lot of information to go through and I had red flags right from the beginning."
Over the past two weeks, Williams said that she had received a decent number of calls concerning the issue, as well as even more emails from residents all throughout the city. Their concerns were definitely on her mind before and after the meeting adjourned, and she "tried to respond to every single one" both before and after the previous council meeting.
Williams said the message was well-received by the council and that, indeed, giving the ordinance a deeper analysis is the right thing to do from all on the city's staff and council.
"I feel like that's the right decision, particularly when something was so extreme in nature," Williams said. "It needs time. There were parts in it that definitely had merit, particularly when it came to abuse and neglect, tethering, fighting rosters … those things definitely had merit. I can't overlook that, but what concerned me was I thought it would penalize pet owners. They didn't deserve that."
In light of the local controversy sparked over the ordinance from the last meeting, Waynesboro Resident Chris Graham felt the need to once again address the city council during the meeting's citizen comment period. He informed them that he was wearing a hat that read, "Dogs make me happy; you not so much," but was quick to thank the council, stating he was grateful for giving the proposal a second look.
"I wore the hat because I thought I'd come here tonight and not be very happy with you folks up there," said Graham, before he expressing his thanks. "[I'm] very pleased that you as a council and individually as members of council have listened to more than just a few people."
However, Graham still expressed the importance of taking the time to "listen to a few more people than just the few who complained" to the council when proposing future ordinances of such a magnitude, seeing how some folks had previously stated they may have tried leaving Waynesboro should the ordinance have been passed.
For Williams, she saw it all as a good learning experience for everyone in Waynesboro.
"When you hear something that you're not crazy about, it's important to get out and make your voice heard," Williams said. "If you're silent, you're consenting. Regardless if you agree or don't, it's important to reach out to your council members. Without feedback, that might have passed."