Waynesboro residents will help narrow down a wide field of democratic candidates for governor, lieutenant governor and attorney general during next Tuesday's primary.
In-person absentee voting began on April 23 for the primaries and ends on Saturday at 5 p.m.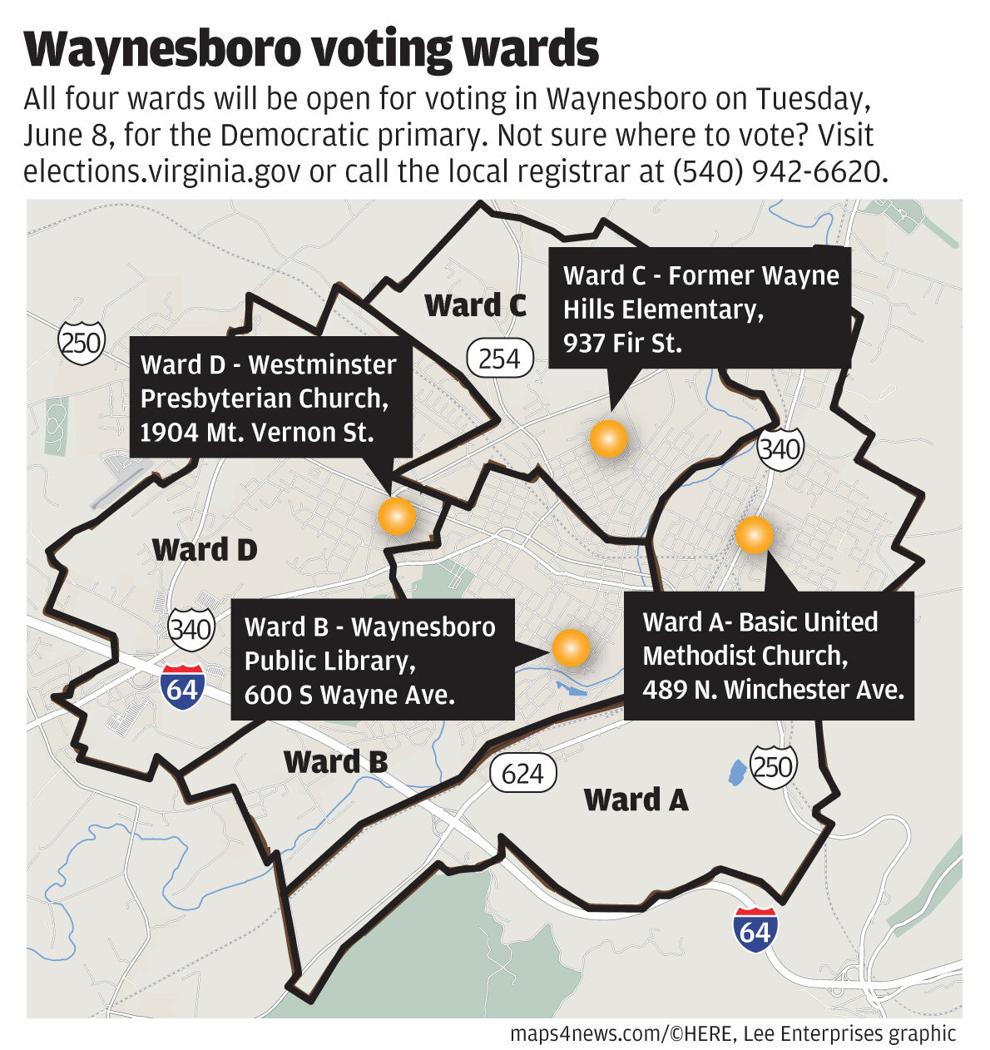 As of Tuesday, General Registrar Lisa Jeffers said 98 early votes had been cast in the city for the democratic primary. As of last Friday's deadline to request an absentee ballot by mail, more than 200 ballots had been requested with 91 still yet to be returned on Tuesday.
All 14,853 registered voters in the city are eligible to vote on Primary Day. Virginia is an open primary state, meaning voters do not declare a party affiliation in order to vote in primary elections.
There are four voting wards in the city — Ward A at Basic United Methodist Church, Ward B at the Waynesboro Public Library, Ward C at Wayne Hills and Ward D at Westminster Presbyterian Church.
Anyone unsure of their polling location can visit elections.virginia.gov or call the local registrar's office at (540) 942-6620.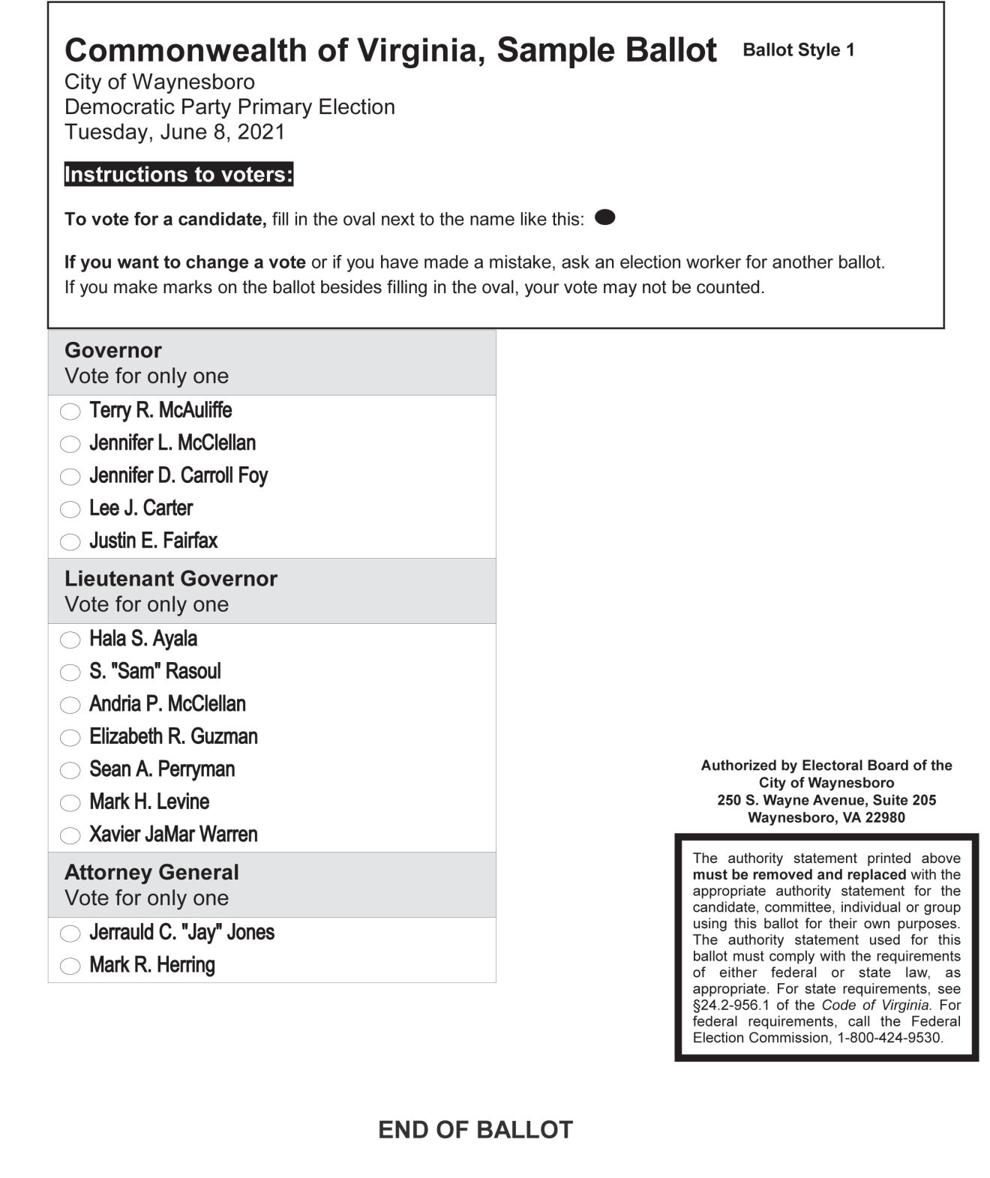 Polling places are open from 6 a.m. to 7 p.m. Anyone in line at 7 p.m. will be allowed to vote. Those heading to the polls should bring a photo ID with them.
Voters who requested an absentee ballot must postmark them on or before June 8 in order to be counted by noon on June 11. Voters who requested an absentee ballot who instead would like to vote in person must bring their absentee ballot with them to their polling location. Those who don't will only be allowed to vote a provisional ballot on Tuesday.
"Also, each polling place will have a drop box if they want to drop off their voted ballot as well as the drop box here at the office," Jeffers said.
The voting registrar's office is located inside the Thomas L. Gorsuch Municipal Building at 250 S. Wayne Ave in downtown Waynesboro.
Jeffers said the city will be following all CDC guidelines on COVID-19 and will not force any voter to wear a mask in their polling place.
Early weather forecasts for Primary Day in Waynesboro is mostly sunny with a high in the upper-80s.
Democrats will be selecting their nominees for governor, lieutenant governor and attorney general. Republicans held a convention on May 8 to select their nominees for these offices.
Five candidates are running in the Democratic primary for governor.
Current Gov. Ralph Northam is not able to seek re-election because of term limits in Virginia's Constitution that prevent the governor from running for a second consecutive term.
This is the fourth contested Democratic gubernatorial primary in Virginia since 1977 and the largest number of Democratic candidates running in a gubernatorial primary in Virginia history according to Ballotpedia.
The candidates in the order they appear on the ballot are:
Terry McAuliffe. McAuliffe, 64, previously served as governor of Virginia from 2014 to 2018. Although Virginia's Constitution prevents the governor from running consecutive terms, there is no lifetime term limit on serving non-consecutive terms. Gov. Northam is endorsing McAuliffe in the race.
Jennifer McClellan. McClellan, 48, currently serves in the Virginia Senate representing the Greater Richmond area for the last four years and is the vice chair of the Virginia Legislative Black Caucus. Before being elected to the Senate, she served in the Virginia House of Delegates for 11 years. If elected, she would be the first Black woman governor in the U.S.
Jennifer Carroll Foy. Carroll Foy, 39, served in the Virginia House of Delegates representing the 2nd district from 2018 until 2020 when she resigned to focus on her campaign for governor. If elected, she also would be the first Black female governor in the U.S.
Lee Carter. Carter, 33, a democratic socialist and Marine Corps veteran, has been a member of the House of Delegates in Virginia since 2018 representing most of Manassas City and some of Prince William County.
Justin Fairfax. Fairfax, 42, is the current lieutenant governor of Virginia. He is not seeking re-election for that position. If elected, he would be the second African-American governor of Virginia after Douglas Wilder.
The winner of Tuesday's Democratic Primary will face Republican Glenn Youngkin, 54, who was declared the party's nominee in a May convention.
Democrats have won four of the five most recent elections for governor.
Hala Ayala. Ayala, 48, currently serves in the Virginia House of Delegates representing most of Prince William County. Gov. Northam is endorsing Ayala in the race.
Sam Rasoul. Rasoul, 39, has served Roanoke in the Virginia House of Delegates since 2014. In addition to running for Lt. Gov, he is seeking re-election to his House seat.
Andria McClellan. McClellan has been a member of Norfolk City Council since 2016, with her current term expiring in 2024. She is not related to Jennifer McClellan who is running for governor.
Elizabeth Guzman. Guzman will appear on the ballot, but the delegate from Prince William County withdrew from the race in April to focus on re-election to the Virginia House.
Sean Perryman. Perryman, 35, is the youngest president in the history of the Fairfax County NAACP, the largest chapter in Virginia. His career experience includes working as the director of social impact at the Internet Association.
Mark Levine. Levine, 55, has represented District 45 in the Virginia House of Delegates since 2016. He is running for re-election for his House seat, as well as for the Democratic nomination for Lt. Gov.
Xavier Warren. Warren, 32, is a partner in a lobbying firm that seeks grants for nonprofits and an agent for NFL football players.
The candidate selected on Tuesday will face Repubulican Winsome Sears, 57, the first Black Republican woman to be elected to the Virginia General Assembly.
If a woman wins November's General Election, they would be the first to serve as Virginia's lieutenant governor.
Jay Jones. Jones, 32, has represented District 89 in the Virginia House of Delegates since 2018. He is running for re-election for that seat, as well as the Democratic nomination for Attorney General. Gov. Northam is endorsing Jones in the race.
Mark Herring. Incumbent Herring, 59, has served as Attorney General for two terms and is seeking re-election. A Virginia attorney general has not served three consecutive terms since 1945.
Tuesday's winner will face 45-year-old Republican Jason Miyares in November.
There is no Democrat or Republican primary for the House of Delegates seat that covers Waynesboro, as both candidates are running unopposed. Randall Wolf, D-Waynesboro, is challenging incumbent John Avoli, R-Staunton, for the seat in November. Avoli was first elected in 2019 to represent the 20th district that covers parts of Augusta and Nelson counties, all of Highland County and the cities of Staunton and Waynesboro.