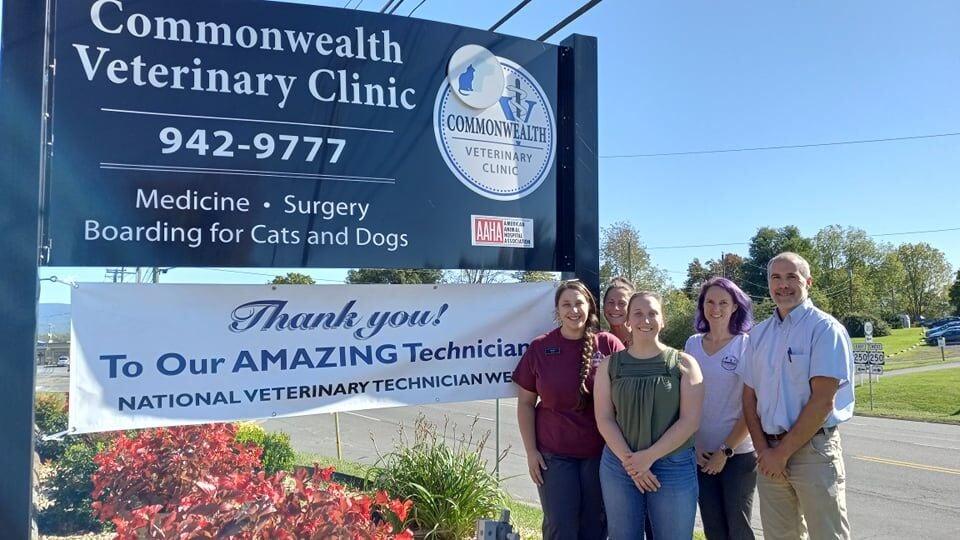 While countless medical professionals were busy in 2020, not everyone that was treated in the ER was human last year.
The licensed veterinary technicians at the Commonwealth Veterinary Clinic in Waynesboro had a different set of patients last year in the midst of the pandemic and are still at work taking care of the Valley's beloved pets.
National Veterinary Technicians Week, held yearly from Oct. 17-23, is officially here and Dr. Spencer Nicely, the clinic's owner and veterinarian, had nothing but praises to give for his staff of 'vet techs' at his practice.
"National Veterinary Technicians Week is a week where we're able to showcase and appreciate the work that our licensed veterinary technicians do," Nice said. "They are sort of the veterinary equivalent of an RN on the human side. Basically, they are the bread and butter. They do the day-to-day grind of what needs to happen. I depend on them every day and they are critical for delivering high-quality medicine and surgery."
Amanda Forbes, one of the team's licensed veterinary technicians, explained further.
"We are the animal version of nurses," Forbes said. "We do a lot of the triaging of patients, a lot of getting histories, getting prescriptions filled, we do anesthesias and dentals. The list goes on and on and on."
Miriam Minich, a staff member at the clinic, also stressed the importance of the occupation, noting that doctors and veterinarians do take a lot of consideration from the vet techs' inputs in terms of medicine and procedures, as well.
"We're doing everything," Minich said. "There's a lot of information we have to learn and a lot of skills that we have to gain in a short period of time. We do a large majority of things that clients don't see. We're drawing blood on your patients, giving medications, assisting with surgeries. We're caring for your patient and making sure they're comfortable."
Like Forbes, Sarah Smith, Danielle Dollins and Jennifer Cobb, are also licensed veterinary technicians at the practice, but all four of them share something similar besides their occupation — all four of them are graduates from Blue Ridge Community College's veterinary technician program.
"I have been out of the program a little over two years now," Dollins said. "It's very competitive. Getting into the program, they do require you to have so much experience before applying and then do expect you to have a number of hours in a veterinary clinic to apply to the program, as well."
With only a limited number of applicants able to participate each year, Smith noted that the time in which the program is completed only makes it that much more challenging at Blue Ridge.
"It's crammed into two years," Smith said. "The technicians and doctors that teach at the program would tell you that it really should be a four-year program because you're expected to know everything that a nurse would have to learn in two years on multiple species."
Once in, Dollins quickly noted that there's very little to no room for error.
"With each semester, if you don't pass a class, you don't go to the next semester," Dollins said. "They have specific classes for each semester. So [if] you even fail by one point, you'd have to wait another year before you can go back into that program."
Cobb, Nice's team leader at the practice, said the hard work more than makes up for the stress of it all and ends with a satisfying career.
"It's well worth it because, obviously, we chose this career path," Cobb said. "Just being able to make a difference with animals, or with people's pets knowing that we can educate them and take care of them … it's well worth it when you have a sick patient and, at the end of the day, they're up walking around, wagging their tail."
Although their days at Blue Ridge are behind them, the four veterinary technicians have also pledged to help teach some of the next generation of Blue Ridge students in the program all while working at the Commonwealth Veterinary Clinic.
Maddy Lavender, a 20-year old Blue Ridge student and clinic staff member, is currently enrolled in the same program that the four women were once in just years ago.
"It definitely is very challenging," Lavender said. "Pretty much my life since school has started has just been studying and making sure that I take an adequate amount of time to devote myself to school because this is what I want to do for the rest of my life. I want to try to be the best technician that I can."
Lavender says she's learned so much from the four women at the practice and truly has nothing but the utmost respect for all of her coworkers.
To her, they've made a positive impact in her academic career in just her first year at Blue Ridge.
"At work, it's so nice to be able to go back and ask the technicians or doctors questions and then to be able to demonstrate it or explain it a little more in-depth," Lavender said. "It's been nice, with so much information that we're given each day at school, to be able to go to work at the end of the week and ask questions to get more clarification or to even be able to practice."
Minich is currently in her second year at the college and agreed with Lavender that her co-workers at the clinic have made a world of difference not just in school, but in her life.
"They're part of the reason why I decided to go back to school," Minich said. "I already had my undergrad and was just doing this as something to do, working at a vet clinic. I've always been interested in animals, but after working with them and seeing what they get to do, I got really interested in it. That's why I decided to go back to school."
The appreciation for each other goes both ways, as the veterinary technicians at the Commonwealth Veterinary Clinic have grown fond of the students and have seen them progress immensely since they first began.
"Seeing us work and what we do, they [have] really been able to work off of that," Dollins said. "Just watching them grow has been really great."
Forbes added that she's also become impressed with the drive and tenacity of the students, saying that they've committed to the position after experiencing both its highs and lows.
"They [don't] just see the good side of it, they see the mental strain and emotional stress we can go through in this profession and yet they still want to do it because our attitude is good about it," Forbes said. "Even though mentally, emotionally, and physically, it can be exhausting, the fact that they still want to come and do that profession is very nice."
Smith also added that this voluntary extra experience provides "a leg up" in the Blue Ridge program over students who've only done minimal required hours in a different clinic and believes that the differences in Commonwealth Clinic staff students can easily be seen when compared to their counterparts.
"They're going to have a much easier time getting through it because of their time here, for sure," Smith said.
From overcoming a harsh 2020, to training future vet techs, the veterinary technicians of Waynesboro's Commonwealth Veterinary Clinic have plenty of accomplishments to be proud of in this year's National Veterinary Technicians Week.
However, everyone at the clinic, from the experienced staff to the students, expressed that they truly want to be recognized more by patients' families alongside the industry's veterinarians and doctors.
While Smith said that there are some clients at the practice that do fully understand what they do for a living, she said that, at times, it can feel like "a thank-less job," and appreciates having the week set aside to celebrate her and her colleagues' accomplishments.
"To know that we are kind of in the backseat most of the [time] where the doctor is on the front aspect of things explaining things to the clients, but we are the ones in the back that get all of those tests and information for the doctor to provide to the client … I think this week is just a way to show their appreciation that, yes, we do work hard," Cobb said. "It is nice to be recognized."
Smith agreed with Cobb and added that, at the end of the day, just because they may not be seen as often while on the job, she and the others on staff just want their clients to know that they are still here for the health and well-being of their animals.
She added that many pets that come through the clinic's doors feel like family to them, as well.
"Truly, we care about people's patients," Smith said. "Jenny's been here a long time. She has seen people's patients from the time they were a puppy until the time that they [were] at the end of their lives. A lot of us have been here long enough that we're getting to that point. It's not just a job for us. We're really invested in our animals and their lives. We all feel that way."