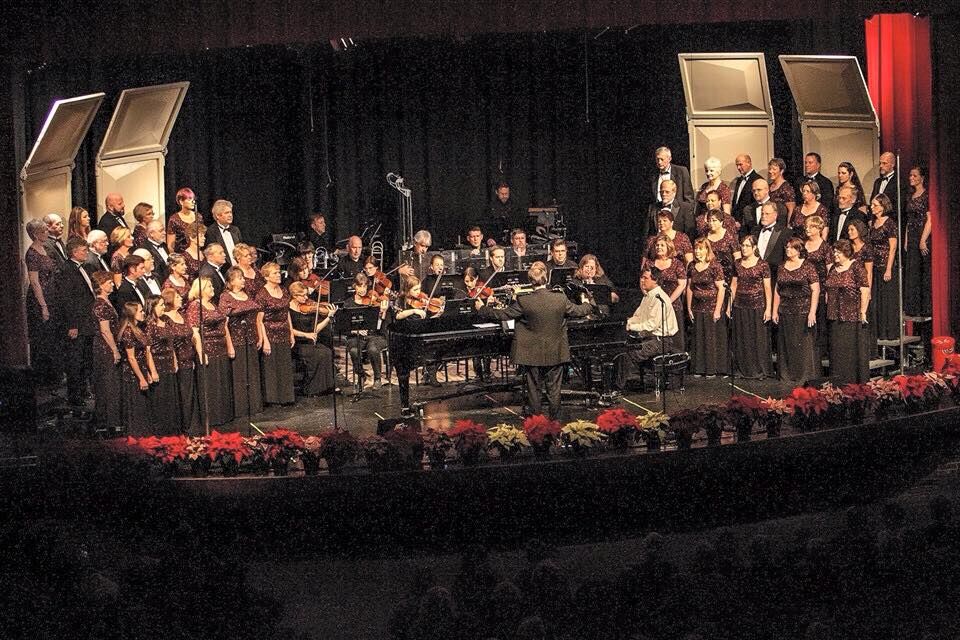 Since 1971, the Waynesboro Choral Society has performed 348 times in 65 different venues.
In its 50th anniversary year, the COVID-19 pandemic prevented the Waynesboro Choral Society members from doing what they love the most — performing for an audience.
"I've often said singing to an empty audience is absolutely no fun," said WCS director Don Coffey. "When our audience started to build, I would say in 1982, that was a tremendous joy."
Coffey began singing with the choir in 1978 and took over as director in 1981. It was then that he and WCS accompanist Kelly Hughes incorporated a little choreography, or what the choir calls "movement," into their performances.
Coffey said one of his favorite moments was when they finally came down off the risers and started moving.
"Our audience increased immediately after, so we thought 'this is a good thing,"' Coffey said. "We're still moving our feet with our music in part of our concerts."
Monya Decker, choir member and WCS president, said it's been awful not to perform this year because of the pandemic.
"Our choir is like a second family to us," Decker said. "We just love to sing together, and we always have such a good time. It's really been hard."
Coffey and Decker both talked about how diverse the WCS members are. Decker said the singing is the commonality that brings them together, no matter what age or season of life someone is in.
Right now, there are around 55 members in the choir. Four hundred fifty members in total have been a part of the chorus in the last 50 years.
"Other than my family and probably my church and the church choir, it's been one of the greatest joys of my life," Coffey said. "I have met some tremendously wonderful people and made some extremely good friends."
A lot of time and dedication goes into preparing for a concert. Practice starts around two to three months ahead of time. Typically, singers practice two hours every Monday, and those who do movement practice for three hours.
"That's three hours of your time a night you dedicate to this without pay. None of us are paid to do this. It's a passion just to be able to come together as a group and pull off something that our audience enjoys," Decker said.
Rod Campbell has been performing with WCS since the spring of 1977. Not being able to perform this year has been strange, he said.
"We rehearse every Monday night, so when you go from doing that for that many years and all of a sudden you don't do it anymore, it really feels a little weird," Campbell said.
Campbell has been an auxiliary police officer since 1991 and also a member of the Army National Guard. The groups' patriotic performances are his favorites.
"I just think there are not enough events that actually honor the country and people that have made sacrifices," Campbell said. "It's been a good thing to do."
For over 17 years now, WCS has hosted 25 benefit concerts for the Salvation Army during the Christmas season. Over the years, the shows have raised over $165,000 that went right back into the community.
"We're very proud of that fact," Coffey said.
Decker said the choir is sponsor-driven. She's grateful for the many wonderful sponsors who've supported the choirs for many years.