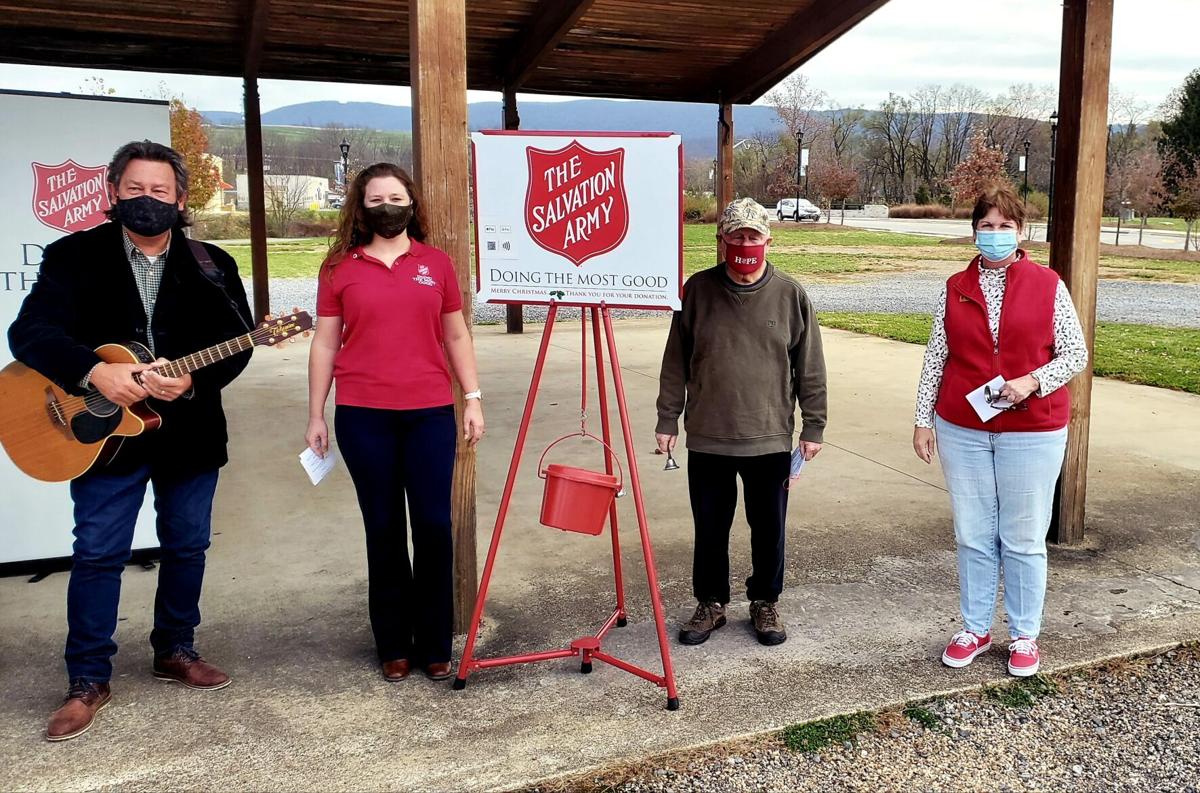 The familiar sounds of ringing bells will once again fill the air this holiday season.
The Waynesboro Salvation Army kicked off its Red Kettle Campaign with a drive-in event at the Constitution Park pavilion Saturday morning.
This year, shoppers will hear ringing bells at Kroger, Walmart, Food Lion, Big Lots and Kroger in Waynesboro, and at the Food Lion in both Stuarts Draft and Grottoes.
Lt. Rachel Pruitt said around 30 or 40 volunteers are registered to help throughout the holiday season.
"We have over 800-time slots, so we need a lot more support," Pruitt said.
Those interested in volunteering can sign up by calling the office at (540) 943-7591 or signing up online at https://tsaow.galaxydigital.com. Time slots range from 10 a.m. to 7 p.m. It's preferable that volunteers do at least a four-hour time slot, but the organization will work with your schedule.
In response to the COVID-19 pandemic, all volunteers must wear facial coverings, maintain social distance between donors and use disinfectant to clean kettle equipment between each use and after Kettle contact from donors.
The Waynesboro Salvation Army hopes to raise $82,000 this year before the campaign ends Dec. 24. Although the fundraiser started later in the season, the organization exceeded its 2019 goal of $80,000.
About 33 percent of total yearly donations to The Salvation Army come through the Red Kettle Campaign.
Based on the increase in services already provided in response to the COVID-19 pandemic, The Salvation Army could serve up to 155 percent more people in 2020 with Christmas assistance, including putting food on the table, paying bills, providing shelter and helping place gifts under the tree — assuming the resources are available," Pruitt said in a press release. "While the need is greater, due to the closing of retail stores, consumers carrying less cash and coins, and the decline in foot traffic, The Salvation Army could see up to a 50 percent decrease in funds raised through their iconic Red Kettles. This could severely limit The Salvation Army's capability to provide services for the most vulnerable."
Participants can register online to become a virtual ringer and establish a Red Kettle online, making it safer to participate in the fundraiser.
The annual Angel Tree Program, which provides Christmas presents to low-income families for children 12 and under, as well as senior citizens, also kicked off during Saturday's drive-in event.
Angel Trees are located at the Walmart on Lucy Lane and the Walmart Neighborhood Market on West Broad Street.
"People can go and pick up a tag there and shop for their angel and return their gifts there, or they can adopt an angel online," Pruitt said.
There are 324 angels this year, including seniors, Pruitt said.
Get local news delivered to your inbox!
Subscribe to our Daily Headlines newsletter.