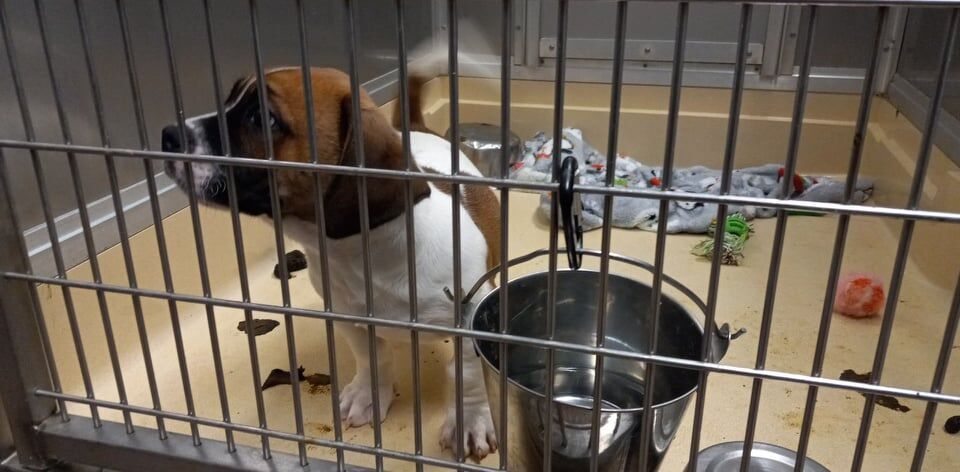 LYNDHURST — Many pets enjoyed the company of their families last year at home during the pandemic.
Unfortunately, not all of them were so fortunate.
Plenty of dogs, cats and other pets are still available for adoption over at the Shenandoah Valley Animal Services Center in Lyndhurst.
However, volunteers are needed to take care of the shelter's furry residents.
Jean Fraser has been a volunteer at the shelter since 2012 and helped take care of the SVASC's animals last year during COVID. After all, someone had to take care of the Valley's animals during the coronavirus.
"The animal care went on exactly the way it has always gone on because it's something that has to be done every day no matter what," Fraser said. "Fire, floods, whatever — the animals need to be fed and taken care of."
At the shelter, Fraser was one of the few volunteers kept on staff during the pandemic last year.
For Kennel Attendant Danielle Miller and other staff members, the workload really increased for everyone as a result.
"When COVID started, the foster program pretty much dried up," Miller said. "It was two people working in dogs, one person cleaning two cat rooms … we have four cat rooms [and] four dog rooms. That made it really hard. A bunch of us were working six to seven days in a row every week. Sometimes, it'd be a month before somebody got a day off."
Luckily for both the animals and the staff, help will hopefully soon be on the way.
Hannah Richardson, the shelter's animal care shelter manager, and Erin Wiles, the team's dog kennel manager, said the SVASC's animal shelter volunteer program will be up and running again soon.
"Our goal is early-to-mid-August to have that all up, running and ready to go for everyone," Richardson said.
Although the program will return, Wiles said it will be slightly different from how it was before the pandemic.
"We've been working on revamping it," Wiles said. "We're working on getting a system up and running where we can track volunteer hours, what they're doing with animals, and getting volunteer descriptions up."
Many businesses have begun opening their doors to full-capacity again over the past few months, and the shelter is getting ready to do the same for the benefits of its animals.
Whether residents have or haven't volunteered before at the shelter, all are welcome to help take care of those inside.
For first-time volunteers, easier tasks will more than likely be assigned, such as doing laundry and/or dishes, putting away donations and helping walk the easier-to-handle dogs until becoming more occupied with the shelter's ins and outs, Richardson said.
Other duties will include helping clean out cat and dog cages, giving treats and toys to the animals and spending time with them outside their cages.
"Honestly, it would be amazing," Staff member Raven Loving said. "If we had more volunteers, it would help get more dogs out at a time – possible even two or three times a day."
The workload for each staff member hasn't just become heavier because of the lack of volunteers, but the quality of life for the animals has also been impacted.
"Unless we have a volunteer here, like Jean, the dogs usually don't get to go out twice in a day," Miller said. "They get to go outside maybe five minutes a day. Basically, without volunteers coming in, these dogs are not getting their proper exercise that they need."
Loving agreed with Miller.
"We have a lot of hound dogs come in and, of course, they need a lot of exercise," Loving said. "Without them having that exercise, they get extremely hyper in their kennels. When people are walking through, they're jumping all over the door, running around in circles, and then nobody looks at them because they portray that hyperactive dog that nobody wants."
Although the staff and volunteers understand work and family life might make volunteering during the day more difficult, Wiles said opportunities to volunteer from home is something the shelter is looking into while moving forward with the program.
From home, volunteers could assist in a spay/neuter transport for the animals, review applications for the shelter, call back folks who had previously called about lost animals, respond to emails and/or assist in setting up adoption events.
There's also a "dog day out" option that's part of the volunteer program, as well, Richardson said. Through it, one could take out a dog for the day just to enjoy walks through town, go to the dog park, get some ice cream together, and just enjoy being out of the shelter for the day together.
The exposure for the dogs to meet their potential adopters and new family also becomes possible.
Although still in the works, Richardson said those interested should soon be able to lend a helping hand.
"Once we're ready to start signing people up, we're going to post that on our Facebook page," Richardson said. "What it will probably look like is a registration form that you fill out. Definitely, it would be something that you want to keep an eye on our Facebook page for."
Little things like throwing tennis balls to the dogs, petting the cats or feeding them treats goes a long way at the Shenandoah Valley Animal Services Center.
Relationships between volunteers and the animals might not blossom overnight, but at the end of the day, they're worth building, Loving said.
"Honestly, just come meet them," Loving said. "Come outside with them for five to 10 minutes just to play with them. Honestly, I feel like new people coming around and giving them attention would be good for all of them."
Jean Fraser was once a new volunteer.
Now, having been at the shelter for nearly a decade, she says it's all been worth it.
"Come down and take a look," Fraser said. "You might find your new best friend."