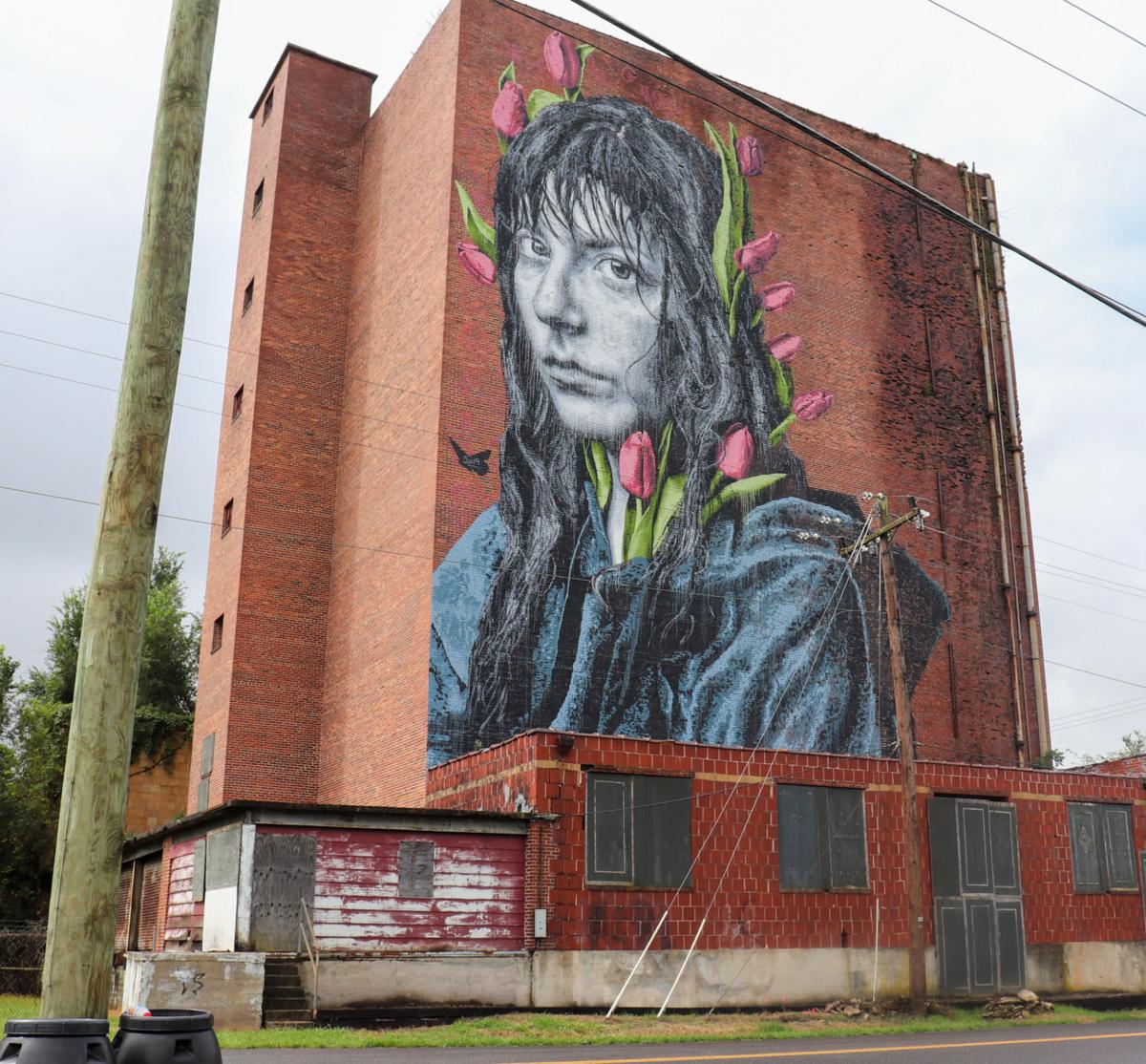 Grab your phone and some comfortable shoes — there's a fun and safe new way to explore art in Waynesboro.
The city of Waynesboro Economic Development partnered with Traipse, a Staunton based app, to design a contact-free scavenger hunt with 13 stops throughout downtown Waynesboro that highlight murals painted during past Virginia Street Art Festivals, as well as a few other art-related things in the community.
"I reached out to them and thought it seemed like a good fit for what we were trying to accomplish, and they were really great to work with," said Jennifer Callison, the tourism and marketing manager for Waynesboro Economic Development. "They were excited about the project, and so we got it up and running."
Last winter, Economic Development was awarded a Recovery Marketing Leverage Program grant from the Virginia Tourism Corporation. The original plan was to start a street arts trail in Waynesboro this spring, where participants could pick up rack cards and printed materials from the Visitor's Center to explore the city. After the pandemic began, the new idea was to develop something where people could feel comfortable and be contact-free, Callison said. That's when the Traipse app came to mind.
To begin the Street and Public art of Waynesboro scavenger hunt journey, download the app and sign-up to do the tour through Facebook or email. You must be on location to complete the scavenger hunt but can read blurbs to find out more information about the stop without being at any of the stops listed on the app.
After users arrive in person at one of the 13 stops on the journey, a "challenge me!" notification will show on the screen and allow users to answer a fun riddle to complete the challenge at each location. Two hints are available per question, but users have unlimited tries to get the correct answer. Each correct answer unlocks a clue to an additional bonus challenge.
"By having to answer a riddle or puzzle by using something in the built environment, we're leading people to actually engage with the space and not just quickly race through," said Austin Auclair, the Traipse director of creative content.
For example, the challenge question at the "Sun, Moon, & Stars Ladies" mural, located at Race Avenue, is, "For this, to Short you'll need to walk; More feathered friends nearby in line; we now ask you to take stock; How many ducks do you find?"
Traipse connects people with community in a fun, interactive and educational way while bolstering local economies by promoting locally owned business along with historic and cultural assets, according to their website. Auclair helped create the scavenger hunt and said it took about a week to put together.
"I do the footwork, spend some time figuring out how I'd like to word the location-based puzzles at each place, and then actually get photos, text, and supplemental resources into the app itself," Auclair said.
The scavenger hunt takes around two hours to complete, but users don't have to finish the scavenger hunt all at once. The app allows users to pick up right where they previously stopped the journey.
The Waynesboro visitor's center and The Shenandoah Valley Arts Center, which was part of the original grant, are also stops along the scavenger hunt.
"We just felt like they are so connected to the art community here in Waynesboro that people going on this tour would probably enjoy stopping at the arts center," Auclair said.
When asked if the app would create revenue for the city, Callison said, "We hope that the people who download the Traipse app to experience the Waynesboro Street Arts Trail will make a day of their adventure by supporting our local small businesses as they find the murals around town and answer the clues. Perhaps they'll do some shopping downtown, grab a cup of coffee, have lunch, or even enjoy a beer after visiting the murals at Basic City Beer Co."
The app is available for Apple and Android uses and can be downloaded from the Traipse website.
Get local news delivered to your inbox!
Subscribe to our Daily Headlines newsletter.