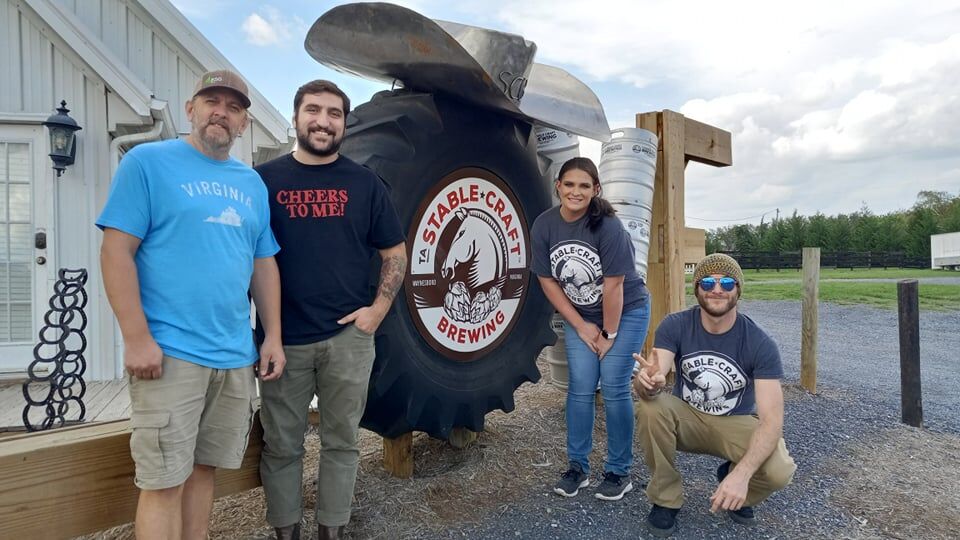 It was already home to award-winning beers.
Now the brewery, itself, is an award-winner.
Stable Craft Brewing was awarded the 2021 Ordinary Award for 'Brewery of the Year in Virginia' by the Virginia Restaurant, Lodging & Travel Association at their annual Ordinary awards dinner and ceremony at the Richmond Omni Hotel on October 4.
Craig Nargi, the owner of Stable Craft Brewing, was "flattered, surprised and grateful" when receiving the news.
"It is [a] tremendous recognition of the hard work and effort from everyone on the Stable Craft team to exceed our guests' expectations," Nargi said. "We accept this award with great pride and as inspiration to continue to make good things happen for our guests and our community."
In winning the award, Stable Craft was recognized for numerous innovations, such as becoming the East Coast's "first zero waste brewery." Just one example of their efforts can be seen in their repurposing of all of the byproducts and waste from their kitchen, dining, and brewery being used and composted to make anaerobic tea.
This can then be used in the business' drainage systems and as a fertilizer.
The brewery also converted an old truck into a stage for live music outdoors, with the money raised being sent to Camp LIGHT in support for its kids.
Heaters on the bar ceilings outdoors have also been installed to ensure that customers' outdoor experiences during the fall and winter seasons will still be comfortable and enjoyable despite the cooler weather.
Stable Craft was also awarded for their donations to the local food bank and non-profits, as well as for their support of local farmers.
However, times at Stable Craft weren't always as positive as they currently are.
Like other businesses during the pandemic, life wasn't easy for the brewery's staff.
Eric Ahlberg, Stable Craft's head brewer, said that, naturally, "COVID was hard for everybody," but that the sales still continued. Many focused on drive-thru style to-go orders.
Regardless of the challenge, though, the crew at Stable Craft still found ways to spin their trials into positives for the business.
"It helped us focus on what we wanted to do for the future with our to-go beer sales, our bottled beer and ciders," Ahlberg said. "So out of this dark cloud came a little bit of a light on future growth and future plans of what we would like to do."
Nargi also said that a top priority, if not the top priority, was to keep his staff safe.
To do so, Nargi and the team at Stable Craft incorporated blood oxygen tests at the brewery's back door, took temperatures, and even told staff members to stay home for whatever reason should they feel like it was unsafe to show up to work.
"We didn't have anybody feeling the pressure that they would lose their job if they didn't come to work during COVID," Nargi said.
He also added that every time the governor talked, the staff's "pain clock" was reset, seeing how new rules or changes would have to be implemented for the safety of the staff and customers. However, the owner said that as this continued to happen, eventually he and his co-workers just became more adaptable to the sudden changes and were able to become stronger and more efficient as a team because of them.
It's become a family effort and he credited his team for their tenacity through trying times.
"We've retained a lot of good people," Nargi said. "We brought [in] people from all over the country to work with us here and we have a great pool of people that are right here from Augusta County, too. When you put that group together, it's just an inherent excitement."
Stable Craft Brewer Tony Zappaunbulso couldn't agree more with Nargi.
"Everyone that works here is passionate about what we do," Zappaunbulso said. "It really is a good staff and a good team atmosphere that we have."
Now, no award-winning brewery is complete without high-quality craft brews, and both Zappaunbulso and Ahlberg were quick to note that Stable Craft has plenty of them.
Just some of the most popular beers on tap include Stable Craft's "Britchin' Brown" Brown Ale, their award-winning Blueberry Blonde Ale, their "Robot Cowboy" New England-style IPA and their "Just Peachy" Peach Hard Cider, among the other ten-plus beers and ciders on tap.
And the customers love them.
"We haven't seen our regulars let up a bit," Nargi said. "They were very understanding, very supportive [and] really wanted to see us survive and succeed. They were really genuinely interested in our staff, making sure everybody was OK and they advocated to other people in the community that we're getting it right and they like coming here because of that."
To Zappaunbulso, this dedication and appreciation for what he does hasn't been lost on him, either.
"It's cool," Zappaunbulso said. "We put a lot of hard work in here [and] a lot of thought and effort into the beers that we're making. It's a cool thing to see that that's paying off and people are enjoying what we're putting out. That's all part of the job. I love what I do and when people enjoy the product, it just makes it even better."
With the stricter COVID regulations lifted, their new award under their belt, and plenty of good craft beers on tap, Stable Craft Brewing is open and ready for old and new customers alike to come on down and enjoy a great night alongside either the company of friends and family or the company of the staff at hand, whose dedication to the brewery was just one of the many things done right that led to the business' Ordinary Award.
Ahlberg knows this well and is appreciative of everyone in the Stable Craft family.
"They're amazing," Ahlberg said. "Everybody brings a little something different to the table from the bottom to the top. You can really find something creative about every single person, no matter what they're doing. If you can build off that, you can really make a good product."