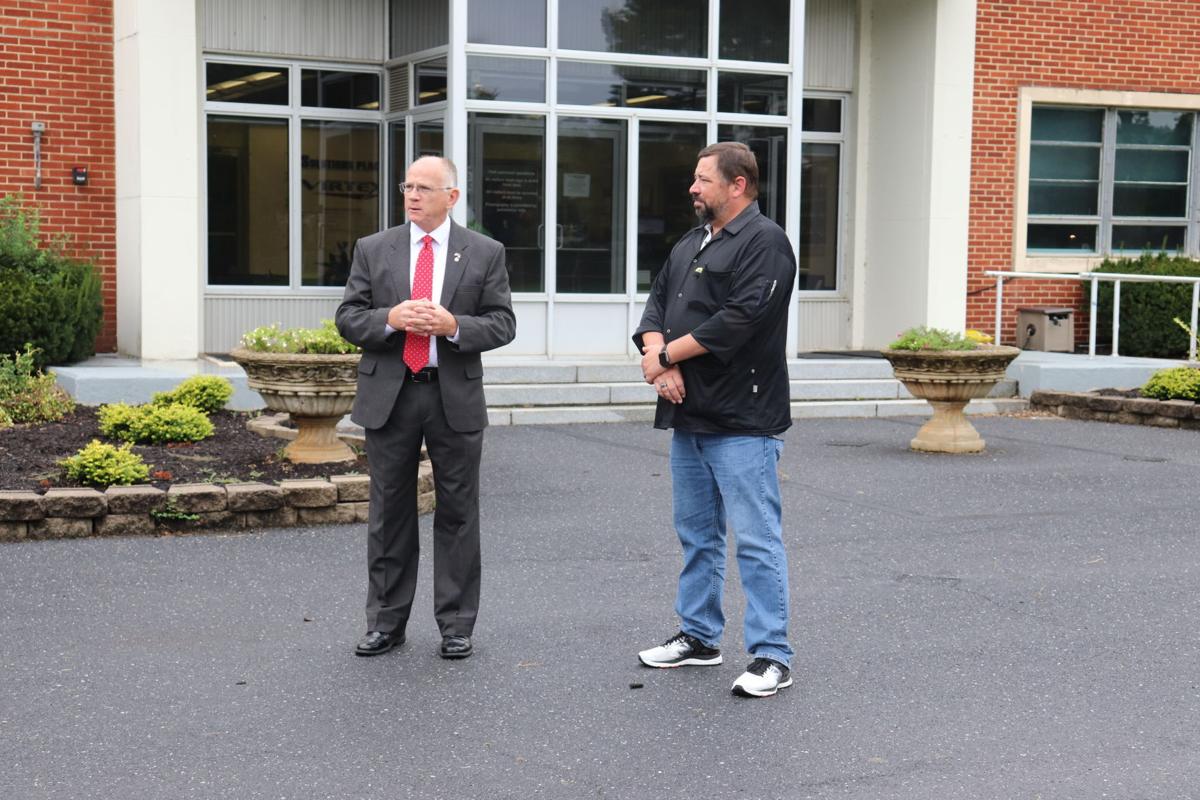 The city of Waynesboro and VIRTEX announced Tuesday the creation of 40 to 50 new manufacturing jobs with the addition of a new product line.
VIRTEX, an Electronics Manufacturing Service (EMS) that provides services to military, aerospace and medical customers, said the new product line is expected to be operational immediately.
Walt Carter, general manager of VIRTEX, said the company is rapidly growing.
"We are very pleased with the growth that's going to be happening in our facility over the next year or so," Carter said. "This place is going to continue to grow, and we are going to enjoy managing that growth in this exciting new marketing world."
VIRTEX replaced the former GE facility on Hopeman Parkway at 1 Solutions Way in Waynesboro in 2004. Carter expects the company to employ more than 200 people in the future. The company recently signed a two-year lease to stay in the 90,000-square-foot building, he said.
"There's lots of room to grow," he said.
Waynesboro mayor Bobby Henderson said the VIRTEX expansion is exciting for the city.
"We appreciate VIRTEX and its vision, which is to spark growth and create high-tech jobs within our community," Henderson said.
Henderson added that no one knows about VIRTEX, but that everyone should because of the employment opportunities the company is creating for the city.
"On behalf of Waynesboro, we appreciate VIRTEX and what they're doing in our community," Henderson said. "We look forward to working with you and to continue expanding in the future."
Those interested in the new positions are encouraged to apply for jobs immediately. VIRTEX said it will be looking for skilled and unskilled candidates, preferably those with experience in manufacturing, assembly or electronics.
"You've got to be very dedicated and like to work because we're here, we're busy, and we're working all the time," Carter said.
The facility will offer on-the-job training and certificate programs for successful candidates.
"That's one of the pleasures of this business coming into Waynesboro because our high school seniors now have someplace that they can come," Henderson said. "They don't have to move to other places. They can stay right here in the city of Waynesboro and have good, high-skilled jobs right here at home."
More information about career opportunities can be found in person at VIRTEX or online on the Virginia Employment Commission website.
Get local news delivered to your inbox!
Subscribe to our Daily Headlines newsletter.