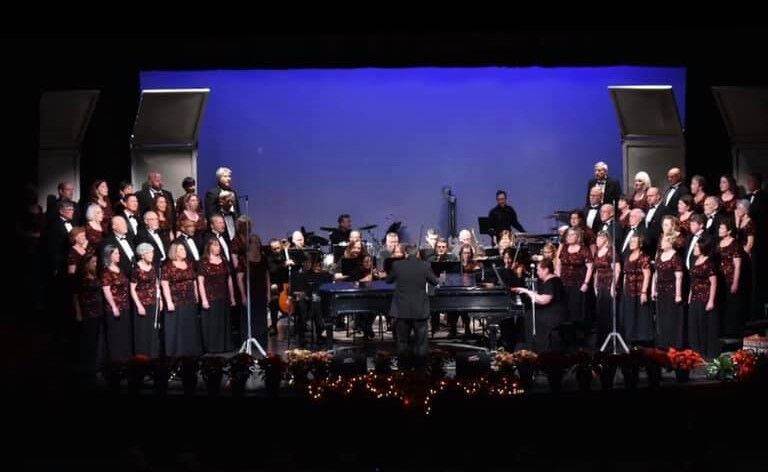 For residents who wait until after Thanksgiving to start listening to Christmas music, the Waynesboro Choral Society has just the show for you.
The chorus' Holly Jolly Christmas concert will return after a two-year hiatus beginning Nov. 29 and ending Nov. 30. Both shows will begin at 7:30 p.m. and tickets will cost $12 each, except for children 12 and under, who are allowed free admittance.
Director Don Coffey and the rest of the men and women in his chorus are ready to ring in the Christmas season once again, just as they've been doing for more than 35 years.
"I started singing with this group in '78," Coffey said. "Our first Christmas concert was '84. We feel like we have helped our community usher in the Christmas season, especially since 1984. Typically, we always have it the first Monday and Tuesday after Thanksgiving. It [ushers] in the season for lots of folks."
Coffey understands that some may wonder why the shows are held at the beginning of the week rather than during the weekends, but he explained that it's all due to tradition.
The director said that, back in the day, the local high schools would be too busy later in the week to host shows for the chorus, so they began holding their performances on Monday and Tuesday .
Because many of the local high schools also tend to have their holiday concerts sometime in mid-December right before their break, the Choral Society also holds their concert in late November to avoid unintentionally competing against them and taking away their deserved audiences.
Schools aside, the Waynesboro Choral Society has been hard at work preparing for their upcoming Christmas show, but needed a venue to practice in while maintaining proper social distancing.
Coffey added that they all had been wanting to sing so badly since COVID hit that they've been rehearsing in the barn of one of their members, Rod Campbell, since August. They've even moved heaters outside recently so they can keep practicing in colder weather.
Ann Colman, the chorus' treasurer and one of its altos, has been a member of the Choral Society for 37 years and is ready to bring the spirit of Christmas back to her community.
"It's been so fun practicing together in the barn," Colman said. "We are very excited."
Monya Decker, the Choral Society's president and a soprano I, also shared a similar sentiment.
"The goal is to be a blessing to our community, to bring in the Christmas season and to just bring some joy back in their lives," Decker said. "It's been a hard couple of years for a lot of people. We hope to just brighten their year a little bit."
While the Christmas performance is coming back, much to the joy of the Choral Society, there will be a few differences in this year's show compared to holidays past.
For starters, there will be less performers in this year's chorus.
"We're down about 20-something singers for this concert," Coffey said. "Some of them are just not ready to come back yet being in an environment like that."
One thing that will stay the same, though, is that in addition to the 30-35 choral singers at the show, a 20-piece orchestra will also provide further musical accompaniment.
"We are down in numbers but we still all have enthusiasm, we have a great sound and I think it's going to be a great show," Decker said.
While the Choral Society is also well-known for their movement and dancing off the risers onstage, in the first part of this year's show, the chorus will be careful minding social distancing. They will move around, but rather than fully dancing, Coffey says the chorus will simply move their hands and sway this year to be safe for those in the audience.
"The movement we do won't be quite as vigorous," Colman said.
Differences aside, however, the group is excited to perform for Waynesboro residents once again for the first time in two years due to COVID-19.
"We had a lot of Zoom meetings with the board," Decker said. "There wasn't much we could do. We missed three concerts. We're very excited to be back."
Decker also hopes that those who are debating whether to come or not choose to attend the show and experience a night of peace and music.
"The last Christmas show we did in '19, I had a friend [whose] husband had recently passed away," Decker said. "I gave her and her sister tickets. Afterward, she sent me a personal message. She said, 'I almost didn't come,' because she was still grieving."
However, Decker's friend said that she was glad she went out and saw the show, and that her spirits were definitely "uplifted" thanks to the Waynesboro Choral Society.
"It brought her a lot of joy," Decker said.
Terry Coffey, Don's wife and a Soprano II in the chorus, also expressed the amazement she felt when she went to her first Waynesboro Choral Society show.
She received the initial invite from her then-eventual husband.
"11 years ago, he invited me to a concert," Coffey said. "I was blown away. It was just wonderful. He just has so much energy when he's directing us. When you see it on his face how much he is enjoying the sound that he is hearing, it makes you want to give more."
Like Coffey, Colman has enjoyed the music the chorus has made since she first joined nearly four decades ago. For this year's show, she is particularly excited to perform "O Come, All Ye Faithful" arranged by Dan Forrest, "Tiny Little Town" arranged by David Hamilton, and "Pat-a-Pan Salsa" arranged by Tom Fettke and Thomas Grassi.
"A return to normalcy and celebration of Christmas, it's just very much anticipated," Colman said. "I hope the crowd will feel the same ... It's exciting just to usher in Christmas again with a concert."
For their director, that excitement and joy is what the chorus is all about — especially this time of year.
"We have one goal," Coffey said. "That's to entertain our audience — not educate them, just entertain them with good family entertainment. We want someone to be able to bring their family and enjoy the whole evening."
Coffey said that, in the past, folks have thanked him and other members of the choir for the Christmas show and for helping Waynesboro ring in the holiday season.
"It's not just 'we had a great time,'" Coffey said. "It's a thank you along with that."
Tickets can be bought at the Waynesboro Landscape and Garden Center, from members of the Choral Society, or at the door at Waynesboro High School on Nov. 29 and 30.