During Monday's public comment period, three Waynesboro residents called on Waynesboro City Council to remove a member of the Cultural Commission over a social media post.
In a now-deleted Facebook post, Cultural Commission member Jennifer Lewis allegedly posted screenshots of comments made by another Waynesboro resident who owns a business who attended the Jan. 6 pro-Trump rally in D.C. that ended in rioters breaching police perimeters and vandalizing parts of the building for several hours. Five people died during and following the event including a Capitol police officer. Lewis' post also allegedly included information to the Waynesboro woman's photography page, encouraging others to not patronize her business.
The News Virginian was unable to obtain a copy of Lewis' alleged post.
The Cultural Commission is an advisory board to City Council on "matters relating to cultural activities." Members serve four-year terms, and Lewis' current term expires on Aug. 31.
Waynesboro resident Dwight Williams said during Monday's public comment period Lewis' post "publicly attacked and defamed a resident" and caused "pain and suffering."
"Lewis' post said the resident participated in a 'revolution.' There was no revolution, and the resident did no such thing," Williams said. "This in no way brings a community together, and for someone who holds an appointed position on a city commission, there's a higher standard that needs to be followed."
Williams himself was appointed to the Cultural Commission on Sept. 1, 2020, and also serves as vice chair for the 6th district Republican Central Region, but said Tuesday his concerns about Lewis' ability to serve come from being a concerned citizen.
"A person who serves in a public capacity should not be calling out an individual resident of our city. That, to me, is uncalled for. To incite supporters to report that person to the police or the FBI is not how our community should gel together — so, I do question her ability to look at things from a neutral point," he said. "My job (on the commission) is to represent people and hear what they have to say and look at it from a neutral aspect, not from a political aspect. If someone's going to post something publicly that hurts someone in our community, I question how they could be unbiased."
Because of safety concerns, Lewis declined to comment on the alleged social media post.
In screenshots obtained by The News Virginian, a Waynesboro resident commented on a Jan. 6 Facebook post, "I'm on the side of the Patriots that marched to the capitol today. We made ourselves known!" In another Facebook comment, she states "(The media's) hypocrisy is so blatant. I just had someone leave a 0 star review on my photography page because I was at a 'riot' that got a cop killed. These people want war, I'll give them one."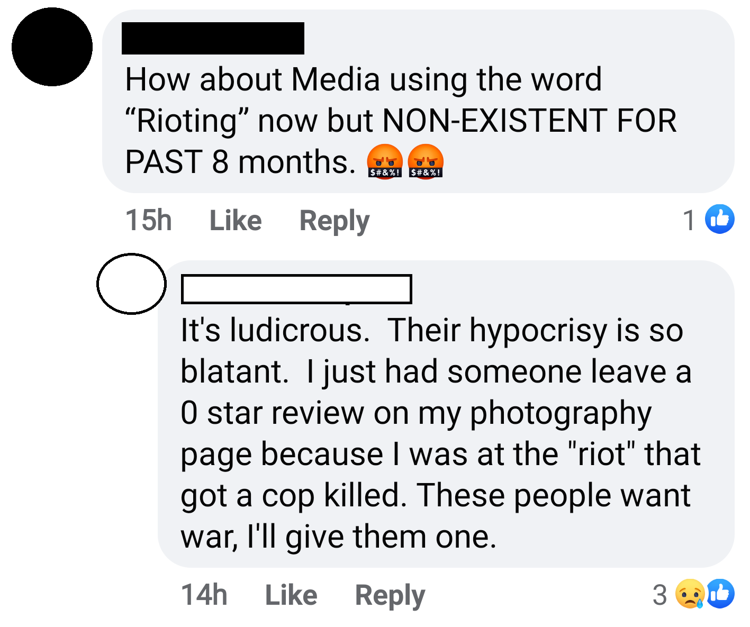 Lewis reposted those comments and allegedly encouraged others to not use the woman's photography business. The woman said Wednesday that Lewis took "comments out of context from another post."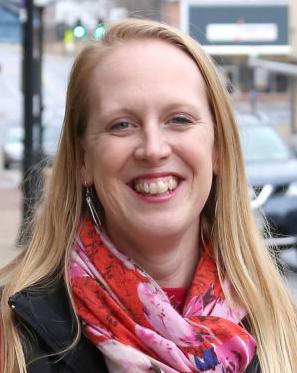 "She encouraged people to come to my business page and leave me bad reviews. They are people I've never met, have never used my business and they do not know anything about my services or me personally other than what she posted," the Waynesboro woman said, noting she has never met Lewis personally.
The Waynesboro woman said she has concerns about Lewis serving on the Cultural Commission, and feels Lewis "can't represent a citizen of this city well on a commission." Beyond Lewis being removed from the commission, she hopes to see attacks on others based on politics come to an end.
"This practice of slandering people because they disagree on things and trying to destroy these small businesses that she says she wants to help — I think the ideal resolution is for people to stop feeling like that is OK. To stop attacking people because we differ in beliefs," she said.
Before Monday night's public comment period, Waynesboro Mayor Bobby Henderson briefly addressed the Facebook post and citizen concerns.
"On behalf of Waynesboro City Council, I've asked staff and the city attorney to review relevant code sections and other guiding documents to examine the authority and criteria by which the council appoints or removes individuals from various boards, commissions and committees," Henderson said.
Henderson said the council's authority is focused on an individual's performance and conduct related to their public work, adding Waynesboro councilmembers cannot control what one individual says about another on Facebook.
"Our bylaws clearly state that the only way council can remove someone from a committee is if they're inefficient in what they're doing for the committee by not attending meetings, negligent of their duties or there's a malfeasance of office involving that individual," he said. "These are clearly matters between the two citizens and in control of Facebook. To remove someone from a committee needs to show that the person uses their position to cause harm to another citizen — which we don't see that in the emails we're receiving."