Instead, the House Committee on Communications, Technology and Innovation talked solely about provisions of House Bill 2385 that would codify an executive order that Gov. Glenn Youngkin signed last month to prohibit TikTok, WeChat and other social media applications affiliated with the government of the People's Republic of China from being downloaded on state-owned telecommunications devices or networks.
"We have seen in the past that the Chinese government has used devices or applications, such as TikTok and WeChat, to infiltrate national security interests across the country and in other countries as well," said Del. Emily Brewer, R-Suffolk, the bill's sponsor and the committee's chair. "It is imperative that we protect the security of the commonwealth."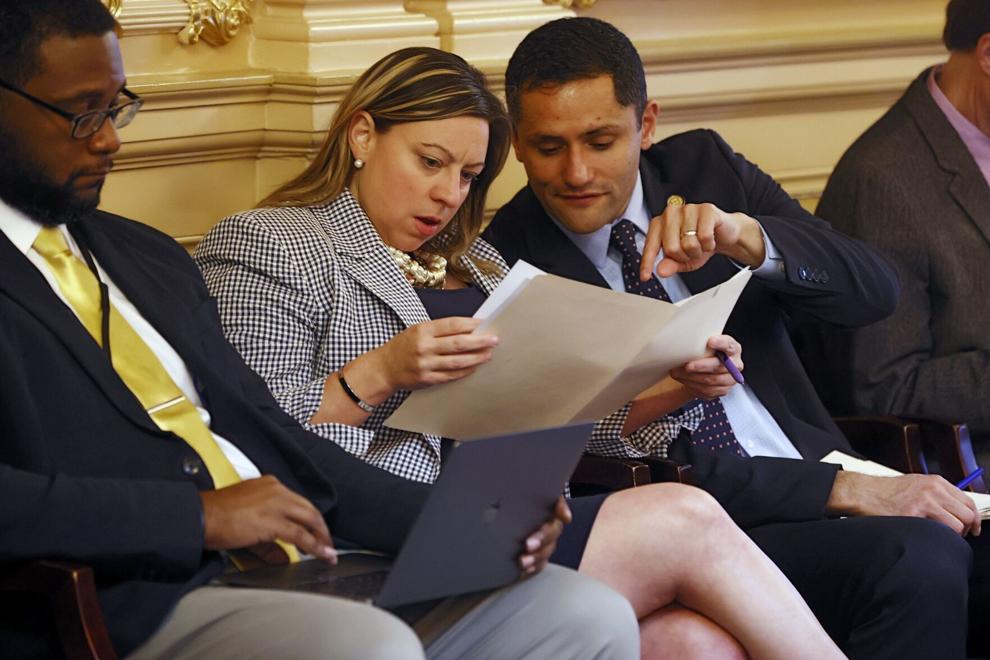 Brewer — in her introduction of the legislation after Vice Chair James Edmunds, R-Halifax, took over control of the meeting — did not mention the provisions of the bill that would prohibit state contracts with companies "scrutinized" by the Committee for Foreign Investment in the United States for potential national security concerns. Those provisions remained in a substitute version of the bill that the committee passed on an 11-10 vote along political party lines, but they were not discussed.
China has become a dominant political target for Virginia Republicans, led by Youngkin, who banned the social media applications in state government days before he abruptly withdrew the state from competing for a $3.5 billion electric vehicle battery factory proposed by Ford Motor Co. in partnership with a Chinese company that owns the patented technology for the lithium ion batteries.
Ford was considering a megasite in Pittsylvania County — the largest such site in Virginia — for the project, but the company said last week that it had not yet made a final decision when the governor pulled Virginia out of the running.
In his speech to legislators on the first day of the General Assembly session, Youngkin defended his decision to ban TikTok and WeChat on state communications devices and networks, and warned of "the ever-growing threat that the Chinese Communist Party poses to our national security, our privacy and our way of life in Virginia."
"I've said before that I want 'Made in America' to mean 'Made in Virginia,'" he said. "But let me be clear, 'Made in Virginia' cannot be a front for the Chinese Communist Party."
Del. Marcus Simon, D-Fairfax, suggested that Youngkin's motive in banning Chinese social media apps from state devices and networks was less about state policy than his response to similar moves by Florida Gov. Ron DeSantis, a potential rival for the Republican presidential nomination in 2024.
"This is not a good subject for legislating. This is not something that ought to go into the code," Simon said. "I understand the desire to score some political points and join the big red menace that comes from China as a political movement."
Youngkin's executive ban on TikTok and other Chinese-owned applications drew support from a prominent Virginia Democrat—U.S. Sen. Mark Warner, chairman of the U.S. Senate Select Committee on Intelligence.
"TikTok has the stamp of approval of the Chinese Communist Party and it poses a serious national security threat due to its data collection practices and its ability to reach and manipulate Americans," said Warner, a former Virginia governor.
Simon and other Democrats questioned whether it was necessary or wise to put the executive ban into state code, as Brewer proposed; name specific countries; or limit the prohibition to China instead of including foreign adversaries such as Russia, Iran and Cuba.
But no one discussed the bill's provisions to prohibit "a scrutinized company" from receiving state government contracts or even bidding on them. The bill would allow civil penalties of $250,000 or twice the value of the contract for any company that submits false information in certifying that it is not a company scrutinized by the federal committee.
Brewer said later in an interview that she had intended to return to the provisions, but the committee and debate went in a different direction.
"The flow kind of went off the road," she said.
Michael Martz (804) 649-6964
@mmartzrtd on Twitter