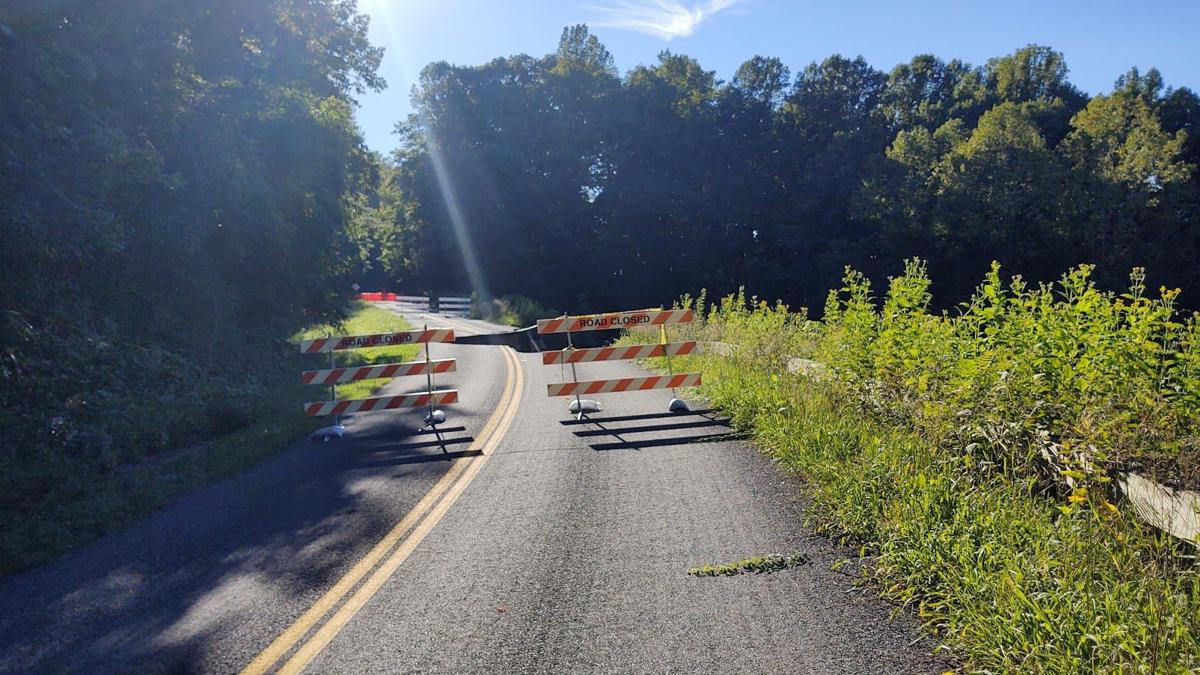 ROANOKE — Ill-timed road failures on the Blue Ridge Parkway are blocking access to several seasonally popular drives for seeing the Roanoke Valley in fall splendor.
That's a big problem for sponsors of tourism, who worry that would-be travelers won't come once they discover that parts of the winding, forested parkway are gated shut.
But the tourism bureau went to work soon after spring storms destroyed one parkway section and made another high risk, crafting an interim plan to promote attractions on the valley floor.
The Blue Ridge Parkway Detour, which has been distributed online and to visitor centers, is a turn-by-turn guide to bypassing the breakdowns that await millions of dollars in repairs, including one major job not scheduled until next year.
"It's coming through our towns and cities just to see what we're all about," said Catherine Fox, vice president of public affairs and destination development at Visit Virginia's Blue Ridge.
The parkway closures may actually benefit local businesses, said Pete Eshelman, director of the Roanoke Outside Foundation and director of outdoor branding at the Roanoke Regional Partnership.
In a typical year, out-of-town leaf peepers whose destination is the parkway drive right past the area's farmers markets, breweries, restaurants, stores, parks and trails, by his analysis. Their numbers could be in the tens of thousands of vehicles in October and November alone, according to parkway traffic statistics.
This fall, they're invited to stop and shop. The new Mast General Store in downtown Roanoke is one potential draw. The detour through the valley is also a good time to have a glass of locally brewed beer and something to eat, walk the greenway or hike a trail, according to tourism officials.
After the detour, those going north or south ought to still find a continuous feast of colored leaves because most of the parkway is open — just not the part adjacent to Roanoke.
The closed parkway segment at Roanoke, at 21 miles, is the longest closure along the 468-mile parkway.
Parkway travel is not possible along two local sections. Between U.S. 220 and Adney Gap, the picturesque parkway access point in Bent Mountain, about 150 feet of pavement shifted downhill at about mile marker 128 due to a landslide. Officials shut down that section on about May 22.
The director of parks, recreation and tourism in Roanoke County, Doug Blount, described it as "big hole."
"Blue Ridge Parkway is a big economic driver for the Roanoke Valley, especially in the fall," he said. "From our perspective, we encourage the National Park Service to be able to open the parkway as soon as possible because it certainly is a highly traveled road."
But this section is going to be closed for months, maybe a year. Parkway officials' current repair estimate is sometime between May and November of 2021, according to parkway spokeswoman Caitlin Worth.
Fixing the other closure won't be nearly as difficult or time -consuming.
Between Explore Park and U.S. 220, the pavement is in acceptable condition. The problem is a slope failure above mile marker 119. Although the debris has been removed, the slope is still unstable. It should be possible to create an additional lane around the area, which would permit two-lane traffic by "mid-fall" or roughly Nov. 1, Worth said.
The parkway is handling this job as an "emergency," according to Worth.
Will leaf season still be going Nov. 1?
Changes in light and temperature during fall curtail leaves' production of green pigment, allowing red, orange and yellow pigments to become visible. That's not visibly happening yet in the area, but historical patterns suggest it will soon. Fall foliage typically reaches peak beauty in this area between Oct. 10 and 20, according to the Virginia Department of Forestry. TripSavvy, a travel site, says mid- to late October. Because color responds to weather — and elevation, precipitation and species distribution also play a role — no one can say with certainty.
Assuming fall colors come and go with both closures still in effect, at least Roanoke has a plan for catering to travelers and has put it into effect.
The Virginia Welcome Center on Interstate 77 in Carroll County is aware of Roanoke's parkway detour and has been telling motorists who appear headed in that direction. "We have printed it out and made it so that we can hand it to the traveler," said Shirley Edwards, who manages the facility.
There is a parkway entrance 8 miles north of the welcome center. From there, it's about two hours to Roanoke, "a nice time to stop. You're usually ready for something to eat or something to drink," Edwards said.
Be the first to know
Get local news delivered to your inbox!