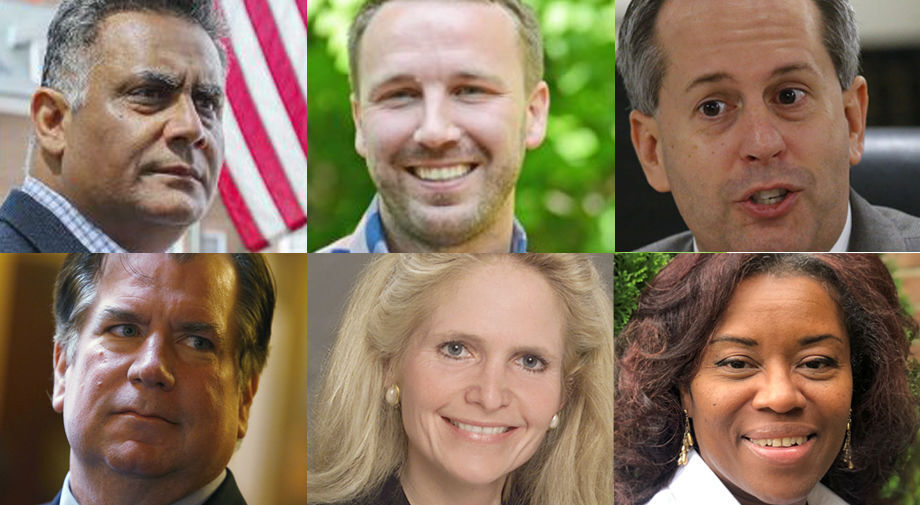 Winsome Sears, an "unapologetic" conservative who was the first Black Republican woman elected to the Virginia General Assembly, captured the party's nomination for lieutenant governor Tuesday night, outlasting former Del. Tim Hugo of Fairfax County in a fifth round of ballot counting from Saturday's state GOP convention.
Sears, who emigrated from Jamaica at age 6, joins Del. Jayson Miyares, a Cuban American who is running for attorney general, on a GOP ticket headed by Glenn Youngkin, the party's nominee for governor.
Sears, 57, who served one term in the House of Delegates from 2002-2004, is seeking an achievement that is exceeding rare, if not unprecedented in modern Virginia politics—a return to elective office after an absence of 18 years.
Del. Glenn Davis, R-Virginia Beach, was eliminated in the fourth round of Tuesday's tabulations at the Richmond Marriott, setting up his delegates to be kingmakers. In the final tally Sears received 54% of the weighted votes to Hugo's 46%.
Lieutenant governor is a part-time position. The holder of the office presides over the state Senate and may break ties on most issues, but not on the budget. The job's real significance is that it can be a steppingstone to the Executive Mansion. Seven of the state's last 14 governors previously served as lieutenant governor.
'Unapologetic' stances
Sears is a veteran of the U.S. Marines, where she served as an electrician and diesel mechanic. She now lives in Winchester and owns a plumbing, electrical and appliance repair business.
During the nomination campaign she criticized the Democrats who run state government for restrictions on churches and "mom and pop" businesses during COVID-19.
She said she is "unapologetically pro-life," an "ardent supporter" of Second Amendment rights and a backer of school choice, including vouchers, which she said would give families in low-income neighborhoods more opportunity.
The profile photo on her Facebook page shows Sears carrying an assault-style rifle. The wording with the photo says: "Battle tested conservative. Semper Fi."
In her campaign Sears also emphasized "ballot box integrity," saying that she wants to bar third parties from turning in ballots for others and wants Virginia to go back to requiring a photo ID at the polls. She says she was not suggesting that such measures would have changed the outcome of the presidential election, but asserted that such changes would boost voter confidence.
Sears, who worked in 2020 to win Black voters for President Donald Trump, asserted that she can win a general election because she's the only GOP candidate who can win votes of Black voters, including Democrats.
Democrats quickly sought to label Sears as extreme.
"It's no surprise that Republican insiders nominated a right-wing extremist like Winsome Sears," said Del. Hala Ayala, D-Prince William, one of six candidates seeking the Democratic nomination for lieutenant governor.
"The Republican Party of Virginia is out of touch with the needs of regular Virginians, and they continue to elevate conspiracy theorists and Trump extremists like Winsome Sears."
In 2001 Sears became the first Black Republican woman elected to the General Assembly, knocking off Del. William P. Robinson Jr., D-Norfolk, who had been a delegate since 1981. She lost a race for Congress in 2004 to Rep. Bobby Scott, D-3rd.
Sears, who majored in English and minored in economics at Old Dominion University, holds a master's from Regent University. After leaving the legislature, she served on the Virginia Board of Education and was an appointee in President George W. Bush's administration to the U.S. Veterans Affairs Advisory Committee on Women Veterans.
Tuesday's vote count
Six candidates sought the party's nomination for lieutenant governor.
After four rounds in the vote count, Sears had 43.2% of the weighted votes, to 30.4% for Hugo and 26.38% for Davis, who again fell short as he did in seeking the nomination in 2017. A candidate needed to top 50% of the weighted votes to become the party's nominee.
Lance Allen, an Air Force veteran from Fauquier County, was eliminated in the third round of counting, after lagging with 15.17%.
Northern Virginia business consultant Puneet Ahluwalia was eliminated after trailing in the second round, with 7.08%. Maeve Rigler of McLean, president, CEO and owner of Securus Capital in Alexandria, was eliminated after finishing last in the first round, with 6.0%.
More than 30,000 GOP delegates voted Saturday during the party's "unassembled convention" that featured 39 polling places around the state. The party used ranked-choice voting, in which delegates listed the candidates in order of preference.
In each round of vote counting, the candidate with the fewest weighted votes was eliminated. The trailing candidate's votes were redistributed among the remaining candidates, based upon the delegates' second choice on their ballots.
State party officials allotted a total of about 12,500 delegate votes to party units representing counties and cities across the state. The votes were "weighted" in order to reward localities that had higher GOP voter turnout in the most recent elections for governor and for president. That is why Bedford County, with a population of 79,000 people, had 228 delegate votes and Norfolk, a Democrat-leaning city of 243,000 people, got just 148.
While Hugo and Davis held serve in their home turf in the first round—Hugo carried Fairfax and Prince William counties and Davis won in Virginia Beach and Chesapeake—Sears piled up wins in Loudoun, Chesterfield and Henrico counties as well as localities outside the Washington Beltway, such as Stafford and Spotsylvania counties.
Sears also carried a large swath of rural counties from the Shenandoah Valley to Southside and the Northern Neck.
Sears ran a write-in campaign for U.S. Senate in 2018 to provide an option for Republican voters unhappy with party nominee Corey Stewart.
Democrat Mary Sue Terry remains the only woman elected to statewide office in Virginia. Terry was elected attorney general in 1985 and in 1989. She lost the 1993 campaign for governor to Republican George Allen.
Democrats will choose their nominee for lieutenant governor in a June 8 primary. The six Democratic candidates are Ayala; Del. Mark Levine of Alexandria; Andria McClellan, a member of the Norfolk City Council; Sean Perryman, former head of the Fairfax NAACP; Del. Sam Rasoul of Roanoke and Xavier Warren, an agent for NFL players.