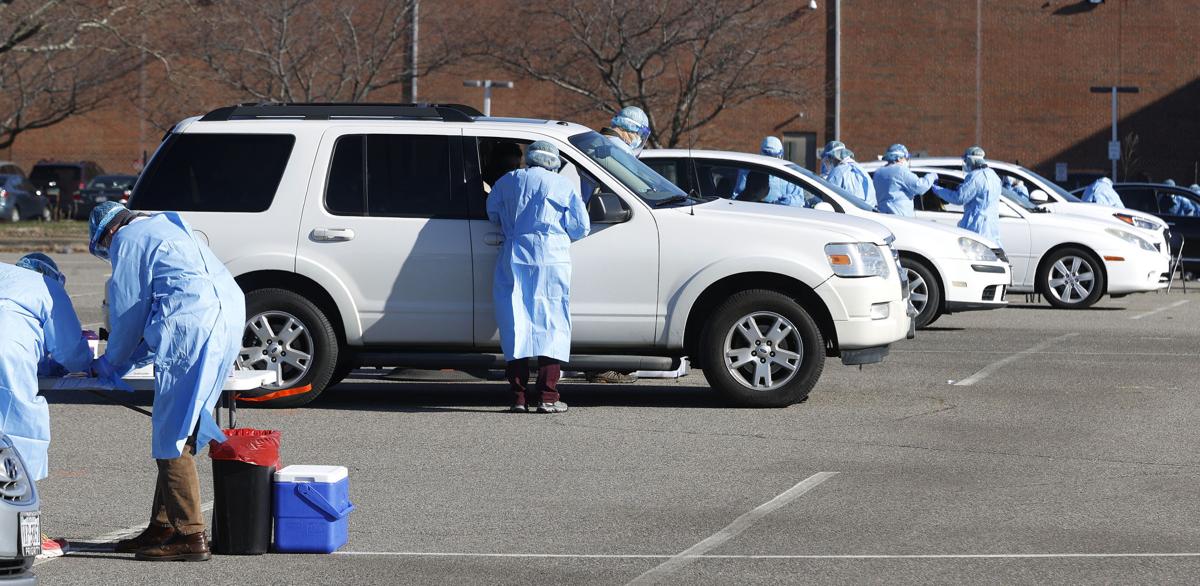 Virginia recorded 84 new COVID-19 deaths on Tuesday. Only once during the pandemic has that figure been higher.
On a day in September, a lag in the Virginia Department of Health's reporting resulted in a one-day toll of 96.
Currently, the state is averaging almost 41 daily deaths. Of the state's 5,477 deaths, 445 have been reported since New Year's.
Almost 40% of Virginia's COVID deaths have been reported in the last three months, indicating the potential start of an upward trend public health officials worried would occur in the winter months and post-holiday travel.
Back in December, Dr. Danny Avula, director of Richmond and Henrico Health districts, said that reported deaths are a "lagging indicator" due to the complicated process of reviewing death certificates from previous months.
The Virginia Department of Health released a statement Monday to clarify its process in counting deaths associated with the virus, which can include medical record or death certificate review, discussion with the patient's healthcare provider and speaking with the family.
It specifies that if the patient dies from another cause of death, such as suicide, car crash, overdose or a gunshot wound, the VDH does not count it as a COVID death even if the patient is found to have had COVID-19.
VDH wrote that it does, however, count deaths where someone's underlying condition was accelerated by COVID-19 and the virus infection worsened the person's health.
But if a person's death certificate lists diseases such as cancer, and the healthcare provider does not say the death was COVID-related, the VDH doesn't count the death — even if the patient has COVID.
"There can be a delay between a peak in cases and a peak in deaths. This is partly due to the progression of the disease — on average, death occurs a week or more after illness onset," the statement read. "Each death is reviewed by a subject matter expert which takes additional time."
Virginia is averaging more than 5,140 new cases per day, the highest recorded. Tuesday saw 4,561 additional infections reported, which is 1,237 fewer than Saturday, when state records were shattered with a single-day increase of nearly 5,800.
The state's total caseload is at 407,947.
On Tuesday, COVID-19 hospitalizations in Virginia was 3,185 patients, according to the Virginia Hospital and Healthcare Association's online dashboard. More than 33,500 total COVID-19 patients have been hospitalized and discharged, though hospitalizations continue to trend upward.
The number of COVID-19 tests is also on the rise following steep drops after the holidays. The state exceeded 4.6 million total tests administered on Tuesday and the percentage of people testing positive has decreased slightly to 16.4%.
This is still closer to the highest positivity rate recorded — 20.2% in April — than the lowest rate of 3.7%.
<&underline>Vaccine data</&underline>
Virginia is one of the top states in the country when it comes to most vaccines distributed with 773,825, but only a quarter of those shots have been given. This is below the national average of 35%.
Hospitals and local health department have administered about 73%, according to VDH data on Tuesday. About 15% of vaccines were given through medical practices, community health providers and pharmacies—three avenues that the second phase of front-line essential workers and people 75 and over will rely on.
At least 19,086 people in Virginia have been fully vaccinated as of Tuesday, meaning they've received a second dose. This is nearly three times the number recorded Friday. The site notes administered vaccines could take up to three days to report.
Gov. Ralph Northam has set a goal of 25,000 shots per day. The closest the state has gotten to that was on Jan. 7 with 17,379.
Currently, health care workers and long-term care residents and staff are regarded as the priority for vaccination. Next in line are front-line essential workers who are not health care personnel and people over the age of 75.
<&underline>Richmond-area figures</&underline>
Since Friday, Richmond and the counties of Chesterfield, Hanover and Henrico saw increases of 2,277 COVID-19 cases, 30 hospitalizations and 19 deaths.
The area now has a total of 46,760 cases, 2,214 hospitalizations and 715 deaths.
Richmond has had a total of 10,558 total cases, 590 hospitalizations and 108 deaths.
The Chesterfield Health District, which consists of Chesterfield, Powhatan County and Colonial Heights, has had 16,634 cases, 709 hospitalizations and 221 deaths.
Henrico has had 14,738 cases, 711 hospitalizations and 306 deaths. Hanover has had 4,830 cases, 204 hospitalizations and 80 deaths.
(804) 649-6103
Twitter: @sabrinaamorenoo