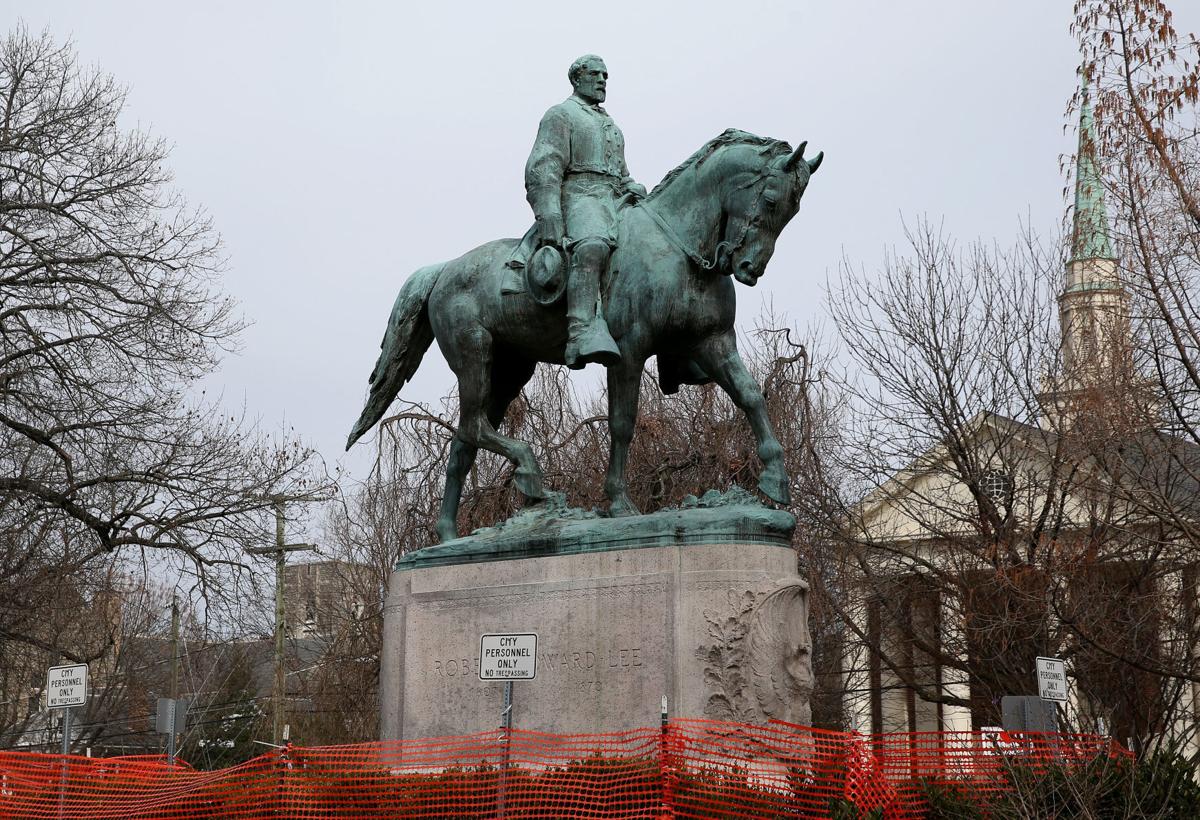 We seem to accept as established fact the idea that all Confederate monuments were erected for the express purpose of intimidating Black Americans. If the origin story of the Robert E. Lee Monument in Charlottesville, Virginia, is any indication, the truth is more subtle and more profound. The park for the sculpture was given to the city by Paul Goodloe McIntire, in honor of his parents. The sculptor chosen for creating the bronze equestrian statue of Lee which is fixed to the top of the stone pediment was Henry Merwin Shrady of New York. Shrady was well known for his monument to Ulysses S. Grant in Washington DC, a massive work just down the hill from the Library of Congress. This monument took him twenty years to complete and was unveiled in 1922.
An admirer of Lee, Shrady completed the maquette, or small model of the sculpture, and began work on the full-scale piece. However, exhausted from his labors on the Grant monument, he died before he could complete it. A second sculptor was commissioned to finish the work: Leo Lentelli of Italy. Lentelli found that Shrady's clay original was badly dried out and cracked. He restored what he could, rebuilt what he had to, made certain changes of his own, and finally the work was cast in bronze by Roman Bronze Works of New York City. It is a fine example of the sculptor's art, untroubled by distracting details or embellishment — unlike the Lee statue in Richmond. Somber and reserved, horse and rider as one seem to pass in review for the last time, the rider having removed his hat in a simple gesture of acknowledgement.
None of this activity, it seems to me, suggests intentional racial intimidation. Nor, apparently, do the speeches at the unveiling ceremony of the Lee monument, which took place on May 20th, 1924, and whose theme was "reconciliation," according to a 1990 article in Charlottesville's The Daily Progress.
But here is where the rub comes. For as David Blight explains in Race and Reunion, reconciliation in the five decades after the Civil War involved "the tangled relationship between two profound ideas—healing and justice." Too often the desire for national healing entailed avoiding racial justice: the difficult business of addressing the needs of emancipated Black Americans and their descendants. This avoidance of racial justice is evident when Dr. Edwin Alderman, President of UVa and a featured speaker at the unveiling, spoke of Lee as the "embodiment of the best there is in all the sincere and romantic history of the whole State." This, to us, sounds atrociously maudlin and implicitly racist. For what could have been "sincere" and "romantic" about slavery, segregation, and Jim Crow? And though Alderman spoke of how Lee " . . .in those five quiet, laborious years at Lexington, [as President of Washington College after the war ended] symbolized the future for us" it was apparently a future which was not to include Black students.
From our historical vantage point we can easily dismiss these remarks of President Alderman — and those of other speakers — as blatantly racist. And they may have been. Yet Alderman was known in his own time as progressive and a reformer, and I feel quite sure he thought of himself as enlightened as we may like to think of ourselves today. Indeed, he urged his listeners to live "with hearts unspoiled by hate and eyes clear to see the needs of a new and mightier day." How can we not commend such sentiments, if honest? Yet surely he was blind to the plight of Black Americans, if not willfully, then unwittingly. For it is likely that visible from the very podium where he delivered his speech were shops and stores which Black Americans could not enter, and perhaps a drinking fountain posted with the infamous "Whites Only" signage. How could he have ignored this evidence, we might ask ourselves? Future generations might ask similar questions of we white Americans living today, and likewise denounce our answers as excuses. Would we think that a just condemnation? In short, when we throw our stones of historical judgments, we should be prepared to be hit by them ourselves. Since George Floyd we have seen some of what was invisible to us before, but which Black Americans have lived with for a long time. It becomes our turn, to again address both healing and justice, this time, hopefully in equal measure.
Bechtel is a sculptor in Blacksburg.
Catch the latest in Opinion
Get opinion pieces, letters and editorials sent directly to your inbox weekly!