A few days ago, after a brief hospitalization for COVID-19, President Donald Trump recorded a message to the nation, in which he addressed his bout with the virus.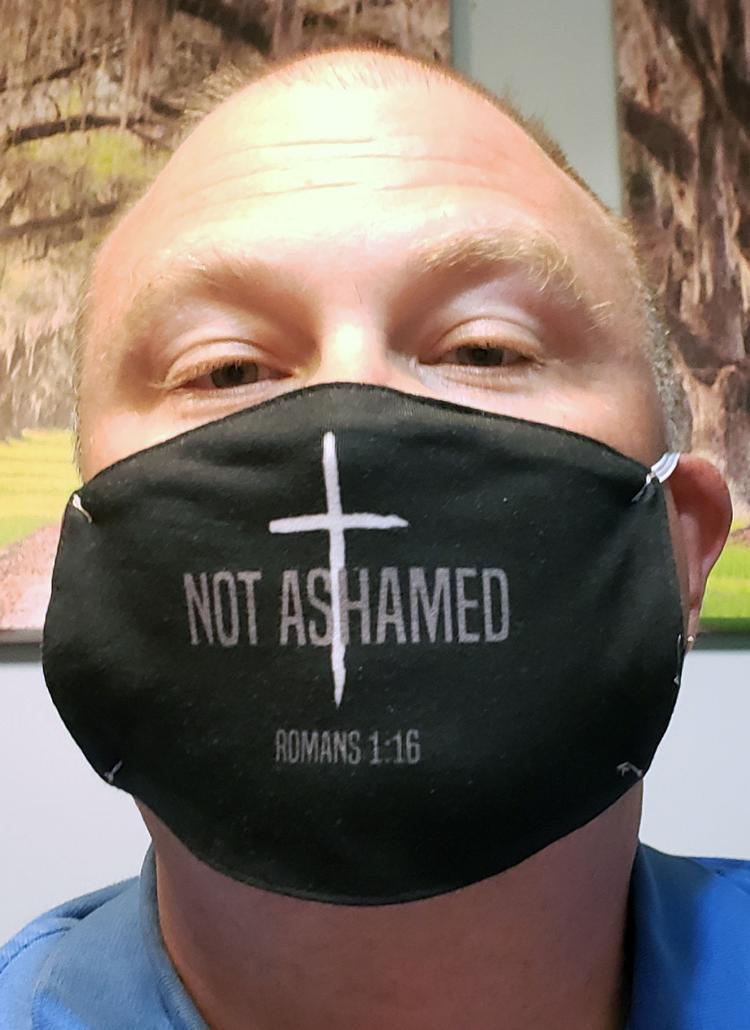 He encouraged the nation to, "Don't be afraid of it. Don't let it dominate your lives. Get out there, be careful."
Predictably, one half of the nation went crazy over that message, characterizing the president's comments as irresponsible, careless and heartless. The rest of us found his message to be forward thinking, realistic and optimistic.
As a Christian, I have to agree with Trump, but just because I agree with him when he says that we shouldn't be afraid of the virus or let it dominate our lives doesn't mean that I don't think it's real, or that I'm not going to wear a mask into Food Lion, or that I'm not concerned for my older loved ones, or that I don't care about people, or that I don't think there's the chance that I myself might one day get it. It just means that I'm not afraid of the virus and I won't let it dominate my life.
Have some things in my routine changed? A few. Am I living more cautiously with concern for others? Of course I am. Is every detail of my life ideal right now? No, but life is still very sweet. No matter what he does, some people will criticize and find fault with the president. No matter what I do, or you do, some people will criticize us as well. There's no shame, though, in refusing to live in fear. God doesn't want me to live in fear, so I won't. God wants me to consider the needs of others, so I will. God wants me to enjoy my life to his glory, so I am.
Let me share with you a few things we read about fear in the Bible.
» Isaiah 41:10 says, "Fear not, for I am with you; be not dismayed, for I am your God; I will strengthen you, I will help you, I will uphold you with my righteous right hand."
» Joshua 1:9 says, "Have I not commanded you? Be strong and courageous. Do not be frightened, and do not be dismayed, for the Lord your God is with you wherever you go."
» Proverbs 12:25 says, "Anxiety in a man's heart weighs him down, but a good word makes him glad.
» Proverbs 29:25 says, "The fear of man lays a snare, but whoever trusts in the Lord is safe."
» 2 Timothy 1:7 says, "For God gave us a spirit not of fear but of power and love and self-control."
Wondering what Jesus said about fear? Jesus told us in Matthew 6:34 that we should not be anxious about tomorrow.
In Matthew 10:29-31, He said, "Are not two sparrows sold for a penny? And not one of them will fall to the ground apart from your Father. But even the hairs of your head are all numbered. Fear not, therefore; you are of more value than many sparrows."
In Luke 12:32, Jesus calmed His worrying disciples telling them, ""Fear not, little flock, for it is your Father's good pleasure to give you the kingdom," and in Matthew 14:27, He calmed them again, saying, "Take heart; it is I. Do not be afraid."
When I say that I am not afraid of the virus, I am simply saying I trust God and I have no reason to fear. And when I say I trust God, that doesn't mean I don't live cautiously. I trust God, but I still wear a seatbelt. I still take a pill for my high cholesterol. I still lock my doors at night. I still wear a mask into the store and social distance, when possible. Living without fear is actually living biblically.
Of course, Jesus did tell us that there is one thing to be afraid of.
In Matthew 10:28, he said, "And do not fear those who kill the body but cannot kill the soul. Rather fear him who can destroy both soul and body in hell."
See, one day we will all die of something, whether it be an accident or a heart attack or a virus. When we do, we better be ready, because there's only one way to escape a fate much worse than death, and that way is Jesus. Trust Jesus now, and He will keep you from fear today and keep you from worse tomorrow.
Mark Wingfield, pastor of First Baptist Church in Grottoes, is a columnist for The News Virginian.
Catch the latest in Opinion
Get opinion pieces, letters and editorials sent directly to your inbox weekly!