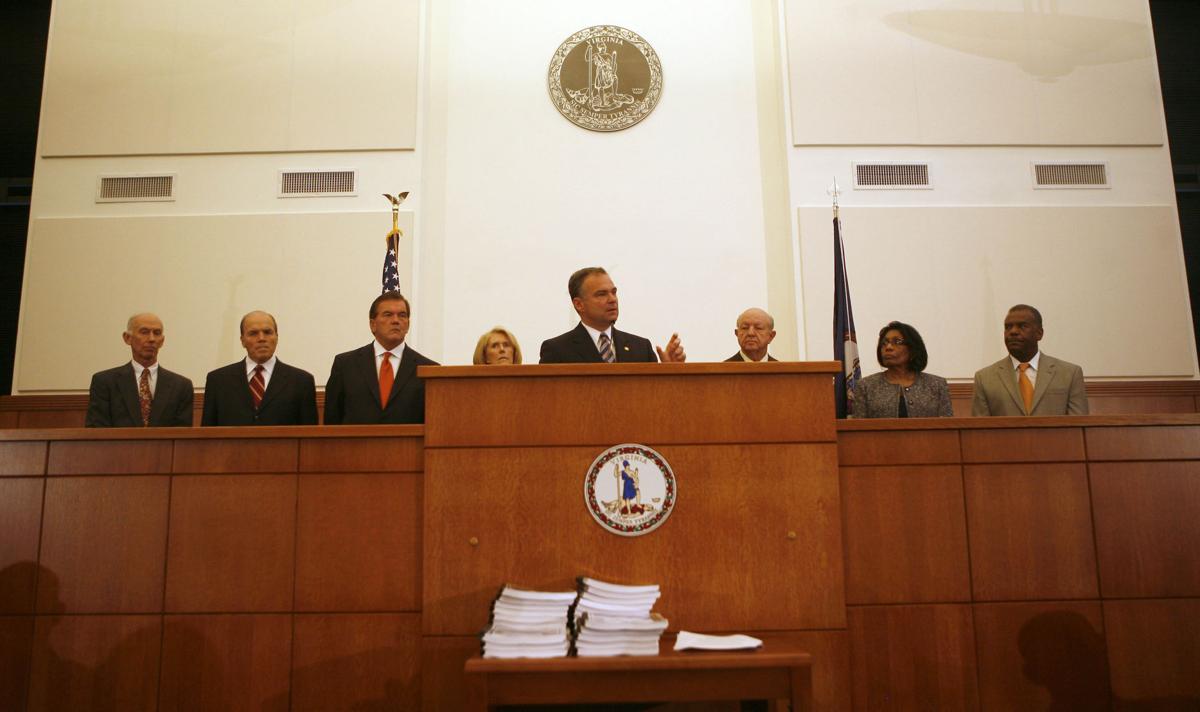 House Speaker Nancy Pelosi says she wants to create a commission to investigate how the protests in Washington on Jan. 6 turned into a insurrectionist mob that stormed the U.S. Capitol.
Pelosi, like a lot of political figures these days, is a polarizing figure, but her call for a commission should be a unifying moment. It probably won't be, but it should be — although Sen. Lindsey Graham, R-S.C., also has called for such a commission, so maybe there's a rare moment of agreement here.
Pelosi's model is the commission that investigated the terrorist attacks of Sept. 11, 2001. That commission's work was widely (but not universally) praised and its 567-page report became a surprise bestseller.
That's obviously not a bad model, but we have a better one to offer up: The commission that then-Gov. Tim Kaine put together to investigate the Virginia Tech massacre in 2007, whose work was also widely (but not universally) praised.
It's worth comparing and contrasting the two models.
The 9/11 Commission consisted of 10 members — all politicians. (Over time, there were actually 11 members because one resigned and was replaced). The bill creating the commission didn't require politicians be appointed, but it did call for Democrats and Republicans to appoint an equal number of members and that's who they wound up naming. President George W. Bush chose the commission chair — former New Jersey Gov. Tom Kean. The Senate Majority Leader, a Democrat at the time, chose former Rep. Lee Hamilton of Indiana as the vice chair. Various constituencies in Congress chose the other eight members — two by the House Republican leadership, two by the House Democratic leadership and so forth. The final roster included two former governors, two former senators, two former House members, three former high-ranking appointees from different administrations and one high-powered lawyer who had been a Watergate prosecutor. All were well-known names at the time, perhaps the very definition of "elder statesmen" — and all were men.
Kaine took a very different approach with the Virginia Tech Review Panel. It was created via an executive order, not a bill (the General Assembly was out of session at the time), and the governor appointed all eight members. Unlike the 9/11 commission, only one was a politician — and he was a member of a different party. Kaine was a Democrat; the only political appointee was a Republican — Tom Ridge, a former governor Pennsylvania who had been the nation's for Secretary of Homeland Security under Bush. The other seven members were all non-political experts in their fields. To chair the commission, Kaine tapped Gerald Massengill, a retired Virginia State Police superintendent who had initially been appointed by a Republican governor (Jim Gilmore) and then reappointed by a Democratic governor (Mark Warner). The others included a professor of emergency medicine, a professor of psychiatry and pediatrics, a former director of the State Council of Higher Education, an FBI veteran with a background in behavioral analysis, a director of the Fairfax County victim services division, and a retired judge with expertise in mental health issues (Diane Strickland of Roanoke). It was a more diverse panel in many ways.
Perhaps a commission led by politicians was appropriate for a commission investigating Sept. 11 because part of the mandate there was to determine how the government had failed to anticipate the attack. Presumably, politicians would know how government works at the highest level and be able to identify its deficiencies. By contrast, the Tech Review Panel didn't directly require an investigation of state government, although it certainly dealt with many aspects of government — such as privacy laws and gun laws. Still, it's notable that Kaine intentionally chose a non-political panel of experts, and for the sole political appointee went out of his way (and out of state) to pick someone from the opposite party.
There's surely a lesson there for any Jan. 6 commission. Everybody agreed that the Sept. 11 attacks were bad (even if they disagreed over the role that U.S. foreign policy had played) and everybody agreed that the Virginia Tech shootings were bad (even if they disagreed about what gun laws should be). Ideally, everybody agrees that violently storming the U.S. Capitol is bad, too. However, plumbing the depths of what led to that event involves some touchy politics that weren't involved in either of those other two awful events. That's why the Kaine model is worth examining: Would a Jan. 6 Commission led by nonpartisan experts in their fields — law enforcement and whatever else is necessary — be better accepted than something produced by a commission of politicians? Or do we need the imprimatur of a bipartisan slate of politicians to give the recommendations their proper weight?
There are some other lessons to be drawn from both the 9/11 and Tech commissions. One criticism of the Tech commission was that it didn't have enough time to fully investigate all aspects of the massacre and its aftermath. The shooting was April 16. Kaine created the commission April 19; its first meeting was May 10. Kaine was determined to have recommendations in hand before school resumed in the fall, an understandable deadline but still a deadline.
By contrast, the 9/11 Commission took a year and a half to complete and even some of its members say it wasn't really complete. "We found out pretty early in our case we needed more time and that we didn't have enough money," Kean recently told The Washington Post. Even he, a Republican, complained that the Bush administration stonewalled investigators at key points and that the CIA was especially noncommunicative.
There's also another challenge that neither the 9/11 Commission nor the Tech commission faced: The Justice Department is in the process of investigating the same event as a criminal matter. The Justice Department won't produce a nicely written final report, but already has produced charges — so far at least 234 people have been charged and more charges appear likely as investigators sort through all the digital evidence. That means at some point a Jan. 6 Commission's inquiry will run straight into a federal criminal inquiry. Each could complicate the work of the other — or help it.
In any case, we do need a clearer understanding of what happened on Jan. 6 but before we automatically embrace the 9/11 model, Pelosi ought to talk to Kaine about the Tech model.
Editor's Note: Editorials shared from other publications do not always represent the views of The News Virginian, but are offered in an effort to spread information and share different opinions.