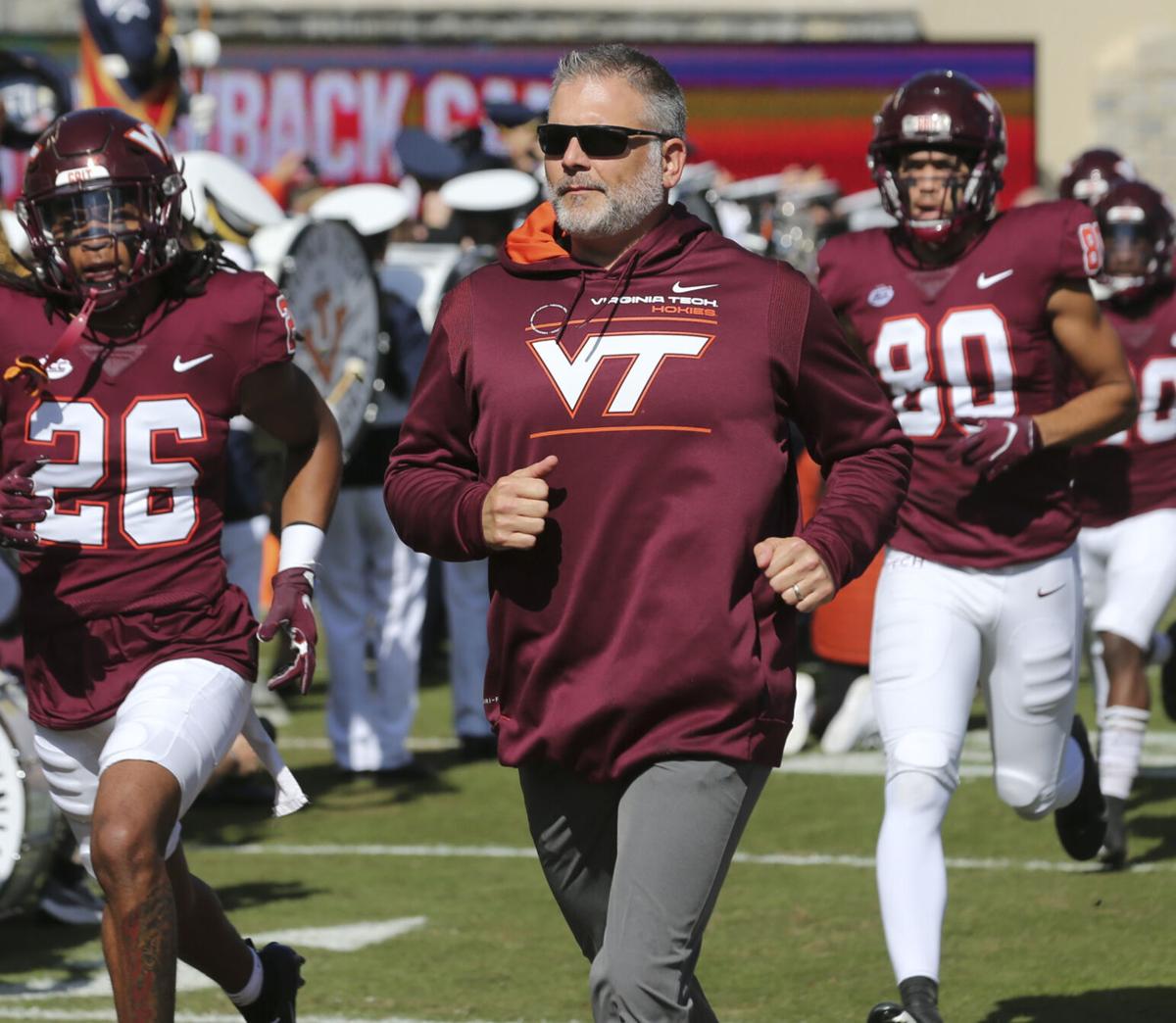 Let's take a look at how two coaches fared during their first six years leading Virginia Tech's football team.
One coach finished his sixth season with a record of 24 wins and 40 losses, plus a couple ties. Two of those seasons were winning seasons, barely. Throughout those six years, the Hokies played nary a Bowl game.
Our second coach has a final tally of 43 victories to 31 losses, which doesn't seem so bad by comparison, and under him the Hokies made four Bowl appearances, even though three of those ended up in the loss column. Of the past five seasons, three were winning, two were losing, and the current one, still unfinished, could go either way.
The first coach broke his losing streak in his seventh season and went on to be practically deified. When he retired in 2015 he was the winningest active head coach in college football, with an unbroken streak of 23 winning seasons behind him. He was inducted into the Virginia Sports Hall of Fame in 2017, the College Football Hall of Fame in 2018 and the Atlantic Coast Conference's Football Honors Class this year, among many other honors.
If the second coach ever manages a similar feat, he will, it turns out, have to make it happen somewhere other than Virginia Tech.
You've already intuited, surely, that this tale of two coaches stars Frank Beamer and his successor, Justin Fuente.
Tuesday morning, news broke nationwide that Fuente and Virginia Tech have "mutually agreed to part ways" as Roanoke Times journalist Mike Niziolek put it. Niziolek and his colleagues Aaron McFarling and Mark Berman have done an excellent job of following Fuente's fortunes as his Hokie career grew more and more imperiled.
Tech Athletic Director Whit Babcock put the inevitable into words Tuesday morning. "I believe in order for our football program to attain the type of sustained success that is expected at Virginia Tech, the time was right for new leadership."
From the perspective of an outsider to the world of college sports — yes, such people exist — the verdict on Fuente could seem bizarrely harsh.
(Not that anyone needs to feel too sorry for 45-year-old Fuente — but we're getting ahead of ourselves. Hold that thought.)
At the end of 2020, having navigated a 5-6 season while in the teeth of the pandemic, Fuente's words about his team's performance seemed quite reasonable. "I don't think anybody has any concept of what these kids' lives are like every single day trying to handle this. Does that mean we should still play better? Sure, absolutely. Let's take things in a little bit of context here." He pledged that "we are going to keep fighting and battling our tails off and doing right by our players and staff and doing the best job we can."
He had a similar answer after the disheartening loss to Syracuse on Oct. 23, when the Hokies blew a 9-point lead with only six minutes left in the game. Asked if he felt like time was running out on his chances to prove he belonged in the job, Fuente said his main focus was to "give these kids a chance to win." That is the point of these games, right? And winning is never a guarantee, right?
Well, actually, a "chance to win" ain't what fans are buying high dollar tickets for. Winning is what they want to see. Beamer delivered that consistently for 23 years, so Hokie fans grown used to that level of success don't have much tolerance for backsliding.
Babcock referenced that reality with the passive voice construction "sustained success … is expected."
Fuente's shaky 2020 season included a bizarre final second loss to Liberty University that was set up in part by Fuente's quickly-regretted decision to call a last-minute time out. What support he still had from fans evaporated this year, with chants of "Fire Fuente!" echoing in Lane Stadium.
Virginia Tech football provides the coal for some big economic engines, after all. The Interstate 81 and U.S. 460 interchange at Christiansburg had to be reengineered in the early 2000s to accommodate the floods of Beamer ball-related traffic.
The year before the pandemic, Virginia Tech football reported $17.3 million coming from ticket sales, $20.6 million from media rights deals and $5 million from contributions, for a total of $51.7 million, a little over half of the athletic departments full $96.7 million revenue.
The Hokie fans who wanted Fuente gone should appreciate that Virginia Tech is forking out some major moola to grant their wish.
By parting ways with Fueunte now instead of waiting until after Dec. 15, Virginia Tech was on the hook for the coach's $10 million buyout specified in the 2018 renewal of his contract. The buyout price began at $15 million and has gradually lowered in the years since.
The size of Fuente's buyout clause became a source of greater controversy as the Tech athletic department cut salaries to deal with an $18.6 million shortfall in pandemic-afflicted fiscal year 2020-21.
As the next coach will bring in new staff, Fuente's assistants will also likely receive buyouts.
To give that $10 million some extra Hokie perspective, that's the amount Virginia artist P. Buckley Moss donated in 2013 that resulted in the $100 million Virginia Tech Center for Arts opening as the Moss Arts Center.
Virginia Tech managed to negotiate down the price of Fuente's exit by agreeing to pay him $8.75 million in a lump sum rather than paying the full $10 million in quarterly installments. One can't help but wonder what building should be named after him.
Editor's Note: Editorials shared from other publications do not always represent the views of The News Virginian, but are offered in an effort to spread information and share different opinions.