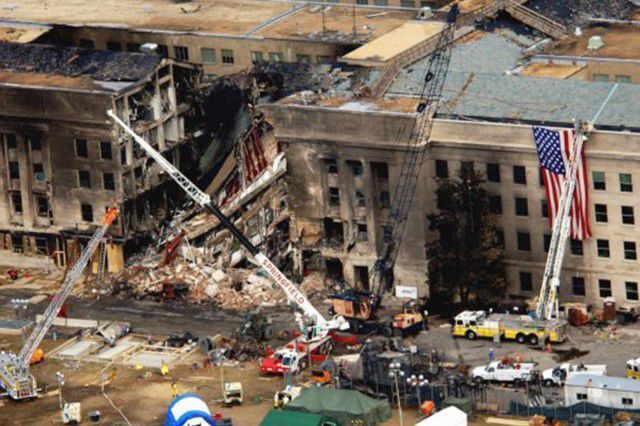 It was a beautiful late-summer Tuesday morning that felt like fall here in Virginia. Mild temperatures, blue skies, low humidity — a day to savor being alive.
The first inkling that Sept. 11, 2001, would turn into a nightmare came when morning TV network programming was interrupted by a bulletin: a plane had flown into one of the World Trade Center towers in Manhattan.
Some of us thought it must be a small private plane. What else could it be? "Helluva story," reporters and editors said, A-1 for sure. Wonder if there were many casualties?
Then, 17 minutes later, the whole world saw a second large commercial airliner slam into the other World Trade Center tower, disappearing into one side of the building. A second later, flames burst out the other side, and we knew this was no accident. It was the beginning of a sad era in American history.
The first plane hit the North Tower at 8:46 a.m. The second one hit the South Tower at 9:03 a.m. And it got worse. At 9:37 a.m., the enormity spread to Virginia as a third airliner crashed into the west side of the Pentagon.
A fourth hijacked plane was headed for either the White House or the U.S. Capitol when unimaginably brave passengers, knowing their fate was almost surely sealed, were able to thwart the terrorists and cause the plane to crash in a Pennsylvania field, killing all aboard.
Almost 3,000 Americans died, including 340 firefighters and 72 law-enforcement officers. It was the deadliest terrorist attack in human history.
Our thirst for revenge equaled that following the Japanese attack on Pearl Harbor in 1941. Like that atrocity, this one also started a war, but it was a different kind of war.
The War on Terror did not provide us with an easily targeted enemy. U.S. troops deposed the Taliban in Afghanistan in short order, but it took nearly a decade to track down and kill the leader of al-Qaida and 9/11's architect, Osama bin Laden.
And now, 20 years after 9/11, our troops have left Afghanistan to the Taliban. America's longest war, and perhaps its most frustrating one, is over.
The world has been made safer, though. In the aftermath of that horrible day, we are more careful. If we see something, we say something. Countless terrorists have been sent to their dubious reward.
It is a human tendency, and certainly an American one, to choose the pound of cure over the ounce of prevention. Warnings of a probable Japanese attack were ignored in 1941. The threat of a COVID-19 pandemic went mostly unheeded in its early days. We seem unable to come to grips with climate change until the water is lapping at our doors.
In that same vein, deep concerns about the possibility of a terrorist threat weren't given proper attention before 9/11.
It is painful to do the hard thing before disaster happens. Afterward, Monday morning quarterbacks abound, because we're willing to listen then.
We will never forget 9/11. The images of human beings leaping to their deaths from those high towers to escape the flames, the survivors fleeing the site looking like mummies from a horror movie with their clothes caked with the dust that an hour or two before was the World Trade Center, the hopeless, heartbreaking notes posted on bulletin boards by families and friends hoping for miracles that never happened.
We have learned. We are more cautious, more suspicious, less likely to see the world as a place inhabited by mostly well-intentioned humans.
We did recover. It is educational to go to the site of the World Trade Center or to the Pentagon today and see how quickly time heals even the worst wounds. Some time, somewhere, there will be other atrocities, because evil can't be thwarted every time.
We will endure, though. Despite everything, we are still an optimistic nation.
— The Free Lance-Star, Fredericksburg