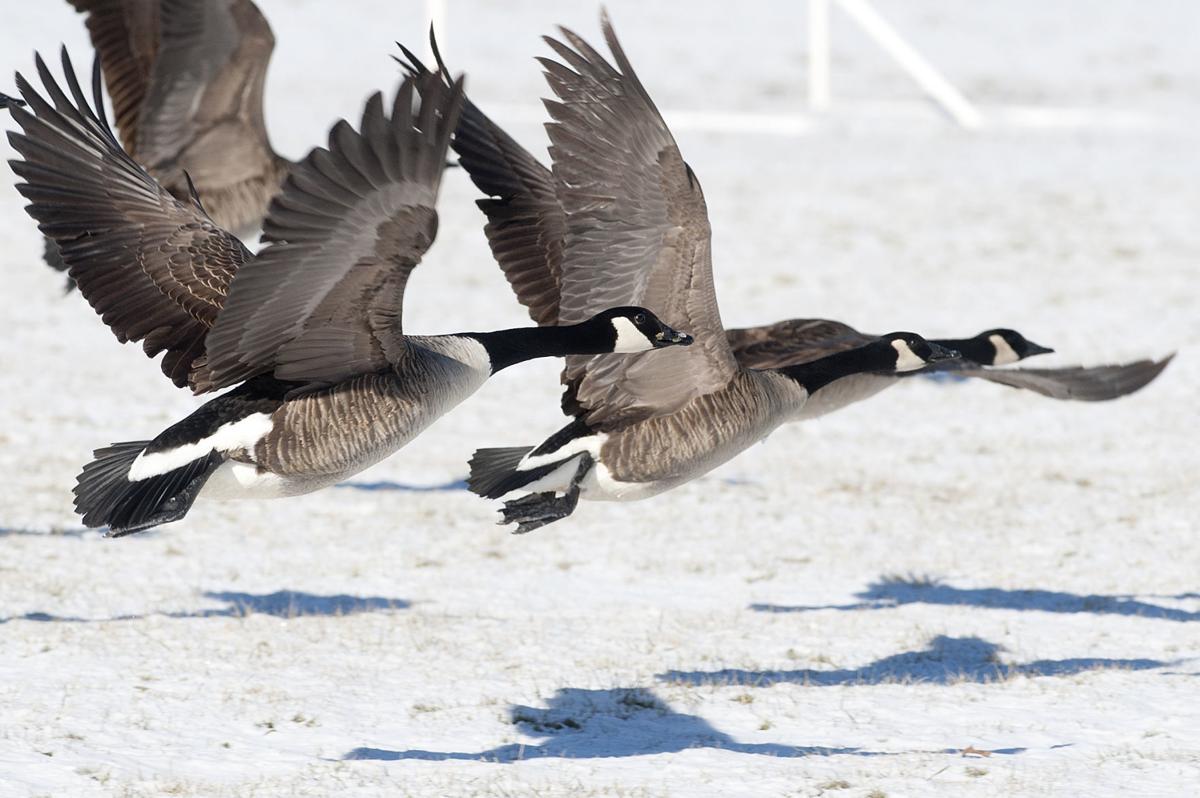 You know September is coming. It happens every year, right after August, but it always catches me by surprise. I was just getting used to summer and now it's practically fall, and that means hunting season.
Yes, dove season is in. Geese, too. And for park superintendents, golf course managers and farmers sewing winter wheat, goose season could not be more welcome. Geese do two things, eat and poop, and there is nothing worse than lining up a 10-foot putt with a big green log in the way. They also can ravage a grain field, pulling up tender plants by the roots.
The geese we have in our fields now are resident Canada geese, not migratory Canada geese. They look the same, except the resident birds run slightly smaller, but the residents, the locals, are just that. They never leave.
When a pair of adult geese have six little ones and geese have few natural enemies, populations tend to explode. About 10 years ago, game officials initiated liberal bag limits for geese during the time when the somewhat threatened migratory geese wouldn't be around, like September. Those bag limits worked. Goose populations have stabilized.
So, how many geese can you harvest this September? How about 10 a day? That's a pile of geese.
Unfortunately, not many hunters pursue geese. The regulations are a little stricter, and some feel that without good calling skills and a spread of decoys, it's not worth the effort.
But it's not as complicated as it may seem. For starters, a handful of black trash bags work as makeshift decoys. Inflate them or stuff them with newspapers, splash a little white paint at the top and from 300 feet, they look like a flock of feeding geese. Just make sure to tie or stake the bags down. One day I didn't, the wind came up, and I had a merry chase across the cornfield.
Also, a basic goose call will attract attention, even if the geese are saying, "What is that?"
All you want is for them to fly close enough for a peek.
When shooting at a goose for the first time, you think you can't miss. Well, you can. While it seems the big birds are hanging in mid-air, they can turn on the afterburners and leave your shotgun pattern far in the rearview window.
Goose and doves seasons overlap somewhat. Doves are legal from Sept. 5 through Oct. 28 (first segment) while the early goose season extends from Sept. 1 through Sept. 25. If you hunt both birds, make sure to empty your pockets of any lead shot from shooting doves. Only steel or non-toxic shot is allowed in possession for geese.
Also remember, in addition to a HIP registration, a federal migratory duck stamp and a Virginia Migratory Waterfowl Conservation Stamp are also required to hunt geese during this season.
If you shoot a goose or two, I have found that the best way to prepare them is to slice the breasts razor thin and pound them further. Then prepare as you would any veal recipe like scallopini, marinara or picata. If the slices are thick, the goose will be tough. Count on it.
If you try for geese, remember this advice from a veteran goose guide: "Shoot where they are going, not where they have been."
Jim Brewer writes outdoor columns for The News Virginian. He can be reached at j44brewer@gmail.com.
Be the first to know
Get local news delivered to your inbox!