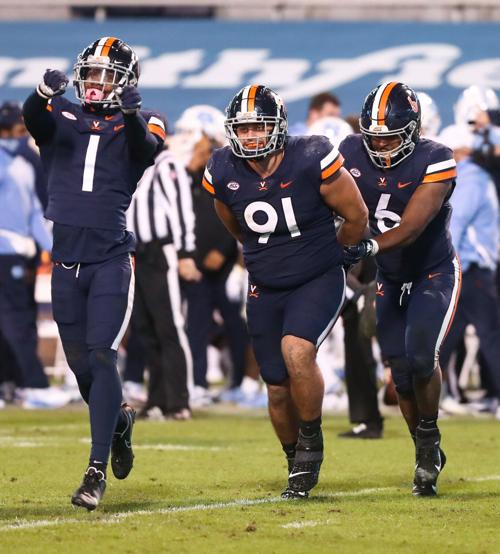 When North Carolina's coaches turn on the video of last year's loss to Virginia, they see their players being beaten physically, out-toughed by the Cavaliers. It's been a point of emphasis for the Tar Heels this week as they get ready for Saturday night's pivotal ACC Coastal Division showdown with UVa.
So while Mack Brown and his staff spoke Monday about making sure that doesn't happen again, Virginia senior defensive end Mandy Alonso said his team knows exactly what to expect from the boys in Carolina blue.
"They always try to come physical," said Alonso. "It's our culture versus theirs. We're going to go harder, longer each play and the whole game than they will. Even if they come out swinging, we just have to be able to sustain it and we know they can't sustain it, because the past four years, they haven't been able to."
Alonso is 4-0 against UNC in his college career and he and his fellow fifth-year seniors are eager to keep that streak going. Those games have been competitive affairs, each decided by 10 points or fewer, three by a touchdown or less.
Last season, Virginia led by three touchdowns in the third quarter, then held off a furious Sam Howell-led Tar Heel rally in a 44-41 victory.
"They were more physical than we were," Brown said Monday. "We had to battle just to stay in the game."
Brown's assistants said they don't have to remind their players that Virginia (2-0) was the tougher team a year ago. They just have to point to the television screen and sit back.
"We're watching film from last year and they blocked us," said UNC defensive coordinator Jay Bateman. "This game eventually always comes down to whipping blocks, right? You either get blocked or you get off blocks."
The streak — Virginia's desire to keep it going and Carolina's drive to end it — makes for an intriguing side story this week, but for both teams, Saturday night's game could define their season. The Tar Heels (1-1) opened the year ranked No. 10 in the nation and were the preseason favorites to win the Coastal Division.
Then came a 17-10 beating by Virginia Tech in Blacksburg, a loss that dropped UNC in the polls and saw Howell's Heisman hopes all but buried in a six-sack barrage. Now, North Carolina can ill afford a second division loss if it hopes to remain in the title race.
Brown believes his Heels — now ranked No. 21 — took a step forward in their 59-17 routing of Georgia State, a game that saw Howell throw for 352 yards and three touchdowns and run for another 104 yards and two scores.
"Sam looked like Sam on Saturday night and got back on track," said Brown. "After the opening ball game, we had to quit worrying about rankings and we had to quit worrying about the conference. We had to play better and get back on track."
For Virginia, which outscored William & Mary and Illinois 85-14 in its first two wins, a road victory in Chapel Hill would signal that their goal of defending the Coastal crown they won in 2019 — there were no divisions in last year's pandemic-impacted season — is real and attainable.
"It's a Coastal Division game, and if you want to win the Coastal Division, then you want to beat the teams that are in your division, wherever you are home or away," said Mendenhall. "It just is that, right? It's a Coastal Division football game, which really says it all."
Both teams are well aware of what's at stake on Saturday night. And, Alonso said, the Cavaliers are relishing that spotlight.
"It's a huge game, big picture," said Alonso. "We've heard all the hype that UNC's had from the media and from the Top 25 rankings and such. It's just things that we have to keep into account, that way, once we beat them, then we'll actually be respectable or talked about on ACC Network and Sportscenter."