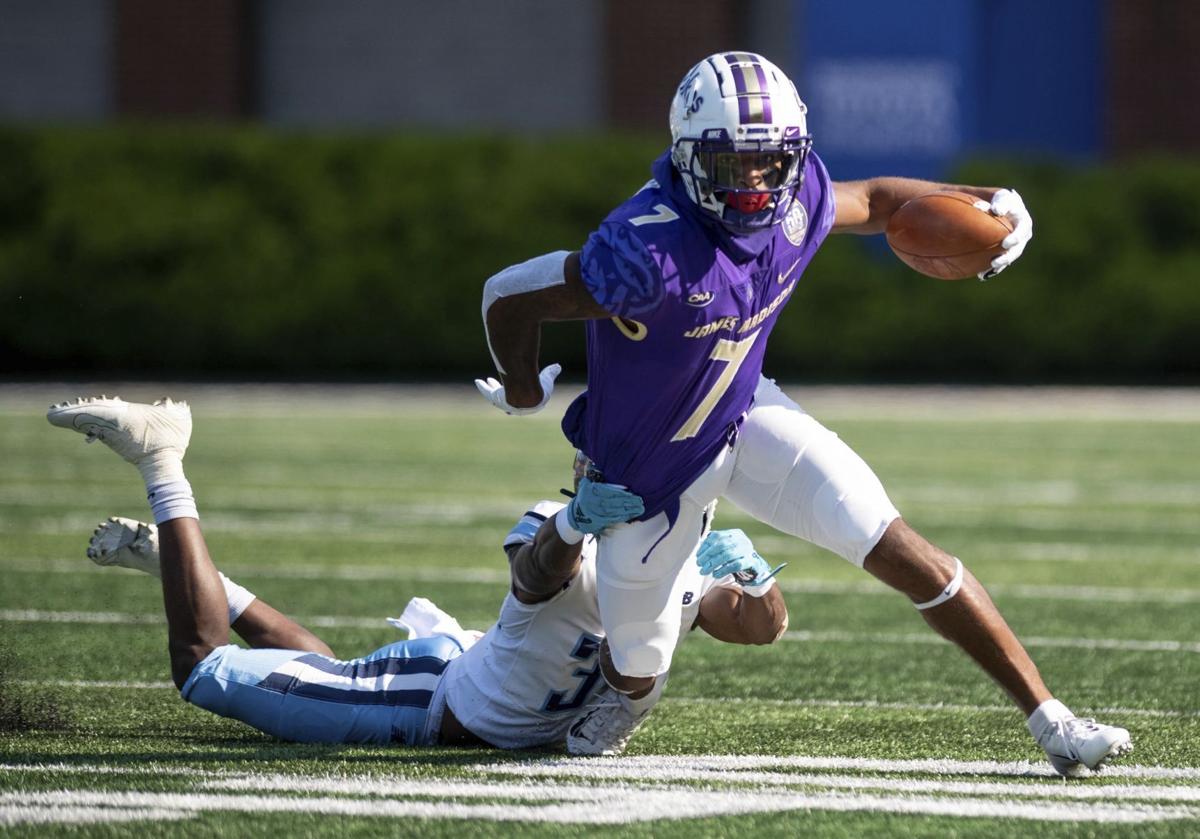 HARRISONBURG — On Saturdays, spectators see the speed, explosiveness and sure-handedness that make Antwane Wells Jr. such a threat.
So, after James Madison's win over Maine this past Saturday, quarterback Cole Johnson made sure to mention what most people don't get a chance to see from the electric redshirt freshman receiver.
Wells stays for an extra hour after the Dukes' practices during the week to catch more passes or to work with teammates, Johnson said.
The time Wells devotes fortifies the confidence Johnson has in him on game days.
"That's a guy who's driven and motivated more than any receiver I've seen come through here," Johnson said. "So, I have so much trust in him because I know he puts in the work and he's going to go out there and play his best and win those one-on-one matchups."
Win matchups Wells did against Maine. The 6-1, 204 pounder beat one-on-one coverage for a pair of second-quarter scores, a 73-yarder and a 51-yarder, in the Dukes' 55-7 win.
Wells finished with career highs of eight catches for 179 yards and the two scores. The 179 yards were ninth most in a single game in JMU history.
The performance, for Wells, backed up his breakout playoff run as a true freshman in the spring.
JMU coach Curt Cignetti said the Dukes needed Wells' A game against the Black Bears.
"And we got it," Cignetti said.
Wells won a pair of state titles, in 2017 and 2018, at Highland Springs. He was first team all-state and second team Richmond Times-Dispatch All-Metro selection as a senior in 2018, when he recorded 36 receptions for 880 yards and 12 touchdowns.
He played a prep school season at Fork Union Military Academy in 2019, before committing to JMU that December.
In his debut campaign earlier this year, Wells seemed to get stronger as time passed. He scored his first career touchdowns in his second and third career games, one each against Robert Morris (Feb. 27) and Elon (March 6).
Later, he followed his first career 100-yard receiving game — 132 yards and a touchdown against VMI in the first round of the playoffs — with an even bigger outing: 143 yards receiving and two touchdowns in the second round against North Dakota.
Wells said Saturday that his focus in the spring was consistency. He led the Colonial Athletic Association with six touchdown receptions and his 75.4 receiving yards per game were second in the league.
Outside of the season, Wells and Johnson have linked up multiple times in Richmond, in sessions with Richmond-based quarterback trainer Malcolm Bell.
The sessions have included other quarterbacks and receivers, but Wells said that when Johnson is up to throw he always makes sure to hop to the front of the line to get reps with him — building the chemistry that's been apparent in games for JMU.
"I don't care if I go to cut the line or anything. Because, I mean, that's my quarterback," Wells said. "So I'm going to get every rep with him."
On Saturday, JMU planned to try to take advantage of a Maine defense with a run-stop focus with pass plays out of run-pass option sets. And it worked.
Quick throws to the perimeter helped set up the major explosive plays, like Wells' scores.
"I think that they executed at a really high level," Maine coach Nick Charlton said.
Wells, after Saturday's outing, is the CAA's early receiving leader (12 catches, 239 yards, three touchdowns) and the sixth-year senior Johnson is the CAA's early passing leader (44 of 58 for 677 yards and nine touchdowns).
But there's no secret sauce. The connection the two have stems from the training both have put in, both together and apart.
And, on a day like this past Saturday, the rewards were big.
"I'm going to miss him next year for sure," Wells said of Johnson.