MORGANTOWN, W.Va. — For the first time in 16 years, Virginia Tech football fans paid a visit to Milan Puskar Stadium on Saturday afternoon to cheer on their Hokies against rival West Virginia.
Some had been nervous about how WVU fans would treat them. Some had been warned to be careful.
But most Tech fans who were interviewed at halftime and during the second half were pleased with the reception they had received from their WVU counterparts.
"We've been treated pretty good," Tony Vaughn of Dublin said. "Nobody was disrespectful. Nobody throwing anything. Just pleasant junk-talking.
"I was a little bit worried about it, but once we got up here, it wasn't as bad as everybody said it was."
WVU's win over Tech on Saturday marked the 53rd meeting in the series. But these longtime rivals had not met since the 2017 season opener at FedEx Field.
This was the first on-campus meeting between the teams since Virginia Tech paid WVU a visit in 2005.
Kaylee Akers of Blacksburg was not happy Saturday with how she was treated by WVU fans in the stands.
"Awful," she said of the treatment. "They're just really mean. Really vulgar language."
Danny Dalton of Pulaski said he saw WVU fans swear at Tech fans during tailgating Saturday, but he said he had been treated well.
"I did think about [whether to come or not] a lot. But times have changed," Dalton said.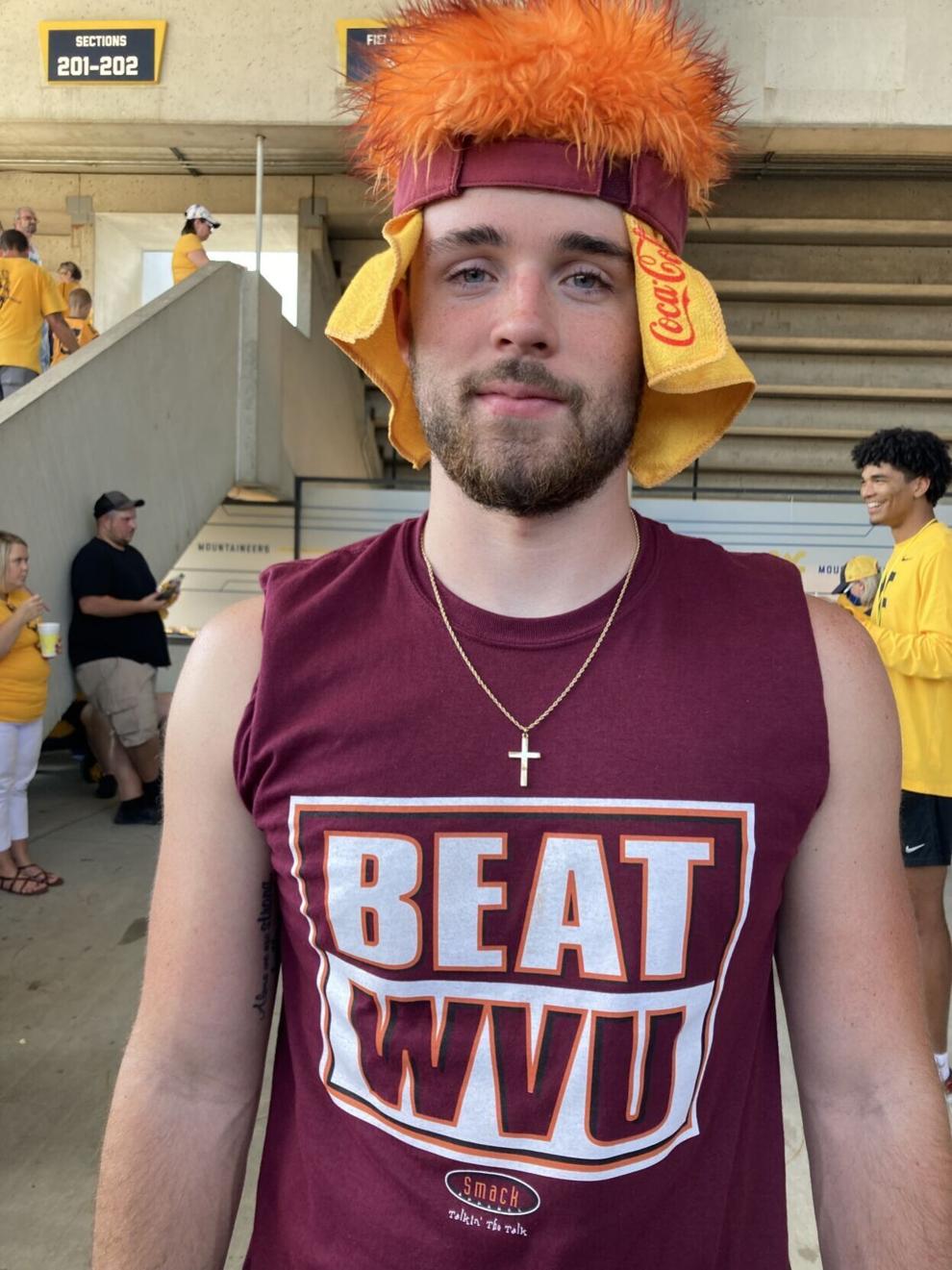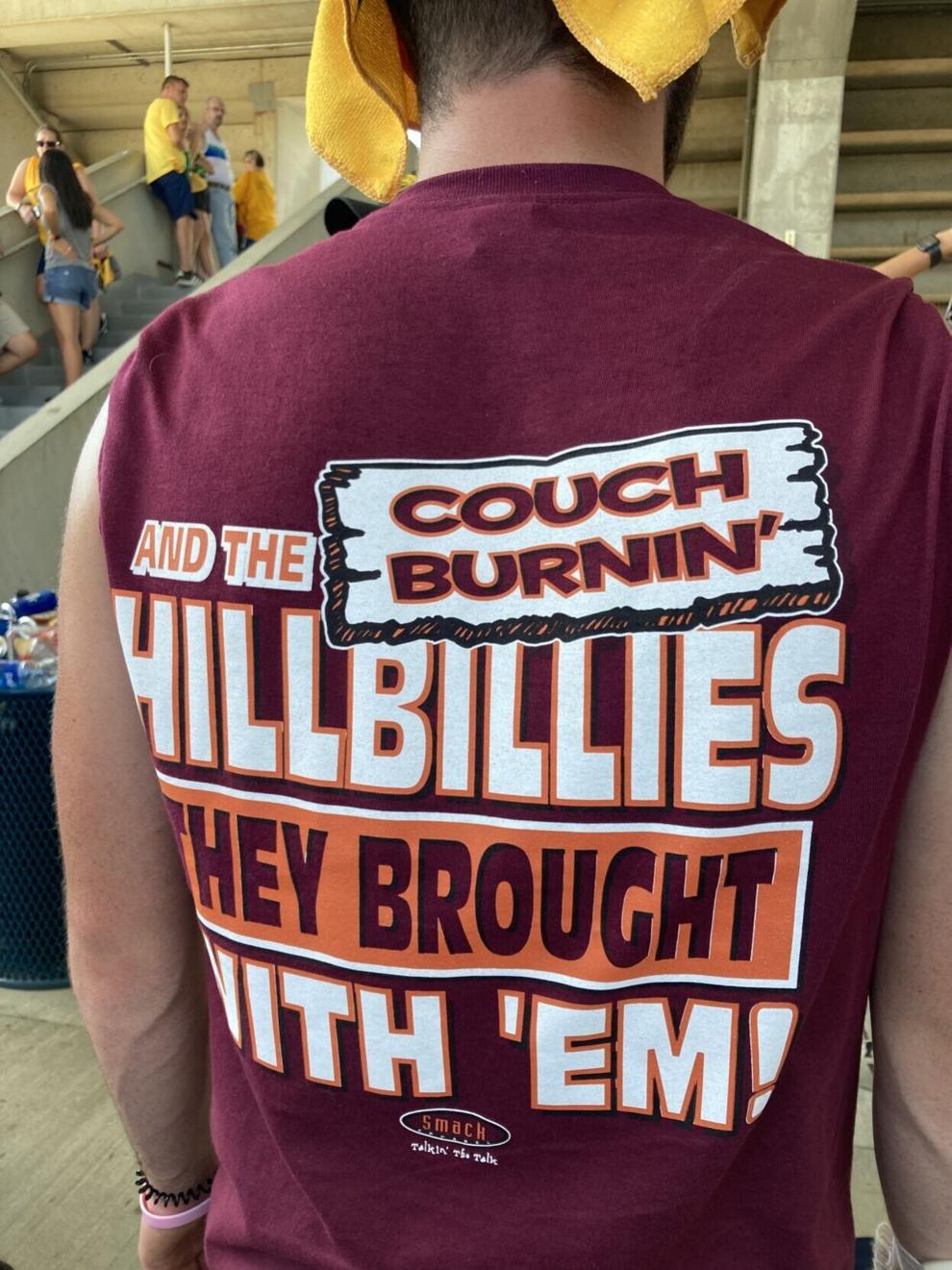 Virginia Tech student Trey Wilson of Christiansburg wore a T-shirt Saturday that raised the ire of WVU fans. The front read "Beat WVU" and the back read "And the couch burnin' hillbillies they brought with 'em!"
Wilson said the response from WVU fans was "a little rough," including hand gestures and swearing. But he said most people were friendly.
"Most of the time it's been pretty chill," he said. "They like to yell at you, say a lot of stuff, but other than that it hasn't been too bad. It's been a fun experience."
Tech and WVU met annually from 1973 through 2005. The teams used to be Big East rivals, but Tech jumped to the ACC in the summer of 2004. The conference switch was the main reason the series ended after nonleague meetings in 2004 and 2005, although there was also a desire by the schools to curtail fans' sometimes heated behavior at the games. The teams did not meet again until the neutral-site game in 2017.
The long gap between visits to Morgantown resulted in better relations between the fan bases Saturday.
"There's a lot of respect there, but there's still a lot of tension because it's a rivalry," Ron Duncan of Bland said. "But … there hasn't been [a] problem with any type of hatred toward each other."
Mike and Crystal Crowe of Salem had been apprehensive about going to the game. But WVU fans stopped them Saturday to welcome them to Morgantown.
"They've actually been very lovely," Crystal Crowe said.
"I haven't been back here in 30 years and it's a completely different atmosphere," Mike Crowe said. "It's more welcoming. Feels more like Blacksburg."
Tech fans who were interviewed at the 2005 game had complained of WVU fans hitting them with ice, giving them the middle finger and uttering obscenities.
But those fans had said the 2005 visit had still gone much better than Tech's visit to WVU in 2003. In 2003, Tech fans had to deal with WVU fans throwing food and beer at them, spitting at them and jostling them, as well as verbal abuse from WVU fans.
Tech student Sophie Calandra said she was "pleasantly surprised" Saturday by how friendly the WVU fans were.
"We had heard horror stories about the past," she said. "We've gotten some boos, but that's about it."
Tech student Kendall Keyser of Hot Springs said her father had told her the 2005 game had been awful.
"My dad came to the last game here and said he'd never come back. But … everyone's been really nice and welcoming," she said.
Charlie Rusmisel of Covington and his son Nate, a Tech student, said they were having a great time.
"A lot of people said, 'You'll get batteries [thrown] on you. Somebody will slash your tires,'" Nate Rusmisel said. "[But] hospitality is huge here."
Virginia Tech football opens a four-game homestand Saturday against Richmond, rapid-fire tests for the Hokies' already beleaguered game-day operation.