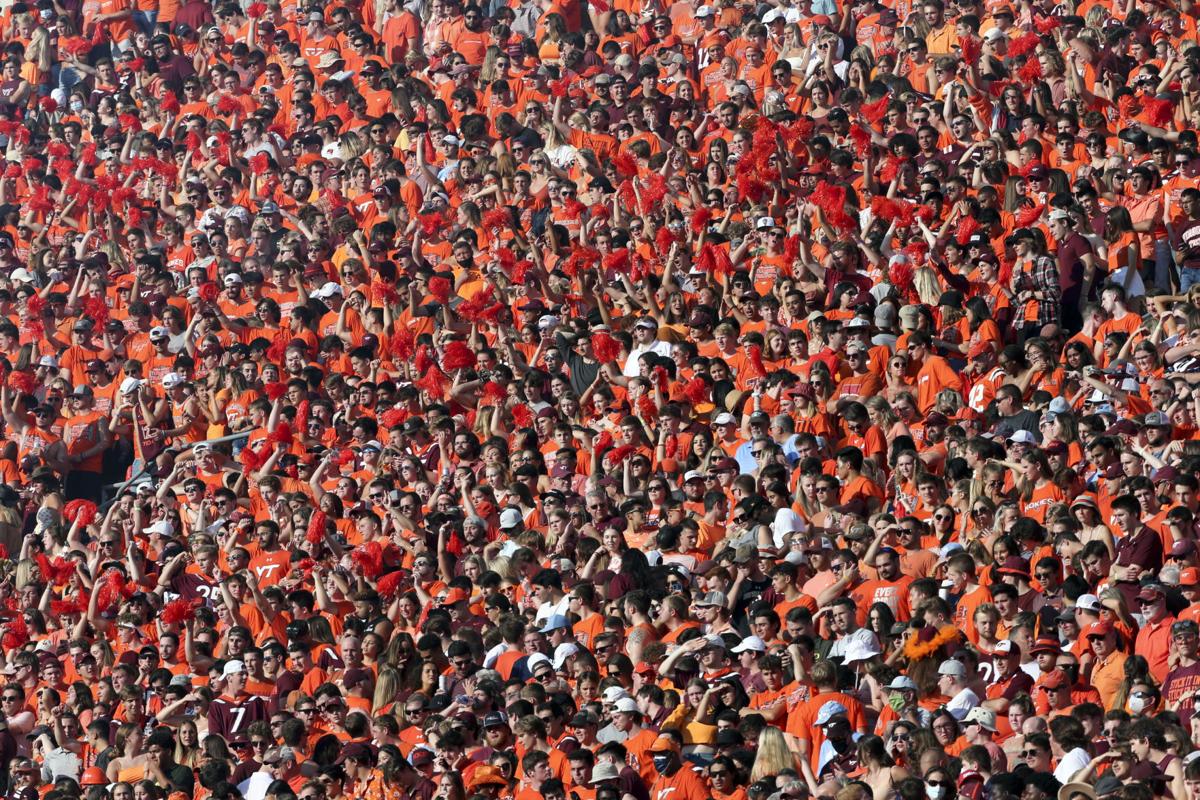 Virginia Tech football opens a four-game homestand Saturday against Richmond, rapid-fire tests for the Hokies' already beleaguered game-day operation.
"The challenge for us," Tech athletics director Whit Babcock said, "and a number of other schools across the country, is game management and crowd control and concessions in this new [COVID] normal — just getting the workforce in your concession stands."
The myriad problems with the Hokies' Sept. 3 season-opener at Lane Stadium, a sold-out, 17-10 upset of North Carolina, have been well-documented, and via social media, the athletic department publicly apologized. Fans endured unacceptable waits at stadium gates and concession stands and confusion over the new general-admission seating for students.
The culprits were Lane's longstanding, less-than-stellar wireless internet signal, which compromised spectators' ability to access their virtual tickets — all ticketing is paperless this season — and short-handed concession (40% staffed) and security personnel (70% staffed).
In short, a perfect storm.
As the Roanoke Times' Mark Berman reported, service improved for Tech's home victory over Middle Tennessee State eight days later. The school reduced menu options to expedite waiting and added 15 beverage-only concession stands.
A crowd of 53,680, about 12,000 shy of capacity, also eased the burdens on staff. Athletic department officials don't expect a sellout Saturday either, but Notre Dame on Oct. 9 and Pitt a week later figure to attract larger gates.
The Hokies close their four-game homestand Oct. 23 against Syracuse.
Schools such as Ohio State, Louisville, Texas, Texas Tech and Arizona have experienced similar hiccups as they welcome back full complements of fans to their football venues. But that's little solace for Babcock and Hokies faithful.
"We are working desperately on that," Babcock said. "It's not like we've never run a game before, but it is a challenge, and fans are quite exuberant and excited to be back. Disappointed how we handled that one, but the labor shortage and other things [have made it] really tough to put on a good show.
"I was thrilled with our show inside the stadium but have not been at all satisfied with the concourses and the infrastructure there."
Compounding the labor shortages, which are plaguing businesses throughout the country, Tech is transitioning this season to a new caterer for Lane Stadium's suites, ClubCorp, and new concession provider, Aramark.
Anticipating the smaller staff for the North Carolina game, Aramark brought in dozens of workers not fully trained.
"And so we were short, not trained, and now they're going everywhere, to temp agencies and everything else," Babcock said. "So the labor shortage has made it tough, but we need to do better. That's on us. …
"I also feel for the workers, right? They're not making much money, and they were understaffed. That was probably a pretty miserable experience for them, too."
Aramark and Virginia Tech's security contractor, Rhino, have offered "substantial pay increases to attract more workers," said Pete Moris, associate athletic director for strategic communications.
The change from reserved seating for students to general admission is to allow them to sit with friends in the student section.
But some believed general admission meant they could sit anywhere in the stadium, which didn't go over well with ticket-holders who found students in their seats.
"We just started too many things new at one time," Babcock said. "We started cashless concessions; we started GA seating; we started a new concessioner and new caterer. I am all for those things. I just didn't foresee some of the challenges post-COVID.
"In hindsight, wish we hadn't tried them all at once, and that's on me. Again, they're all good ideas, and they all will happen, but doing all that at the same time where you're getting back up and running in a new era was biting off more than we can chew, and my fault on that."