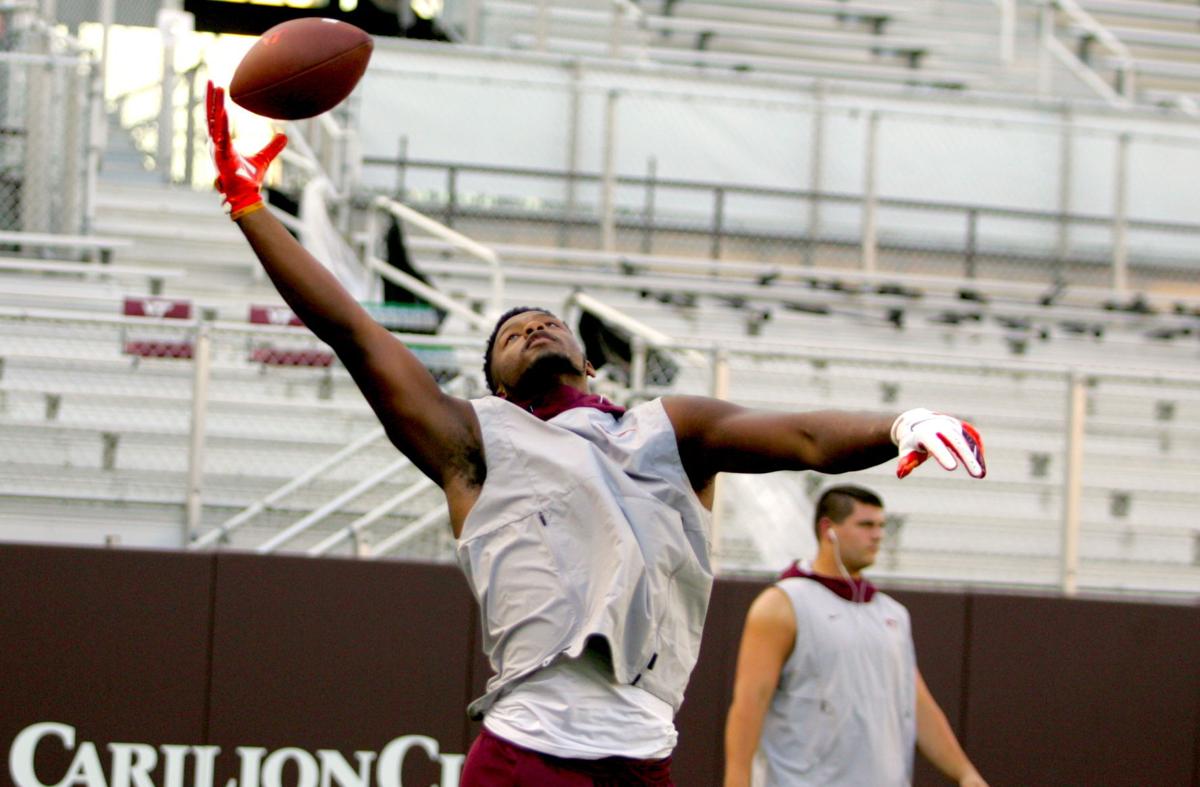 BLACKSBURG — It wasn't the flashiest of plays, but Dan Orlovsky had seen enough.
"James Mitchell is making himself some money today," Orlovsky repeated several times.
The ESPN color commentator's praise came after Mitchell turned a short screen pass into a 12-yard gain for a first down in the third quarter of Saturday's game against North Carolina. Mitchell bounced off linebacker Jeremiah Gemmel to extend the play then lowered his shoulder at the end of the run to get a few more yards.
It wasn't the first time Orlovsky, who spent a decade in the NFL, mentioned Mitchell's name. The 6-foot-3, 242-pound tight end put his versatile skill set on display in the 56-45 loss by making plays wherever he lined up.
He put up a career-high 103 receiving yards (the first 100-yard receiving game of his career) and scored a pair of touchdowns (one rushing).
"I just try to do whatever they ask me and whatever is going to give us the best chance to win," Mitchell said on Tuesday.
His efforts fell short on Saturday, but not for lack of trying.
The offensive highlight of the game for Tech was Hendon Hooker's deep throw to Mitchell down the middle in the third quarter. Mitchell had to tap the ball up to himself with defensive back Don Chapman right over his shoulder in order to make the one-handled grab.
Mitchell kept on running for a 57-yard gain.
"When he deflected, it kind of floated in the air a little bit," Mitchell said. "It wasn't really fast, it was kind of sitting there in slow motion almost and I was just able to concentrate on it. I kept my eyes on the ball and hauled it in."
The Big Stone Gap native was more pleased with his contributions to the team's rushing attack. Mitchell scored a 1-yard touchdown in the second quarter (the fifth of his career), but his improved blocking alongside Tech's stout offensive line has helped turn Tech's ground game into one of the best in the country.
Tech ran for 260 yards against a North Carolina team that allowed 108 rushing yards combined in the first two weeks.
"He's becoming a really really good blocker just downfield, sealing edges," Tech running back Khalil Herbert said. "Makes it easy for me to run around. Shout out to the guys in the tight end room. They're doing a really great job."
That was on display when Mitchell created the room Herbert, who leads all FBS running backs with 149.7 yards per game, needed on an 8-yard touchdown in the second quarter. Herbert bounced to the outside as Mitchell drove defensive back Ladaeson DeAndre Hollins back 5-yards from the line of scrimmage with an impressive pancake block.
It was a play Mitchell might not have been able to make early in his career.
"I'm still learning as I go on about how to block and the right techniques, just being able to block well is something I really wanted to get better at for a long time," Mitchell said.
It wasn't a skill he was required to use much at Union High School where he spent most of the time on offense with the ball in his hands. He said it was a "big transition" once he first got to Blacksburg, and it's still a point of emphasis two years later.
""It's very important, being both is going to be the next step in my development as a tight end," Mitchell said. "It's something that coach (James) Shibest stressed to us tight end, we got to be able to be both. Before we got out and catch (the ball), we got to be able to block and help the run game. It's very important for me to continue to develop that part of my game."
Be the first to know
Get local news delivered to your inbox!