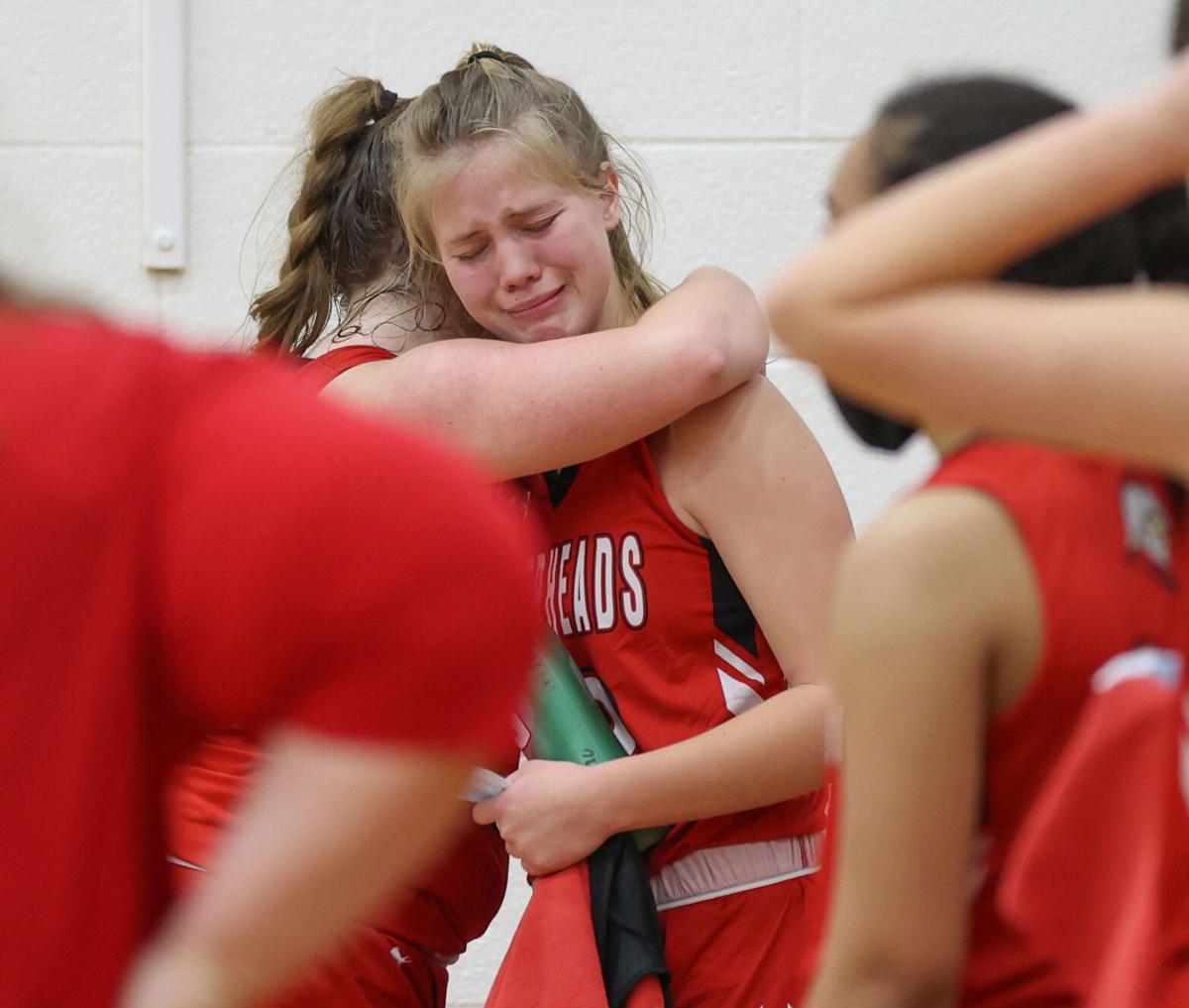 HONAKER — Riverheads' state title hopes were buried under a barrage of 3-pointers Sunday afternoon by an undefeated Honaker team, but the Gladiators' program still made history.
For the first time in school history, Riverheads advanced to play for a state girls basketball championship and an 81-56 loss could not diminish the team's accomplishment.
"I'm at a loss for words. I'm so proud of what we were able to do this season," said Hannah Grubb, one of four seniors on the team along with Savanna Crawford, Berkeley Tyree and Sarah Campbell. "Just to make it this far, it's crazy, but we did it."
For second-year head coach Preston Woods, this year's seniors have laid the groundwork for future teams to build on.
"These seniors have set the bar high," Woods said. "It's hard to get here, but we want to build a program that can get here year after year. Today, Honaker was better than us, no doubt. Hopefully this is a taste of what the future might bring. As long as I'm the coach here, we're going to work hard and we have the kind of kids at Riverheads that put in the time and the work.
"At the end of the day, win, lose or draw, our goal is to produce solid citizens. I can tell you, this is great group of girls I had the chance to work with this year."
The past year dealing with a pandemic has been anything but normal for players, coaches and administrators. Riverheads' principal Matt Stevens hopes playing athletics this spring will return some form of normalcy to the students' lives.
"Playing under these conditions has certainly been an adjustment for players and coaches," Stevens said. "I'm not sure people realize the sacrifices these young people are making. I'm just really thankful we've had the opportunity to try and make this work. It's definitely challenging, but I think our coaches and players have handled it well."
Stevens hopes playing games has returned at least a bit of normalcy to the players' daily routines.
"Once you step between the lines to compete, I do believe that's at least close to normal for the players and coaches," Stevens added. "Hopefully this relieves some of the stress and anxiety they have been dealing with. These kids have had to give up a lot during the past year."
Savanna Crawford, another Riverheads' senior, said playing under the COVID-19 protocols was a trying experience.
"When we started practicing it was hard to come together as a team because we had to socially distance for parts of practice," Crawford said. "But we worked hard, followed the rules and made it work. Riverheads has been around a long time and we did something no other class had ever done. We really wanted to play at VCU in the Siegel Center so not being able to play there was disappointing. And today didn't go the way we wanted, but it still feels great to play for a championship."
In recent years, the Gladiators have competed at the state level in several sports. Add girls' basketball to the list.
"Any time your teams play for a state championship, it's quite an accomplishment," said Stevens. "For this group, on top of dealing with everything involved in a pandemic, they played in a really tough district. Wilson and Fort Defiance are good teams in Class 3. These girls have a lot to be proud of."
Grubb is confident people haven't seen the last of the Gladiators.
"Us seniors, we've been on varsity since our freshman year. The girls behind us are phenomenal. They're really good. I'm confident they're going to get back here."