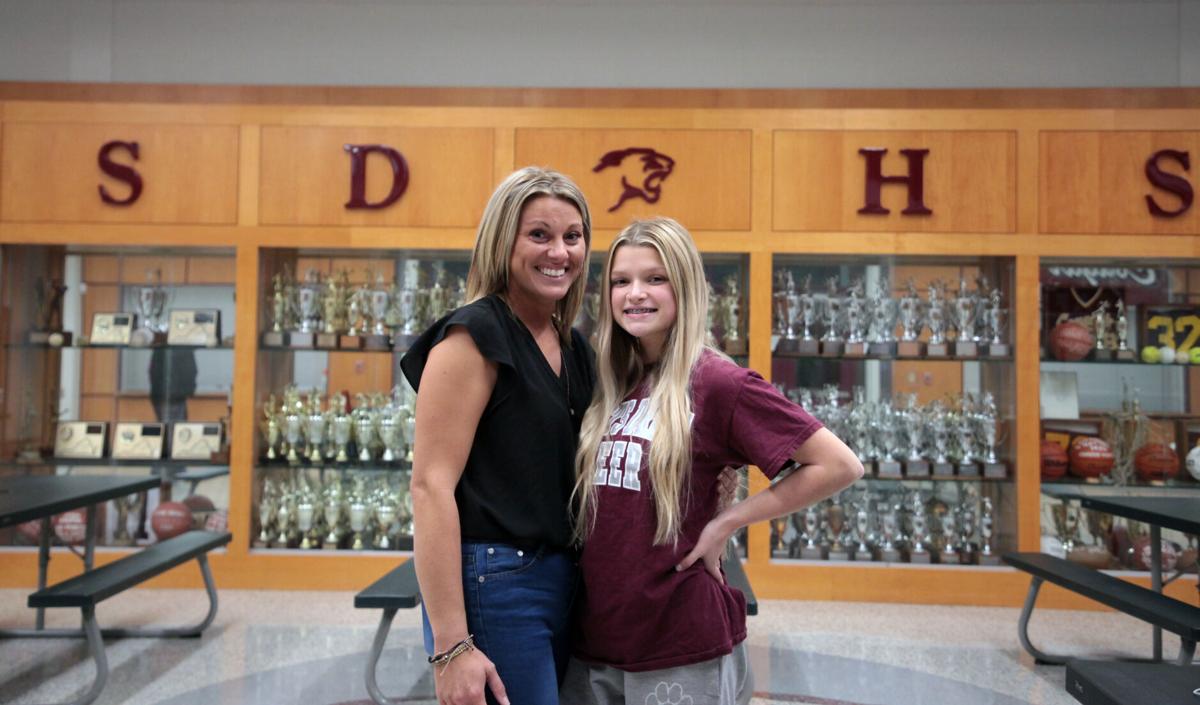 STUARTS DRAFT — Her competition cheer teammates think Eryn Fitzgerald can stand up on anything.
And her combination of athletic ability and cheer experience make that mostly true.
There was a time last year, however, that Fitzgerald couldn't stand at all.
After winning state championships with Stuarts Draft's competition cheer squad as a freshman and sophomore, Fitzgerald had a season-ending knee surgery that caused her to miss the COVID-shortened 2020-2021 campaign.
"It felt like forever," said Fitzgerald, who would show up to practice daily and just watch. "I hated it. It was so upsetting. My super close friends were on the team my junior year, and I never got to compete with them one last time."
Fitzgerald did return for her senior year, helping to lead a new group of Cougar cheerleaders to a state championship. For her effort, Fitzgerald is the 2021 News Virginian competition cheerleader of the year.
And deservedly so believes Stuarts Draft competition cheer coach Tammy Carter.
"Eryn is athletically capable of being a talented cheerleader, but the thing that elevates any athlete above the skill is that she has the heart for it," Carter said. "And her injury has shown that. Some people have injuries like that and it's enough to end it for them, but she has a heart and a passion. Even when things got hard, she continued to stay in it for the love of the sport and the love of her team. That genuinely causes her to stand out and puts her above so many other athletes."
It's clear that Fitzgerald loves her teammates and that her teammates love her right back.
Her leadership capabilities stick out to senior captain Caeleigh Freeman.
"She's always been a middle ground," Freeman said. "She's never involved in drama or (only) best friends with one person on the team. She's always equal. She's never going to choose someone over the other person. As a leader, she really shows us how to perform on the mat."
It's not just a mindset, though.
Fitzgerald is a supremely gifted tumbler and flyer.
"She has such powerful tumbling," Freeman said. "She's always so high up in the air. As a flyer, she can stand on anything. My hand could be twisted all the way around or be messed up, and she stands on it and stays up in the air no matter what."
Teammate Zane Marshall agrees.
"Eryn's a great teammate, because she's really there for everybody," Marshall said. "She worked really hard for the title we earned. Her tumbling goes really, really high. And she's a great flyer."
Fitzgerald started cheering at a gym in second grade and was hooked. She tried other sports, but kept coming right back to cheerleading.
"It was the only thing I really enjoyed and loved," Fitzgerald said. "I love the thrill so much. When you go out to compete, it's crazy with the adrenaline and all that. I love it."
The Cougars pulled off a state three-peat in 2017, 2018 and 2019, with Fitzgerald being on the squad for the last two of those championships. During the season that Fitzgerald missed after surgery, the Cougars missed out on regionals after falling to East Rockingham.
As a senior, however, the Cougars won the regional championship at East Rockingham and Fitzgerald was named Region 2B cheerleader of the year.
"I think that was the first time we ever hit zero (deductions)," Fitzgerald said. "We hit it two times in a row. We hit the perfect routine. That day, something clicked with the whole team. It was just perfect."
Ten days later, Fitzgerald and her teammates followed that up with a state championship victory. It was the school's fourth in the last five years.
"It was amazing," the senior said.
Adding to her satisfaction was the fact that she overcame an internal fear of cheering on a surgically repaired knee.
"I stayed around and came to all the practices and was going to physical therapy," Fitzgerald said. "It motivated me to get stronger, so that I could compete this season. I was just itching to get out there."
Even with the physical therapist's clearance, there was still a mental block to overcome.
"I didn't tumble the whole summer," Fitzgerald said. "Then one day at practice, coach (Carter) was just like, 'You're just going to have to do it. You have to get over the fear.' It was a mental thing. I knew physically I could do it, but mentally it was scary. And so I just did it and then was like, 'Oh, that wasn't that bad.'"
Once again confident in her abilities, Fitzgerald capped an amazing competition cheerleading career with a third state championship.
If the journey has to end – and Fitzgerald wishes that it didn't – holding a trophy under the bright lights of the Virginia Commonwealth University Siegel Center is as good a place as any.
"It was all I could have ever dreamed of," Fitzgerald said. "I don't know how to explain it."
"Even when things got hard, she continued to stay in it for the love of the sport and the love of her team."

— Tammy Carter, Stuarts Draft competition cheer coach