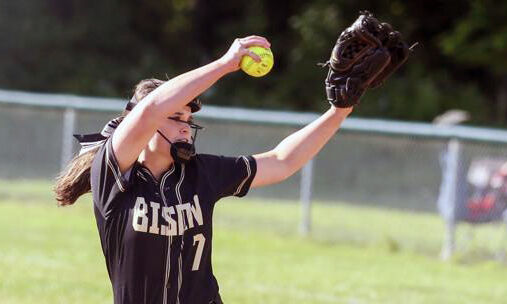 CHARLOTTE COURT HOUSE — It took one incredible pitching performance to top another by Buffalo Gap's Kate Alger as Randolph-Henry scratched out a run in the bottom of the sixth to defeat visiting Buffalo Gap 1-0 on Wednesday in the Class 2B semifinal.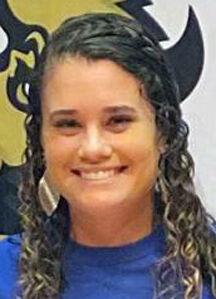 Randolph-Henry freshman phenom Danner Allen delivered the goods for the Lady Statesmen, barely outdueling another dominating performance by Alger in the circle for the Bison.
With the win, Randolph-Henry moves on to host the winner of the Lebanon vs. Appomattox matchup for the state 2B title on Saturday.
"Kate (Alger) did a good job, but we couldn't get baserunners," said Buffalo Gap head coach Darren Pultz. "That was a tough way to lose. I'm at a loss for words."
Baserunners were scarce on both sides in this classic pitcher's duel.
The only run of the game came for the Lady Statesmen in the bottom of the sixth.
Leadoff hitter Taylor Trent singled to start the rally.
Then an overturned call led to the Randolph-Henry win.
Allen knocked a ball to shortstop for a force out at second, but the umpire, after conferring with his colleagues, changed the call, claiming the ball was being bobbled at second base.
The result was runners at first and second with no outs.
Trent stole third and raced home when the throw from the catcher got past third base.
Alger then struck out the next three hitters, but the damage had been done.
Allen then retired senior Natalye Graham, who was recovering from a serious injury, on a grounder to first, freshman Bailey Talley on strikes and Alger on a fly to right.
All told, all the outs recorded by Buffalo Gap were on strikeouts from Alger, totaling 18.
The Bison senior allowed just two hits (both by Trent), a hit batter (Trent to lead off the game) and one base on balls. She struck out the side in each of the six innings pitched.
"Their leadoff hitter was a good batter," Pultz said.
Meanwhile, Allen was mowing down the Bison hitters, allowing just one batter over the minimum (21), a single by junior Tea' Judy, who was the only Gap player to reach second base in the game, after stealing the bag.
Allen struck out 13 Bison hitters in all.
"We were hungry and came together at the right time this year," Pultz said.
The Bison coach, now in his sixth season at the helm, said that he thought this Buffalo Gap team went further than any in school history.
But the Gap have a promising future for 2022 and beyond only graduating Alger, Graham and Kyleigh Shifflett.
Next season, the Bison will drop down a classification and compete along with Riverheads in Class 1.
Pultz felt that the good competition in the Shenandoah District definitely helped toughen the Bison as they made their deep postseason run.