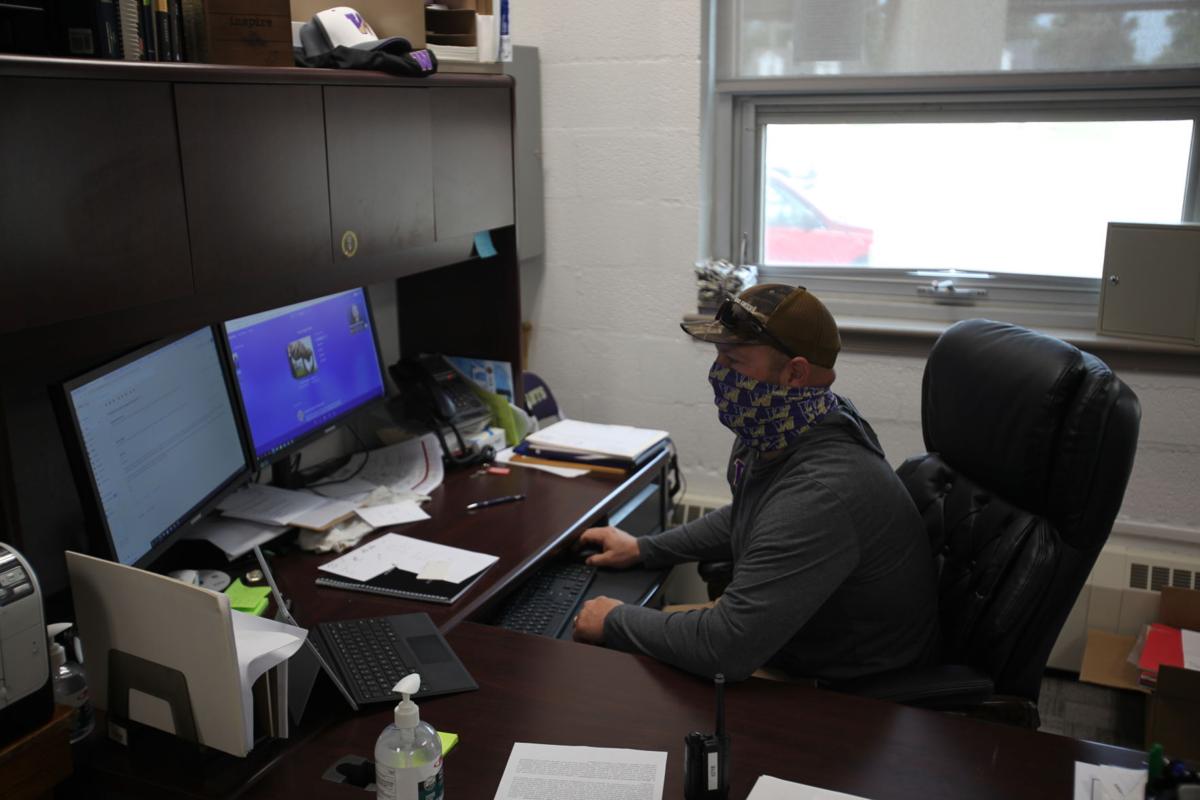 After 20 years serving as a teacher and coach in Augusta County before being hired as Waynesboro High's athletic director and assistant principal in May, Jeremiah Major now faces challenges unlike any he saw on the gridiron in the form of COVID-19.
Major, former head coach and agricultural teacher at Wilson Memorial High, said his previous experience prepared him for the switch to the role of an administrator, but the pandemic brought with it hurdles that he must work through. A prime example of this is a lack of social interaction with his coworkers.
"Trying to get to know teachers with a mask on has been difficult," he said. "I'm a personable person; I like to shake hands, but you just have to break that [habit]. It's just been tough to get to know people because you can't really hang around them or talk to them. I can't recognize anybody without a mask, and if I see them out in public I'm like, 'Don't take it personally, but I don't know what you look like.'"
Even at the time of his hiring, Major never expected a traditional fall sports season. In July, the Virginia High School League Executive Committee confirmed that suspicion by delaying all athletic competition until December.
"I was hoping for at least something, but we weren't able to have any sports," he said. "It's been a process and a waiting game, but I know the VHSL is trying to do what's best for the student athletes. That's really all we can do."
With the VHSL's tentative plan unveiled earlier this month, sports will be played in a condensed timeframe with a planned start in December. This means some sports which typically do not overlap will this athletic year.
While this could potentially lead to burnout for students participating in multiple sports, Major said the shortened seasons help to alleviate that worry.
"I think with having condensed schedules that burnout shouldn't happen," he said. "The only concern is the overlap. Kids that play a fall sport going into a spring sport have an overlap of about two weeks, but I don't think that will be an issue. With the condensed schedule, I think everything is basically the same."
On the financial side of sports, football brings in huge money for schools that contributes to athletic budgets. Under the new scheduling, Waynesboro will lose one or two home games in football, which raises questions about funding of other sports.
"Now that football is in the middle [of the year], you have to figure out how you're going to get winter sports started," Major said. "It definitely is tough financially. Even the matchups that athletic directors usually set up are affected because you won't have some of those big rivalry games you're used to seeing."
Because of the scheduling changes, he currently works primarily in the assistant principal role. Major enjoys this side of his work as it allows him to help a different group of people than his work at Wilson.
"I've liked doing the supervision side from a different angle. Instead of supervising students it is more along the lines of the teachers and coaches," he said. "I look at myself as a servant to those people. I'm here to work for them. I may be their supervisor, but I'm here to do what I can for them."
For Major, his experience as a teacher and coach allowed him to naturally transition into supervising those positions as he has "been there and done that." He said that ensuring that faculty feels good as the year goes on remains a constant point of emphasis.
"We're trying to keep up the morale of our faculty as they're feeling the stress of having to teach online," Major said. "They want what's best for their students, but it's a struggle because students have more responsibility. It's not like it was at the end of the school year last year, students still must do work. There's no book written on how to go through this, but I think our teachers have done a really good job of meeting the needs of all our students."
Major's goals for the upcoming athletic year can be summed up in his motto "invest to impact." He hopes that coaches at the school actively communicate with their athletes, not just about sports, to maximize effectiveness and build a solid program.
"Being from outside Waynesboro schools, I know the perception of Waynesboro athletics and I want to change that," Major said. "I want us to be a respected program in all of our athletics and be competitive. But the most important thing is for my coaches, myself and our community to invest in our student athletes to make an impact on their lives."
Get in the game with our Prep Sports Newsletter
Sent weekly directly to your inbox!