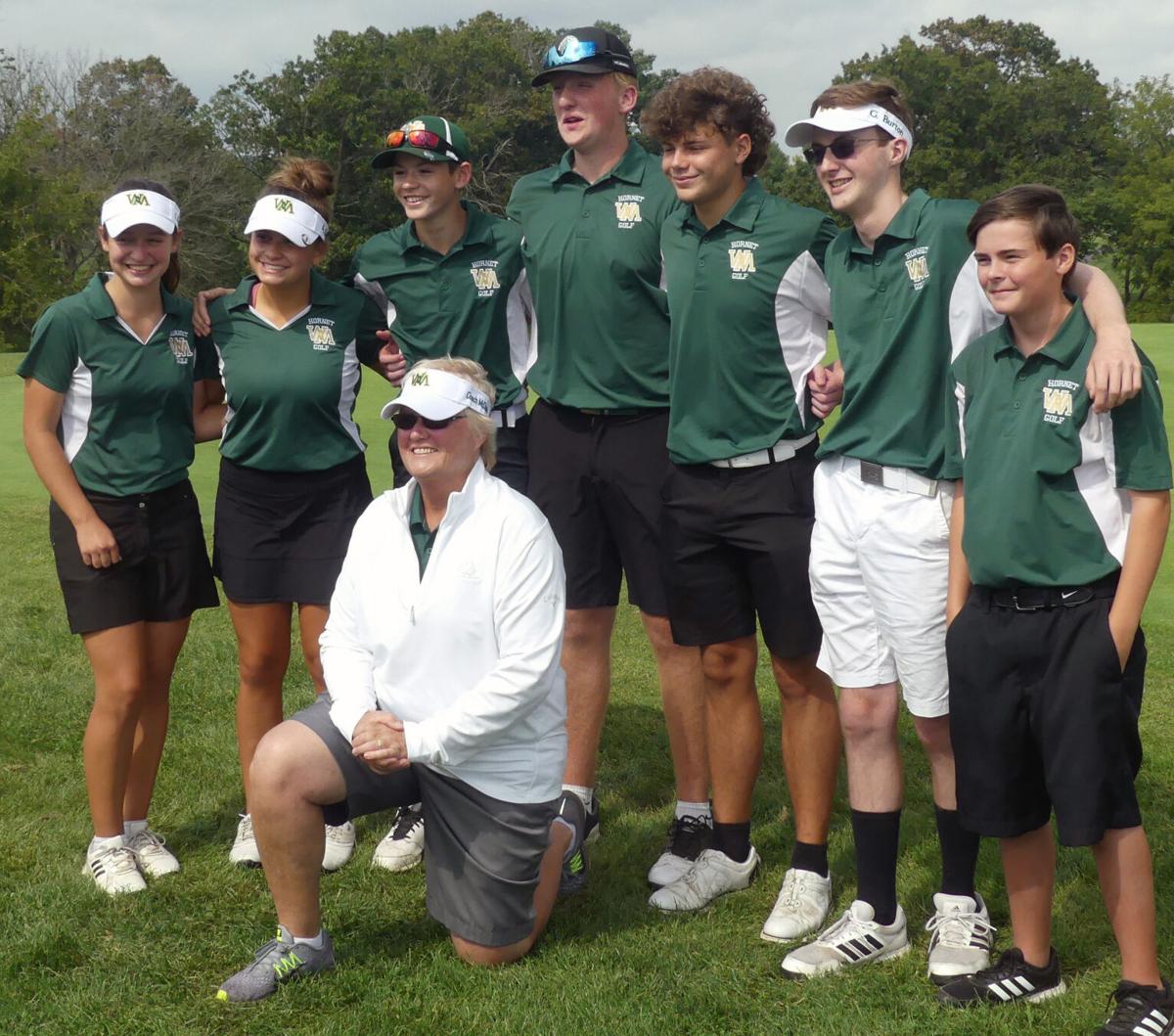 STAUNTON — After pushing themselves hard all season, the young Wilson Memorial golf team prevailed in the fourth and final Shenandoah District tournament of the regular season on Monday. The Hornets finished 18 holes at the Ironwood Country Club Course in Staunton with 345 points. Three strokes back with 348 was Staunton High School. Based upon their total in all four district tournaments this season, the Storm did take home the regular season trophy.
Staunton junior John Elam was medalist for the day with 75, while Wilson Memorial freshman Chase Snyder and sophomore Grant Wright were second and third with 76 and 82 respectively. Fort Defiance's Ben Michael was fourth with 84. Buffalo Gap's Elijah Trumbo and Waynesboro's Jackson Darden tied for the next spot with 86 apiece.
In team competition, Fort Defiance was third with 374, Stuarts Draft was fourth with 385, Waynesboro was fifth with 394, Buffalo Gap was sixth with 403, and Riverheads High School rounded out the scoring with 405.
Named to the Shenandoah All-District team based on their season averages were Elam, Michael, Waynesboro's Emily Hamp, Snyder, Wright, and Trumbo. In addition to those six, Fort Defiance's Spencer Patterson and Wyatt Herman will all go onto regional competition.
Advancing as teams to regional competition will be Staunton by virtue of winning the regular season and Wilson Memorial by virtue of winning on Monday and therefore taking second in the district for the year. Riverheads and Buffalo Gap automatically advance in Region 1B.
Staunton High School's Elam, although he was low medalist for the day, noted that he was disappointed in his 75. He has twice shot 72 in the Shenandoah tournaments and noted that he left six potential birdie putts outside the hole on Monday.
"I was a little off on my mental game," he said, although noting that he was able to stick with his play and finish out the holes. "I definitely have some improvement that I need to take from this round into regionals," he said.
Elam added that both he and his team would be ready for regional competition. "Our team is a unit, not individuals and we will go into regionals with that attitude," he said. In addition to Elam's low round for the day, the Storm turned in qualifying scores of 89 from Harri Wallace, 90 from Mac Carr, and 94 from Rob Spurlock.
Also looking forward to regional competition are the Wilson Memorial Hornets, who have been improving all season. Earlier in the year, the team had tied with the district leading Storm so they knew the potential for victory was there on Monday. "They needed to bring their A game out there today and they did that," said Wilson coach Trena McDaniel.
"This is a tight knit team that works hard and plays hard," McDaniel added. "We accomplished multiple goals this year and we set our sights on making it to regionals. I am proud of this team for having the poise and grace to accomplish that."
The Wilson coach pointed to the strong play of Chase Snyder (76) and Grant Wright (82) as leading the team on Monday. Also adding to the Hornet scoring were Nicholas Cash with 92 and Grant Burton with 95.
Although she scored a 90 on Monday, Waynesboro's Emily Hamp will go on to regional action by virtue of gaining a berth on the six-person Shenandoah All-District team. In the three earlier Shenandoah tournaments this season, she recorded a pair of 80s and a 76.
"This was my last regular season tournament," the Waynesboro senior said. "Although I didn't play my best, I was trying to enjoy the day and have fun."
Hamp added that she enjoys the co-ed nature of golf. "I like the competitive atmosphere. It is fun to be around players with different skill sets. Because I don't necessarily have the distance in my drives, I have had to develop a different skill set. My short game is pretty good as is my putting and hitting in the fairway," she explained.
"I love golf. I enjoy meeting new people and making friends and it is a fun way to relax at the end of the day," she added.