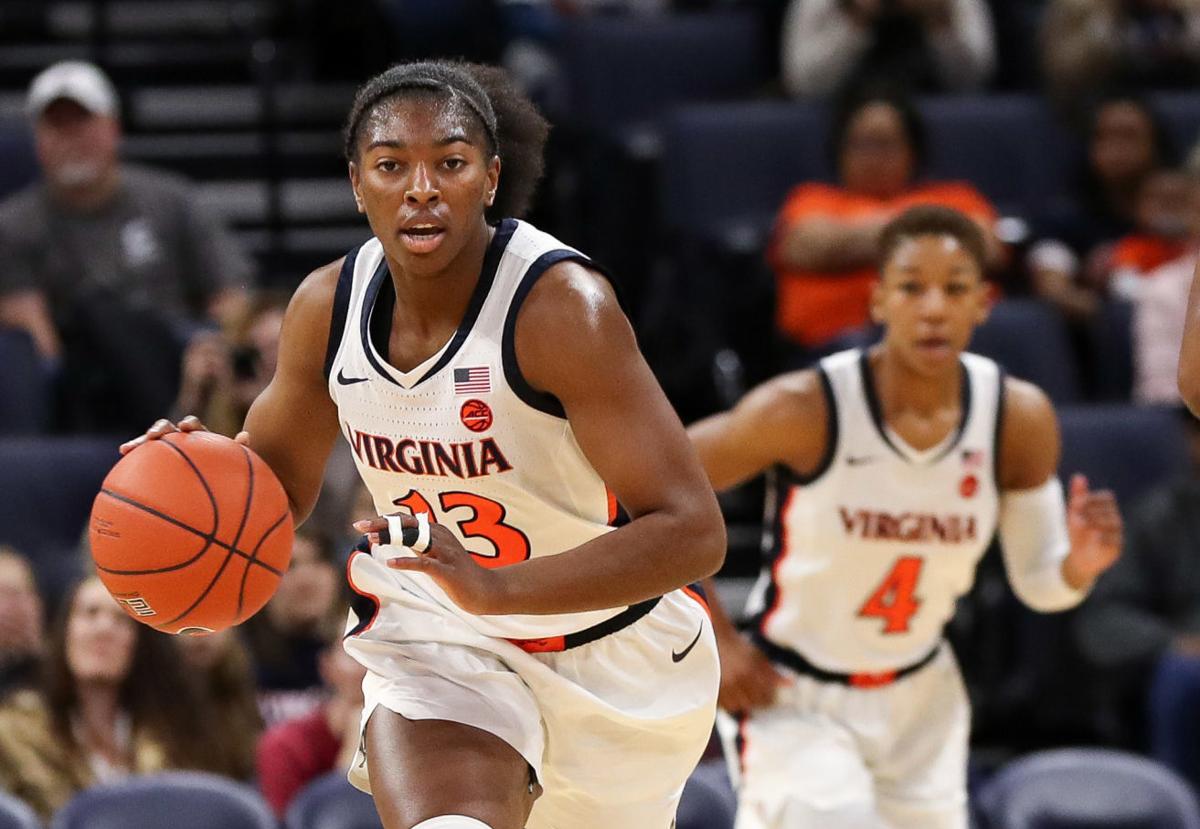 Jocelyn Willoughby sat in her living room with her immediate family on Friday night. Due to COVID-19 and social distancing restrictions, her WNBA Draft party only featured a few people.
Willoughby used creative thinking to share the moment with those who helped her become a WNBA prospect. She set up a Zoom call with her former coaches and teammates so they could share the experience of being selected in the WNBA Draft with her.
With the 10th pick in the 2020 WNBA Draft, the Phoenix Mercury picked Jocelyn Willoughby.
"I kind of organized at the last minute a Zoom call and just invited literally coaches who taught me how to do my first layup to my college coaches and teammates that I've had along the way," Willoughby said. "Basically through Zoom everybody else called in — everybody who's not in my immediate family — but that was really cool to just see their reactions on the screen and hear them speak a few words afterward."
Shortly after being selected by the Mercury, Willoughby was traded to the New York Liberty. She'll join No. 1 overall pick Sabrina Ionescu in Brooklyn whenever WNBA training camp begins.
The pick made Willoughby the first UVa player since Monica Wright to be chosen in the draft. Wright went second overall in 2010. When Wright joined UVa's staff this season as an assistant, she told Willoughby on the first day they met that the senior wing was going to be a WNBA Draft pick.
Wright was one of the coaches on the Zoom call.
"She kinda was just like, 'I can't say too much right now because I don't want to start crying, but so, so proud of you,'" Willoughby said. "'Proud of all the hard work and sacrifices that you've made to get to this point and this is just the beginning for you.' We'll definitely reconnect when things are a little less emotional, but obviously very thankful for her and to share that moment with her and many other coaches and players and family members."
While Willoughby discussed her excitement for joining a veteran squad in Phoenix during an on-air interview on ESPN, joining New York comes with plenty of perks.
Under new head coach Walt Hopkins, New York is in the midst of a rebuild. Given the influx of young talent added in the draft, the roster won't look like it did a season ago when the Liberty went 10-24. In come Ionescu and Willoughby and a handful of young stars, including UConn's Megan Walker, a Richmond native.
New York will play its next season in the Barclays Center, the same arena Joe Harris and the Brooklyn Nets play their games. It's a team looking to become a popular and successful WNBA franchise, and the additions in the draft set New York up for its desired success.
Given the sheer volume of young stars now on the roster, the rebuild in New York might not take very long.
"I think we'll be young, but young teams are often exciting to watch and have a lot of growth and just potential," Willoughby said. "I'm really, really excited about it."
Playing in New York keeps Willoughby close to home.
The New Jersey native lives about an hour from Brooklyn, and she grew up attending Liberty games. She clarified that she wasn't a season-ticket holder or anything growing up, but she went to games through class field trips and considers the Liberty her hometown team.
Now she'll play for them.
"Just knowing that they're the local team and to play on it is special for me," Willoughby said.
When WNBA training camp begins, Willoughby will team up with three other ACC players drafted by the Liberty as well as UConn's top draft pick and Ionescu, who is considered a generational WNBA talent. UVa's talented wing will compete on a star-studded professional team that plays closest to home.
It's a dream come true for one of the top UVa players of the past decade.
"It just means the world, and I think all the years of hard work — and granted at that time I didn't know where I would be going or even that I would be in the WNBA — but to see everything come full circle is really humbling," Willoughby said, "and I just feel so blessed to have this opportunity."
Be the first to know
Get local news delivered to your inbox!